I'm going to go ahead and call this the ultimate curry chicken salad wrap. It's packed with flavor and crunch. Jump to the Ultimate Curried Chicken Salad Wraps Recipe or read on to see our tips for making it.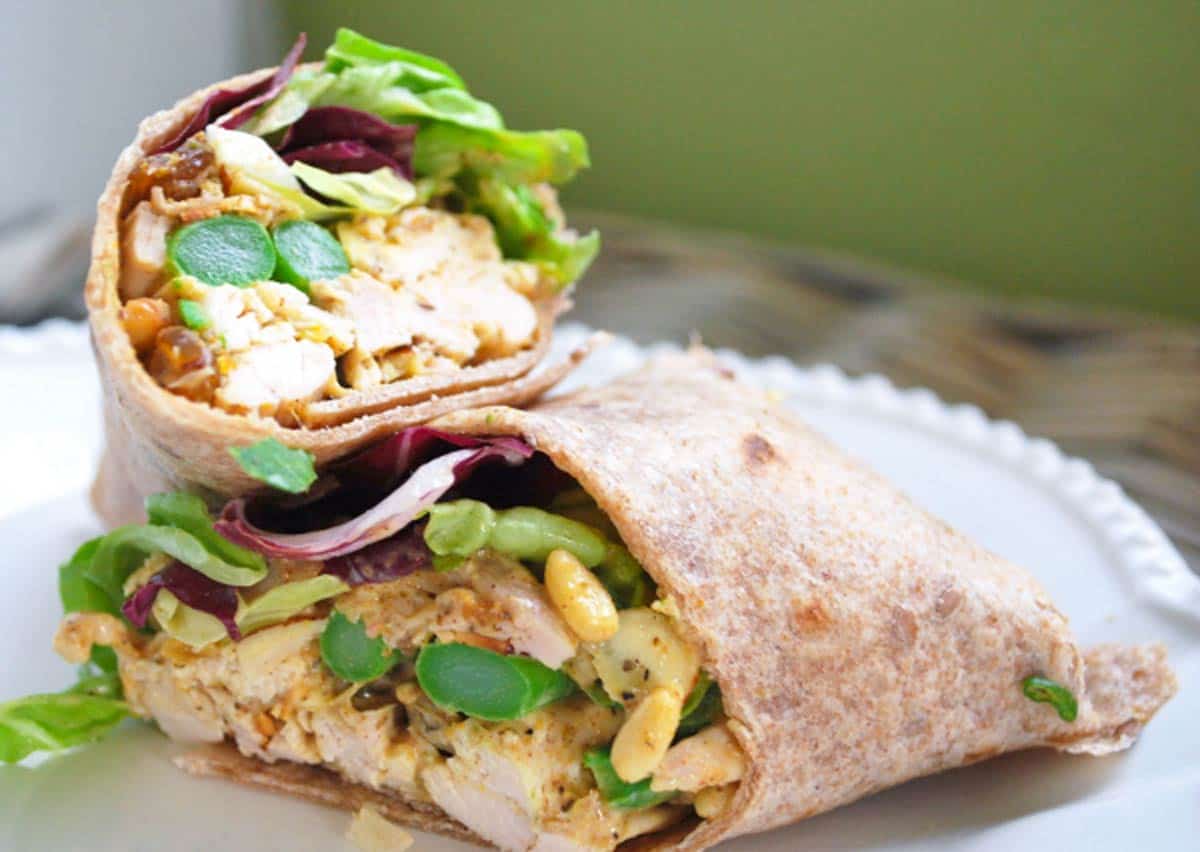 Our favorite sandwiches and wraps have a variety of textures, flavor and colors. That's why this chicken wrap wins. The chicken salad is made with leftover roasted chicken, which means it already has lots of flavor thanks to the roasting. Then we add a dressing made from mayonnaise, curry powder and marmalade jam. The jam is a nod to mango chutney often found served with traditional Indian dishes. If you have it on hand, use it instead of the marmalade.
You could stop there and the curried chicken would be excellent, but as I said earlier, we love texture and color. To add some chewiness, we add raisins. Then for crunch and color, we throw in chopped scallions, toasted nuts and chopped blanched asparagus.
By blanched, I mean that the asparagus is thrown into boiling water until tender, but still crisp then we plunge it into icy water to stop the cooking. You could add raw, but we prefer the texture when blanched. (It only takes a few minutes).
YOU MAY ALSO LIKE: How to make light and healthy couscous salad with a simple lemon vinaigrette, cucumber and herbs. Jump to the Easy Couscous Salad Recipe.
Recipe updated, originally posted April 2010. Since posting this in 2010, we have tweaked the recipe to be more clear. – Adam and Joanne
Ultimate Curried Chicken Salad Wraps
The chicken salad is made with leftover roasted chicken, which means it already has lots of flavor thanks to the roasting. You can substitute with store-bought rotisserie chicken or use our shredded chicken recipe — it is our favorite way to make shredded chicken.
You Will Need
2 cups shredded chicken
1 1/2 teaspoons curry powder or more to taste
2 tablespoons marmalade jam or substitute with mango chutney
1/3 cup mayonnaise or more to taste, see our mayonnaise recipe
1 teaspoon lemon zest
Juice of half a lemon
Salt and fresh ground black pepper
6 asparagus spears
1/4 cup nuts such as pine nuts or sliced almonds
1/4 cup thinly sliced scallions
1/3 cup raisins
6 large tortillas
Lettuce for wraps
Directions
Prepare Chicken Salad

1Stir mayonnaise, curry powder, marmalade, a pinch of salt, and a few grinds of pepper in the bottom of a large mixing bowl. Stir in the chicken. If the mixture seems dry, add a tablespoon of mayonnaise. Taste the chicken and adjust with more curry powder, salt, and/or pepper.
Blanch Asparagus

1Bring a small saucepan of salted water to a boil. Prepare a bowl filled with cold water and ice.

2Trim about 1/2-inch from the stalky ends and discard. Cut into 1-inch pieces. Add to boiling water and cook until bright green and crisp tender, 1 to 2 minutes. Use a slotted spoon to transfer asparagus to the icy water.
Toast Nuts

1Toast the nuts in a dry skillet over medium heat, shaking frequently, until fragrant, browned, and not burned; about 5 minutes.
To Finish

1Stir the blanched asparagus, toasted nuts, raisins and scallions into the chicken salad. Divide between wraps, add a few leaves of lettuce and tightly wrap up, tucking in the sides as you roll.