This lemon chicken and vegetable soup checks all the boxes. It's hearty, healthy, satisfying, and tastes incredible. At under 250 calories a serving, it's healthy, and since it's packed to the brim with veggies and chicken, it's ultra-satisfying.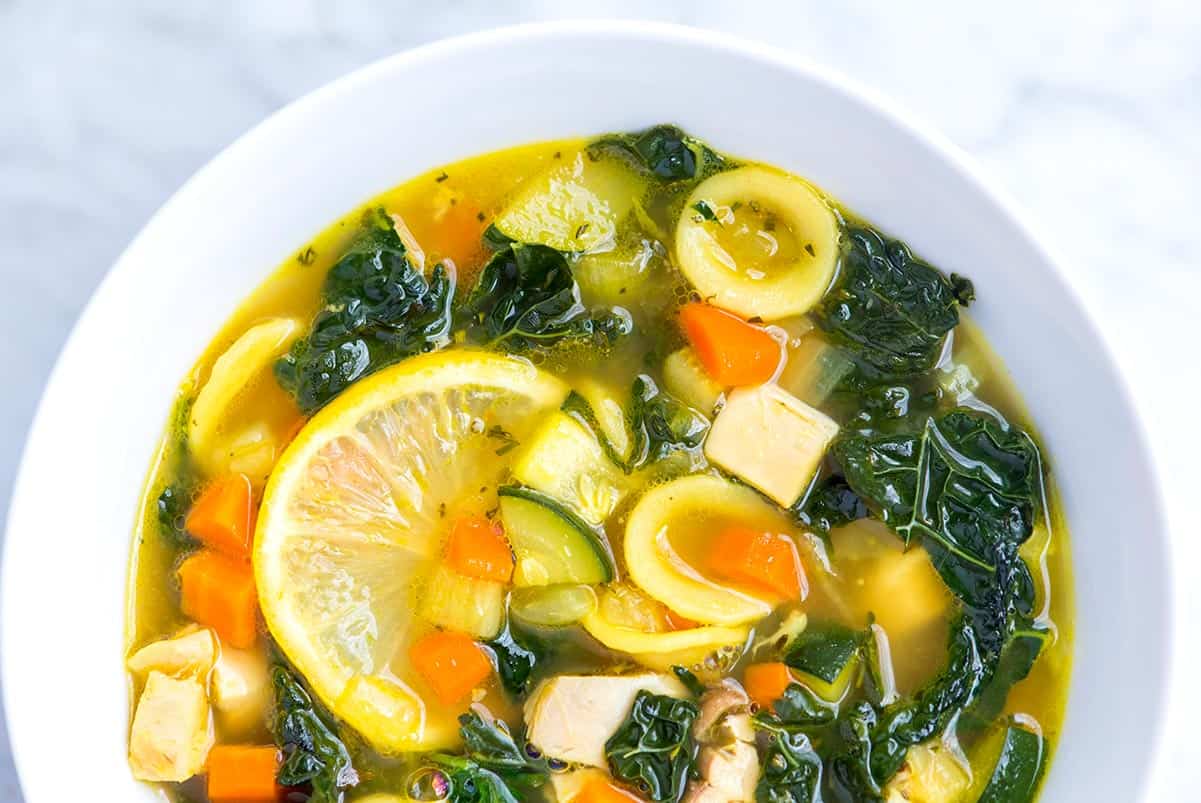 How to Make The Best Veggie-Packed Chicken Soup
Lately, when we are out of ideas for what to cook for dinner, this soup (or a variation of it) is where we turn. We love soups to be hearty and satisfying. For this lemon chicken soup, we add five vegetables.
There's onion, carrots, fennel, zucchini, and kale! There's a small amount of pasta in there, too. It's optional, but we found that adding just under a cup of dry pasta to the pot adds just enough to make the soup dinner worthy without being hungry after. By the way, if you love pasta in soup, check out our easy chicken noodle soup.
The trick to making this soup is to cook the vegetables in two stages. The hearty veggies like onion, carrot, and fennel go in first. When they are soft and sweet, we add garlic, herbs and chicken stock. Then simmer for about 20 minutes.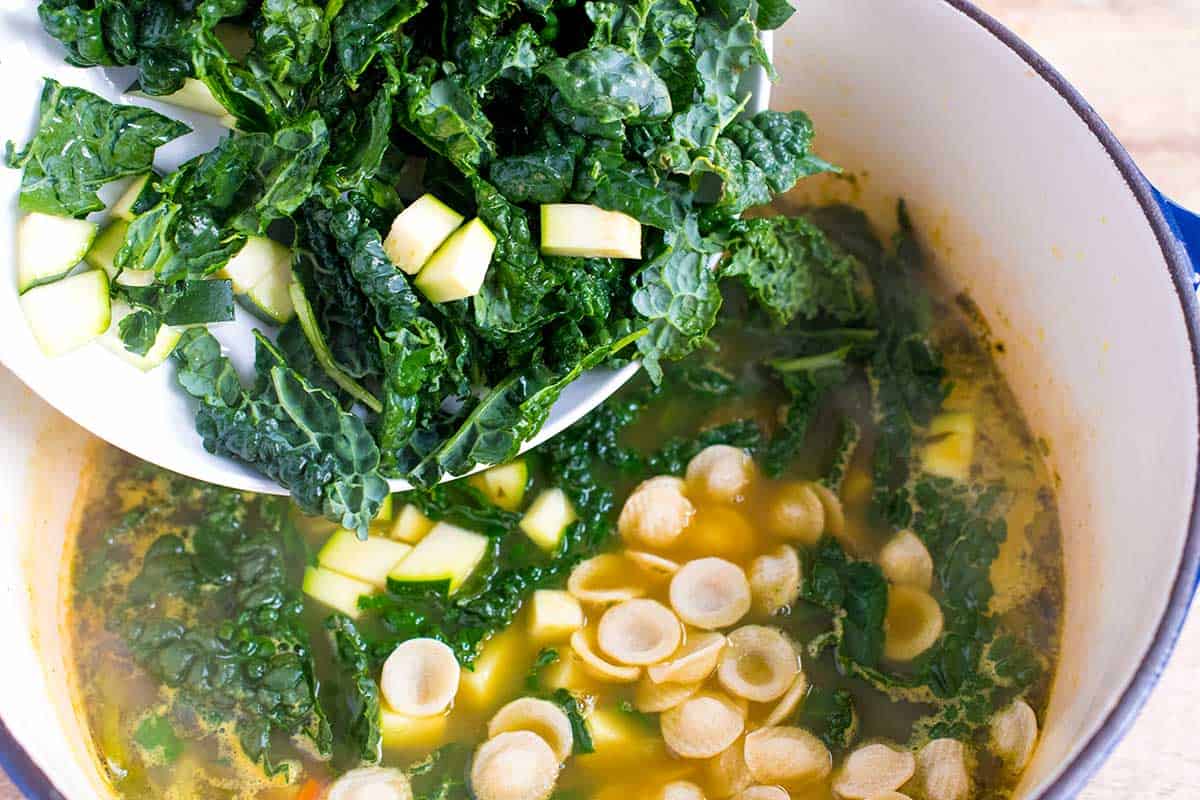 Since the zucchini and kale wilt and soften so quickly, they don't need as much cooking time. Add them at the end with the pasta, which only needs about 10 minutes.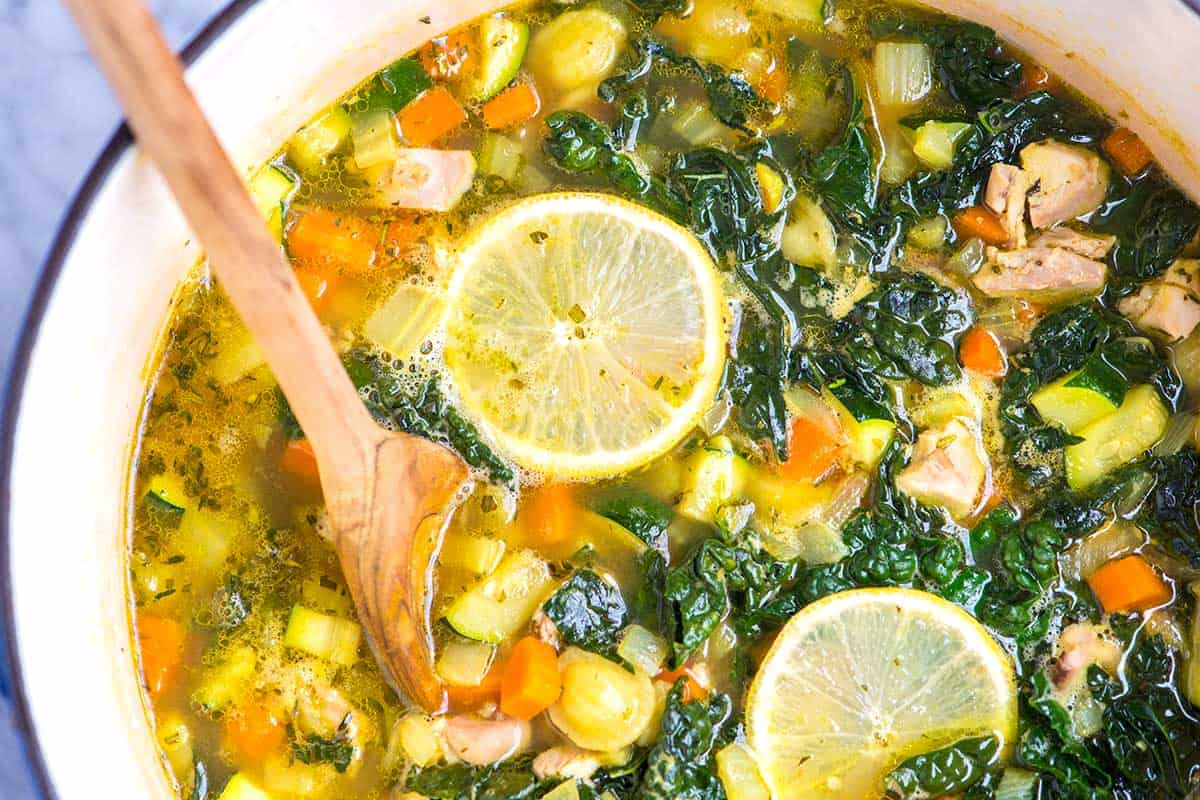 For the chicken, you can use leftover or previously cooked chicken — see our whole roasted chicken recipe.
Or if you don't have any on hand, bake a few chicken thighs in the oven. To do it, slide them into a 400-degree oven and roast until they are cooked through. This keeps the chicken flavorful and juicy. You can even use some of the roasting juices in the soup.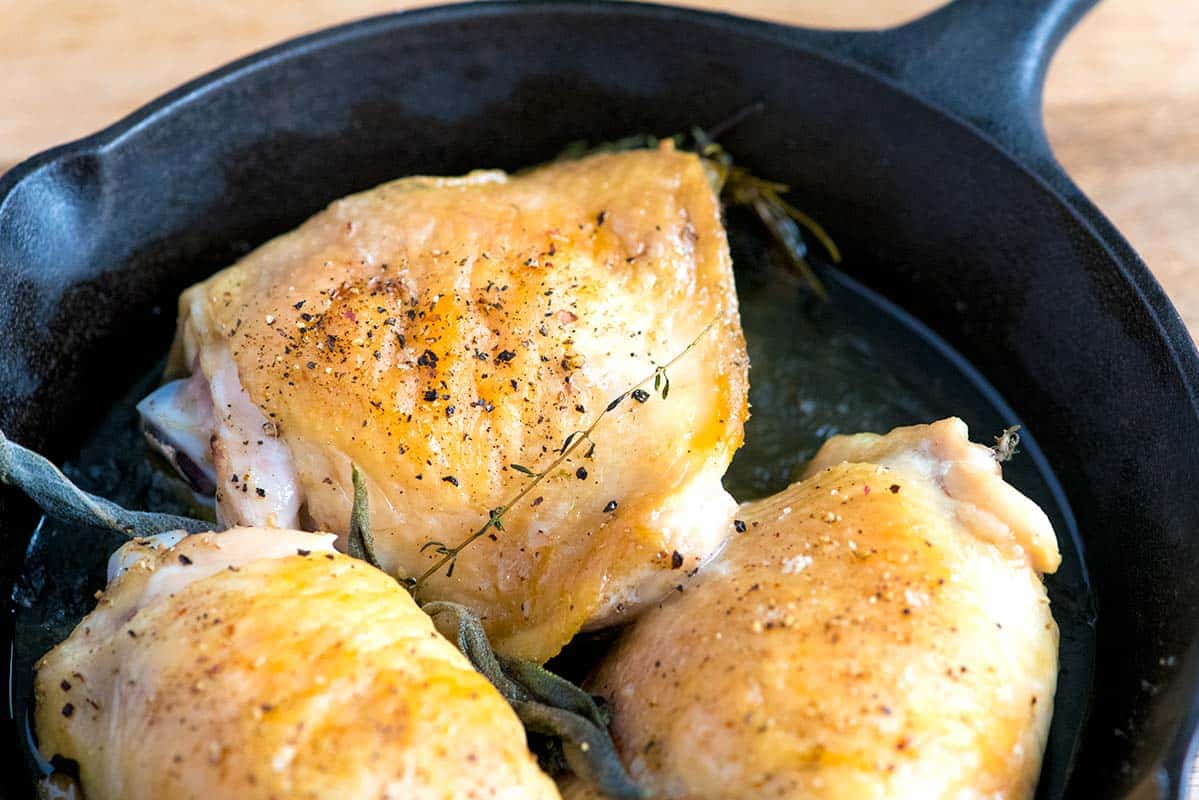 Chicken breast work too, here's a recipe for juicy baked chicken breasts to help you out or you can use our shredded chicken recipe. In that recipe, we gently simmer chicken thighs in water with onion and spices. You could definitely use this method to cook the chicken for this soup! If you do, use the cooking liquid as some or all of the stock called for in our recipe below (it is delicious).
Serve this chicken and veggie soup with our Sesame Garlic Flatbreads or a side of Homemade Focaccia Bread.
For more hearty soups, take a look at our Sausage and Potato Soup, our Easy Three Ingredient Tomato Soup, this satisfying Lentil Soup, or this Easy Chicken Tortilla Soup from Scratch.
Lemony Chicken Vegetable Soup
This easy lemony chicken vegetable soup recipe checks all the boxes. It's hearty, healthy, satisfying and tastes incredible. Follow our directions below for cooking chicken from scratch or use leftover/previously cooked chicken in it's place. You will need about 2 cups of shredded or chopped chicken. The soup is also very tasty without the chicken added.
You Will Need
For the chicken
1 1/2 pounds skin-on chicken thighs, see notes
1 teaspoon olive oil
Pinch salt and fresh ground pepper
3 to 4 sprigs fresh herbs like thyme, rosemary or sage
For the soup
1 1/2 tablespoons olive oil
1 medium onion, chopped, about 1 cup
2 medium carrots, chopped, about 1 cup
1 medium fennel bulb, core removed and chopped, about 1 1/4 cups
2 cloves garlic, minced, about 2 teaspoons
1 tablespoon chopped fresh herbs like thyme or rosemary
1/2 teaspoon turmeric, optional
1 bay leaf
7 to 8 cups low-sodium chicken stock or use homemade, see our chicken stock recipe
1 medium zucchini, chopped, about 1 cup
1 bunch kale, stems removed and chopped, about 4 to 5 cups chopped
3/4 cup small dried pasta, we love orecchiette
Fine sea salt and fresh ground black pepper
2 to 3 fresh lemon slices with seeds removed
Grated parmesan cheese for serving (optional)
Directions
Cook Chicken

1Heat the oven to 400 degrees F. Line a baking sheet with foil or use a small oven-safe pan. Make a bed for the chicken with a few sprigs of fresh herbs. Rub the chicken with the teaspoon of olive oil then lightly season with salt and pepper.

2Cook until a thermometer pierced into the thickest part reads 165 degrees F, 25 to 35 minutes. Transfer to a plate and set aside until the chicken is cool enough to touch. Remove the chicken from the skin and bones then chop into small pieces.
Make Soup

1About 10 minutes before the chicken is cooked, make the soup. Place a large heavy-bottomed pot over medium heat (we use our Dutch oven). Add 1 1/2 tablespoons of oil along with the onions, carrot, fennel and a pinch of salt. Cook, stirring occasionally, until the vegetables begin to soften and look glossy, about 10 minutes.

2Stir in the garlic, herbs and bay leaf and cook for 1 minute. Pour in the stock, turn up the heat and bring to a very low simmer. When the stock comes to a simmer, you will likely need to turn the heat down to medium-low to keep it there. Stir in a 1/2 teaspoon of salt and a generous amount of pepper. Simmer for 20 minutes.

3Add the zucchini, kale, pasta, and the chopped chicken. If you like, add some or all of the cooking juices left at the bottom of the pan the chicken was roasted in. Continue to cook at a low simmer for 10 minutes or until the pasta is al dente.

4Taste the soup and adjust with more salt — we usually end up adding 1 to 1 1/2 teaspoons total, but this will vary based on the stock you use.

5Just before serving, drop the lemon slices into the soup. Serve with a little grated parmesan cheese on top (optional).
Adam and Joanne's Tips
Chicken Thighs vs. Breasts: We use chicken thighs a lot in our kitchen and find they have much more flavor than chicken breasts. They are also a little cheaper at the store. If you have chicken breasts, don't worry. They can be used in place of the thighs. Just roast until cooked through.
Pasta: If you plan to serve the whole batch of soup straight away, add the pasta according to our directions above. If you plan to enjoy the soup over a few days, it's best to cook the pasta separately and then add it to the soup since as the soup sits, the pasta will soak up the liquid and become mushy.
Storing: The soup will keep in the refrigerator for a few days and in the freezer up to a month. It's best to keep the pasta and soup separate when storing since the pasta will absorb liquid and become too soft. If when you reheat the soup, it seems dry, add a splash of stock or water — there should be enough flavor.
Turmeric adds color and a richness to the soup. It isn't absolutely necessary and you will likely find that most store-bought stocks already have it added.
Nutrition Facts: The nutrition facts provided below are estimates. We have used the USDA Supertracker recipe calculator to calculate approximate values.
If you make this recipe, snap a photo and hashtag it #inspiredtaste — We love to see your creations on Instagram and Facebook! Find us: @inspiredtaste
Nutrition Per Serving
Calories
240
/
Protein
18 g
/
Carbohydrate
25 g
/
Dietary Fiber
4 g
/
Total Sugars
5 g
/
Total Fat
9 g
/
Saturated Fat
2 g
/
Cholesterol
34 mg
/
Sodium
875 mg