Ultimate Slow Cooker Lemon Chicken Thighs Recipe
This our favorite slow cooker chicken recipe! See how we make ultra tender lemon chicken in our slow cooker with a lemony chicken gravy. So delicious! Jump to the Ultimate Slow Cooker Lemon Chicken Thighs Recipe or read on to see our tips for making it.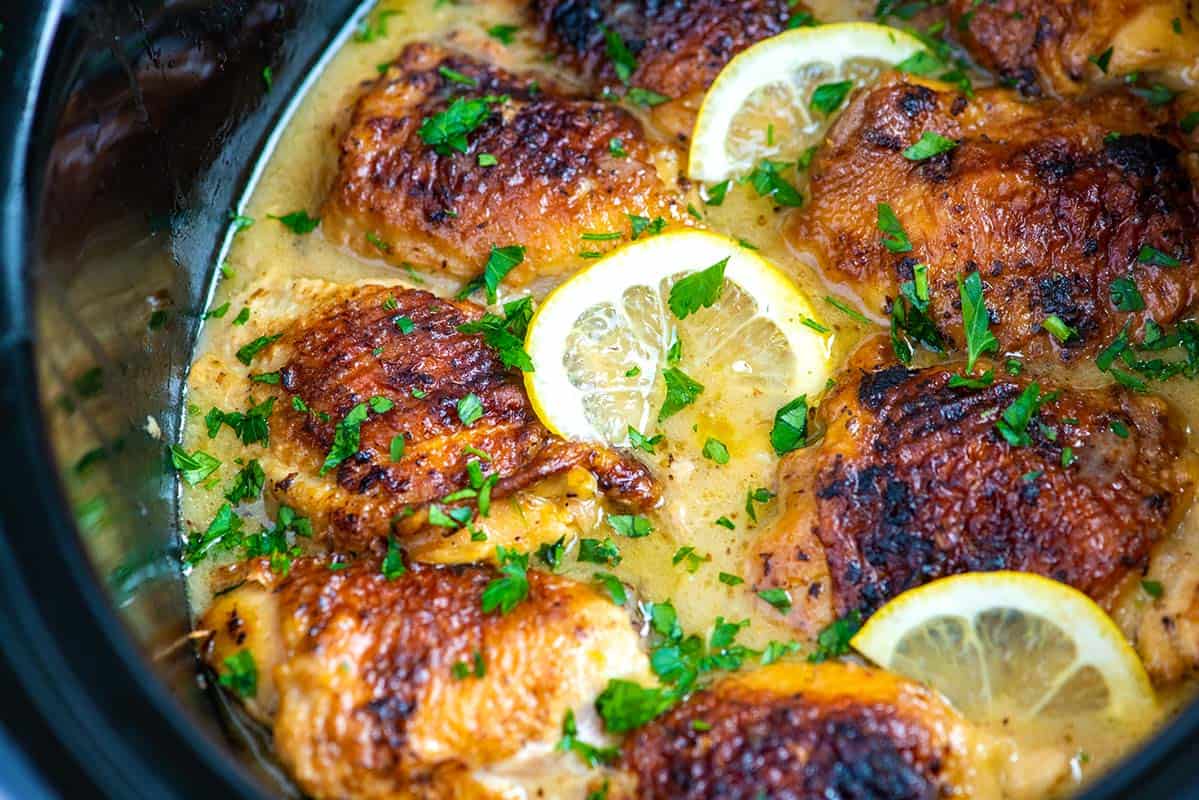 This recipe is adapted from our original lemon chicken. In the original, we sear chicken thighs on the stovetop then slide them into the oven to finish cooking. It's a simple method, but most of the cooking time is hands on. Thanks to a slow cooker, most of time for this recipe is hands-off.
YOU MAY ALSO LIKE: How to make tender and flavorful shredded chicken using a slow cooker. Try this easy recipe and use for sandwiches, tacos and more. See the Slow Cooker Shredded Chicken Recipe.
How to Cook Chicken in a Slow Cooker
These slow cooker chicken thighs have quickly become one of our most loved recipes on Inspired Taste. It all starts by rubbing chicken with a combination of mustard, lemon zest, herbs and salt. Then we sear the chicken skin in a hot skillet until browned.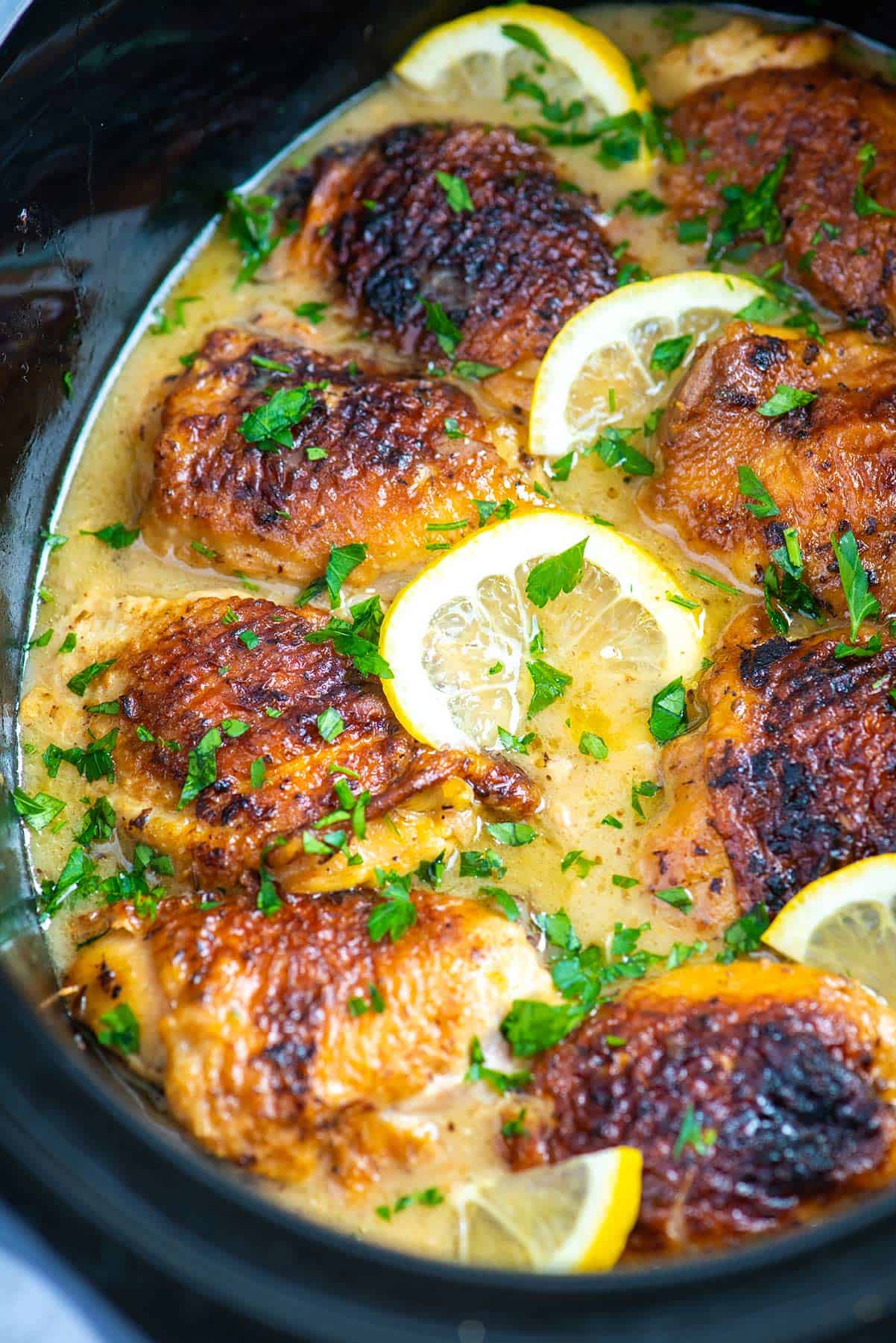 This step is not 100% necessary, but it ensures browned, delicious chicken skin when the chicken is done cooking. It also gives us the perfect opportunity to make a flavorful gravy right in the skillet.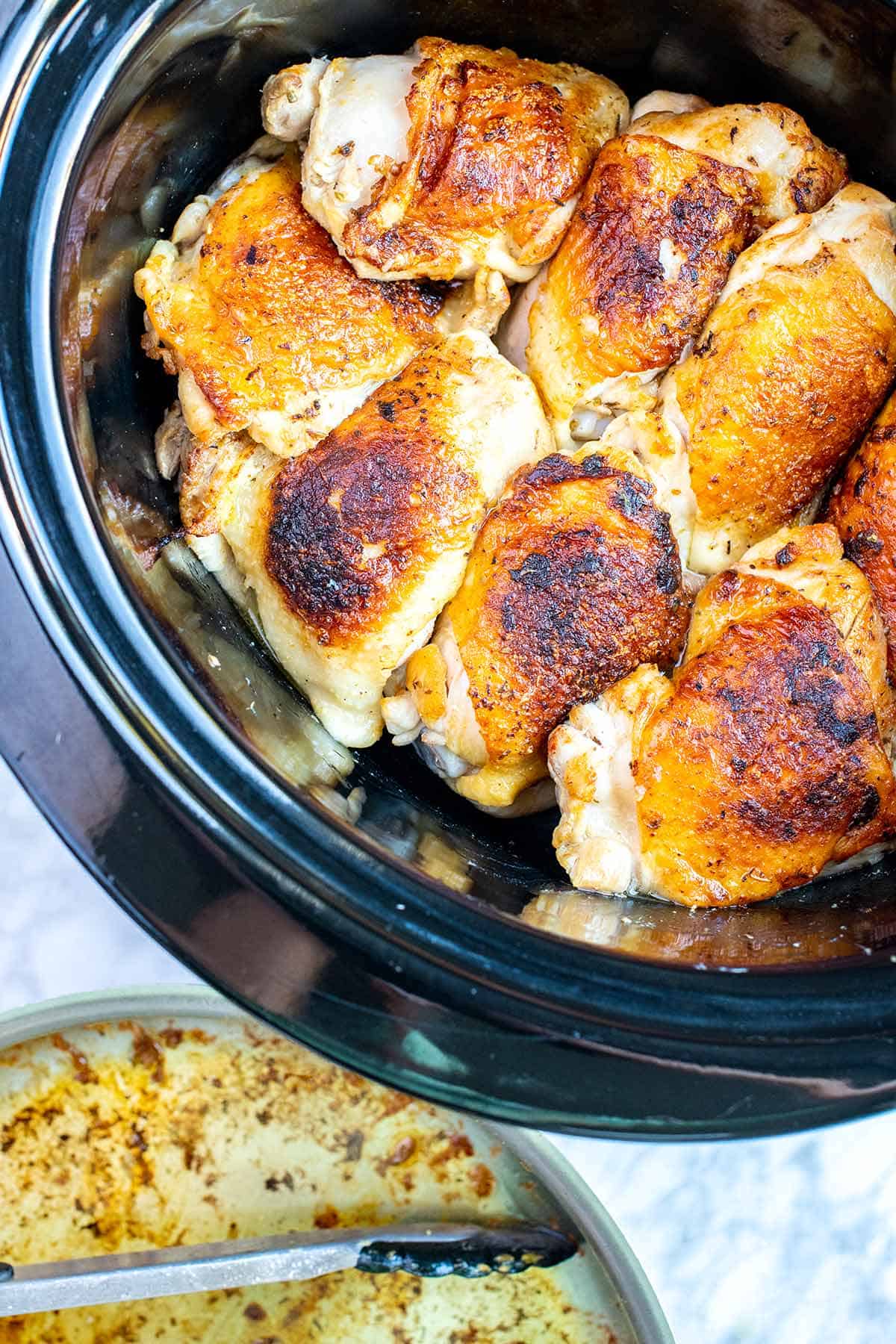 The lemon gravy is also optional, but wow is it tasty. It's easy and made directly in the pan used to sear the chicken in. By using the same pan, you get to scrape up any browned bits of chicken that got stuck on the bottom (this adds extra flavor).
To make the gravy, we whisk some of the rendered fat from searing the chicken with flour. Once the fat and flour has had a chance to cook for a minute, pour in chicken stock and lemon juice. Cook the gravy until it thickens slightly. It takes a minute or two, tops. By the way, this is exactly how we make regular gravy.
Here's what the chicken looks like after 5 hours of cooking. See all that liquid in the bottom? That's pure gold. It's a rich chicken broth that's absolutely delicious stirred into our lemon gravy or simply spooned over the chicken. Just skim most of the fat from the top and you are all set.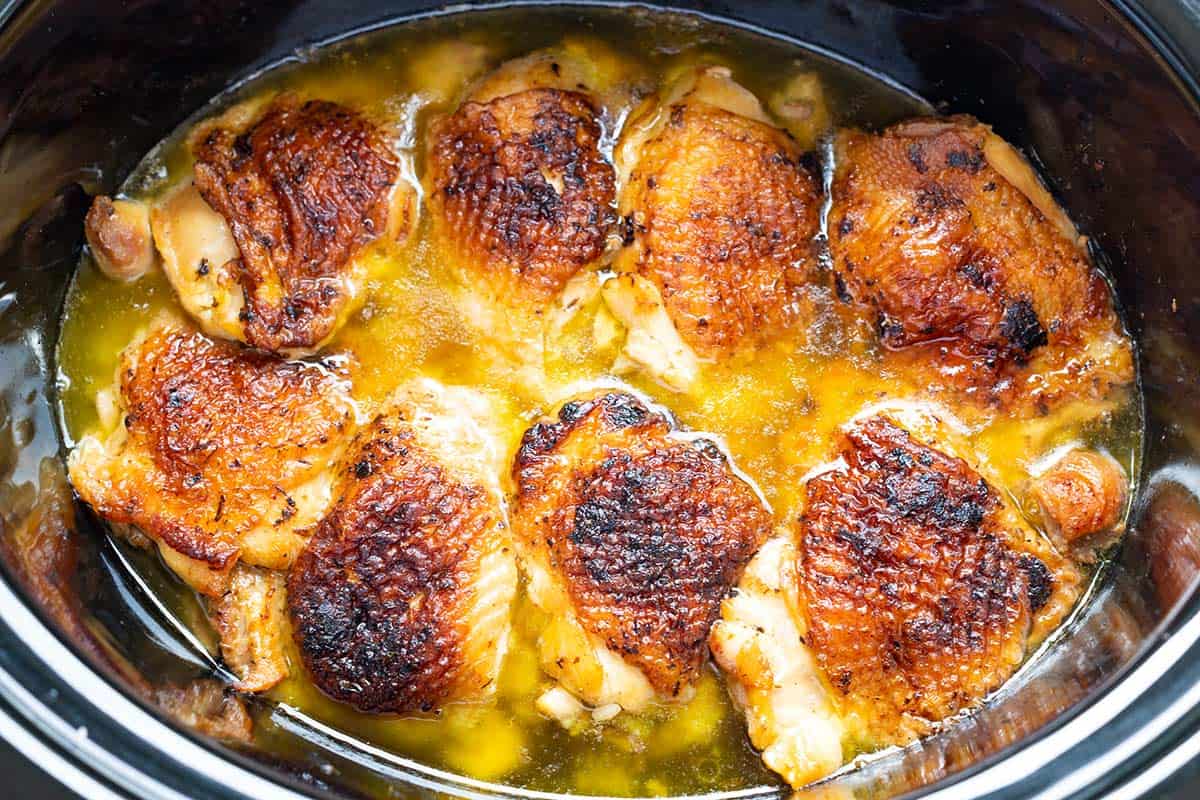 And that's it, how to make ultra tender chicken in the slow cooker. For more slow cooker recipes, take a look at our Ultimate Slow Cooker Pulled Pork, these Tomato Basil Slow Cooker Chicken Meatballs and our Honey Soy Slow Cooker Pepper Steak.
Ultimate Slow Cooker Lemon Chicken Thighs Recipe
Using a slow cooker for chicken ensures that the chicken is tender. We make a simple lemony gravy for the chicken. This happens in the same skillet the chicken is browned in before being added to the slow cooker and saved for when the chicken is done cooking. At the end of cooking, there will be just over 2 cups of chicken broth in the bottom of the slow cooker — some of this is rendered fat, which we prefer to remove. After skimming most of the fat from the broth, you are left with a flavorful chicken broth. For serving, combine this broth with the lemon gravy. It's delicious.
Add as many chicken pieces (thighs or breast) that will fit in one layer at the bottom of your slow cooker. They can be quite snug — as they cook, they reduce in size.
Makes 6 to 8 chicken thighs
You Will Need
6 to 8 chicken thighs, skin-on, bone-in, trimmed of excess fat, about 2 pounds
1 tablespoon Dijon grain mustard
1 tablespoon lemon zest (1 teaspoon for rub and 2 teaspoons for sauce)
1 1/2 teaspoons dried oregano
1/2 teaspoon dried thyme
1/4 teaspoon fine sea salt
1 tablespoon olive oil
1/4 cup lemon juice (from 1 large lemon)
1 1/4 cups low-sodium chicken stock, see our chicken stock recipe
2 tablespoons all-purpose flour
Directions
Prepare Chicken

Make rub for chicken. Combine mustard, 1 teaspoon of the lemon zest, oregano, thyme, 1/4 teaspoon of salt and 2 teaspoons of the olive oil in a small bowl. Use fingers or a brush to coat chicken on both sides with the mustard rub.

In another bowl or measuring jug, combine remaining lemon zest (2 teaspoons), lemon juice and the chicken stock. Set aside.

Note: Both the chicken and lemon-chicken stock mixture can be prepared up to one day in advance. Cover both and keep in the refrigerator.

Cook Chicken

Heat remaining teaspoon of oil in a large oven-safe skillet or frying pan over medium heat. Add the chicken, skin-side down, and cook 3 to 5 minutes or until the skin has turned golden brown and some fat has rendered.

Transfer the browned chicken to a slow cooker and arrange in one layer with the skin facing up. Cover with lid then cook on LOW for 5 to 6 hours or until the chicken is cooked through. Save the skillet with drippings for making the sauce.

Make Sauce

Remove all but 2 tablespoons of fat from the skillet used to brown the chicken. If there is not enough fat, add butter so that 2 tablespoons of fat are in the pan. Place over medium heat until hot then whisk in the flour. Continue to whisk until the flour and fat turn into a smooth paste and look medium blonde in color; about 1 minute.

Pour in the lemon juice-stock mixture and whisk until smooth. Bring the sauce to a low simmer. As it simmers, it thickens and becomes glossy. Transfer to a jar or measuring jug and refrigerate for when the chicken is cooked.

To Finish

When the chicken is done, it will be sitting in an inch or so of cooking liquid and rendered fat. Transfer the chicken to a plate then skim as much fat from the liquid as possible. There should be almost 2 cups of liquid left in the slow cooker.

Warm the lemon gravy made earlier then add the lemon gravy and stir until blended. Place the chicken thighs back into the slow cooker for serving or serve with the gravy drizzled on top.
Adam and Joanne's Tips
Can I use chicken breasts? Absolutely. If you can find them, use skin-on chicken breasts since it keeps the chicken very tender and adds flavor while it cooks.
Skip the lemon sauce: If you are short on time, you can skip the lemon sauce. The chicken broth that is made in the slow cooker after cooking the chicken over 5 hours is absolutely delicious and works very nicely spooned over the chicken or any sides you plan to serve it with.
Nutrition facts: The nutrition facts provided below are estimates. We have used the USDA Supertracker recipe calculator to calculate approximate values. Nutrition provided is for the lemon garlic version of the recipe.
Nutrition Per Serving:
Serving Size
1 thigh
/
Calories
252
/
Protein
23 g
/
Carbohydrate
2 g
/
Dietary Fiber
0 g
/
Total Sugars
0 g
/
Total Fat
16 g
/
Saturated Fat
4 g
/
Cholesterol
133 mg
/
Sodium
313 mg
Don't Miss Our Latest Recipes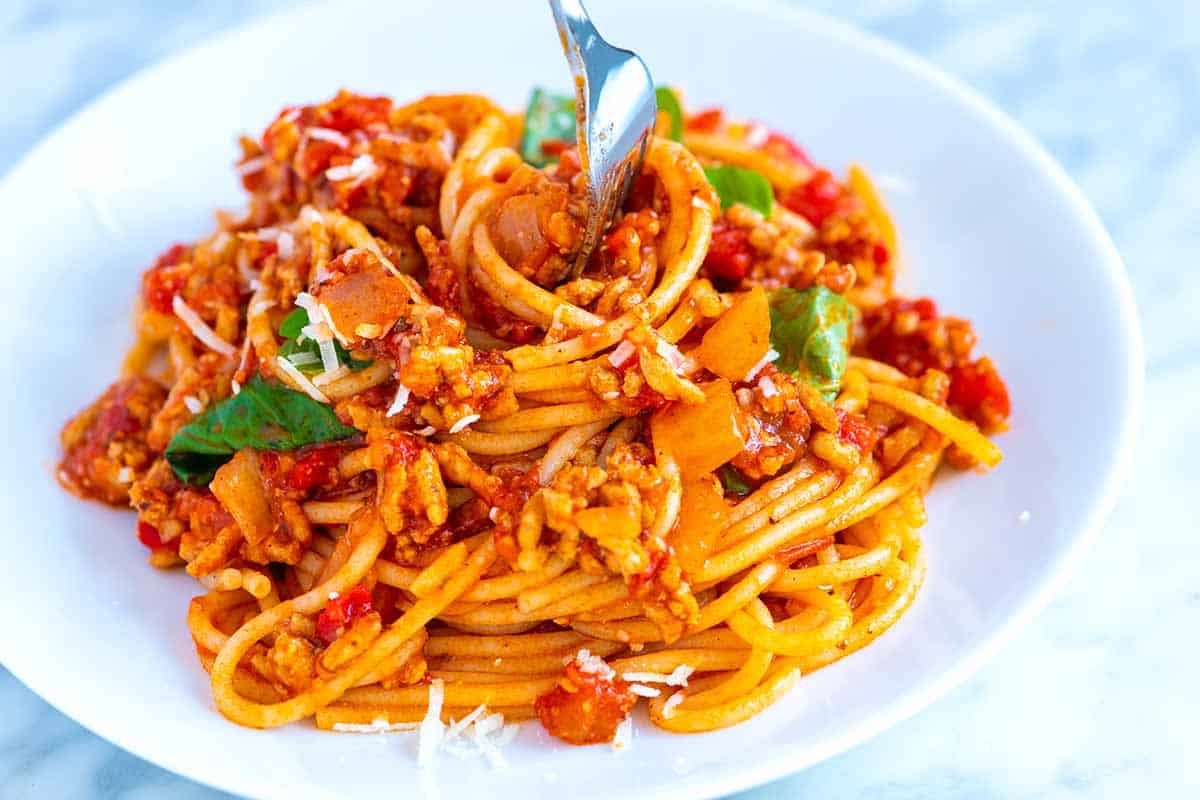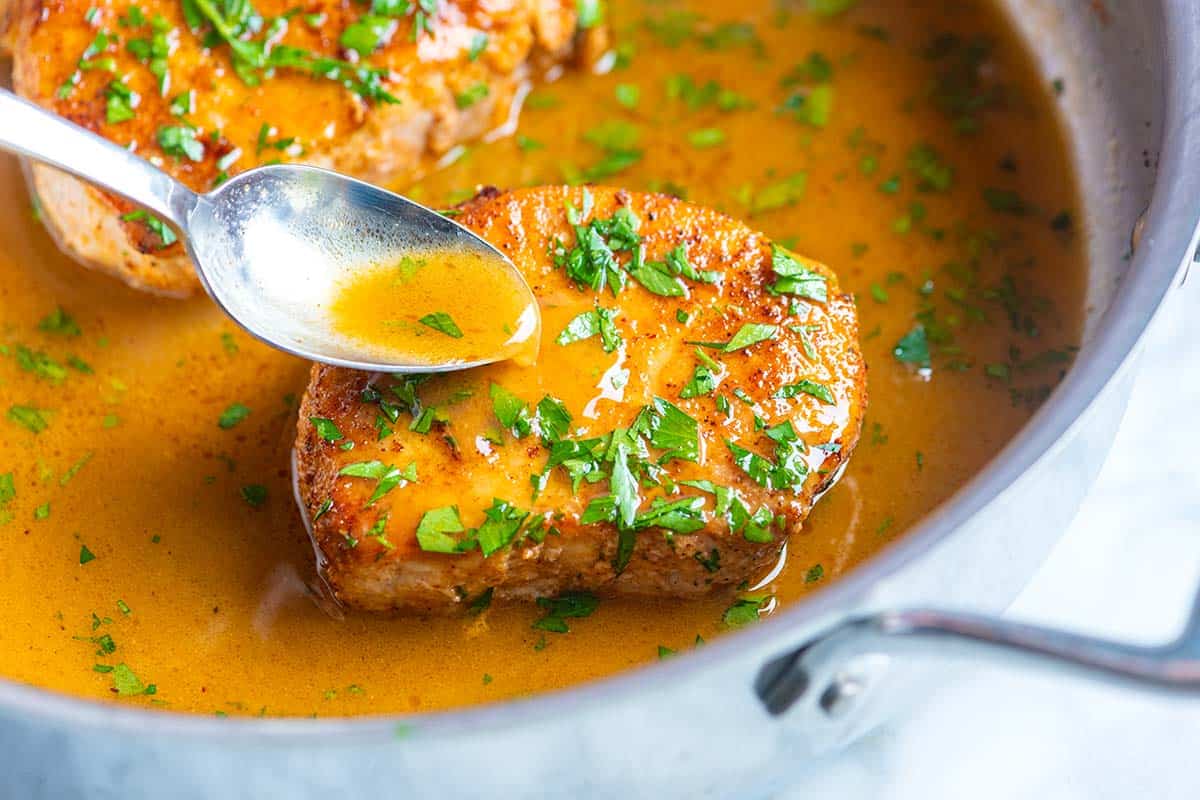 Previous Post: Easy Peach Cobbler Recipe with Biscuit Top
Next Post: Easy Creamy Coconut Black Beans Recipe