These veggie burgers are packed with vegetables! See how to make homemade veggie burgers that are hearty, flavorful and full of vegetables. These delicious vegetable-packed burgers are high in fiber (5 grams) and come in at just under 200 calories for one patty. Vegan substitutes are included in the recipe.
Watch the Video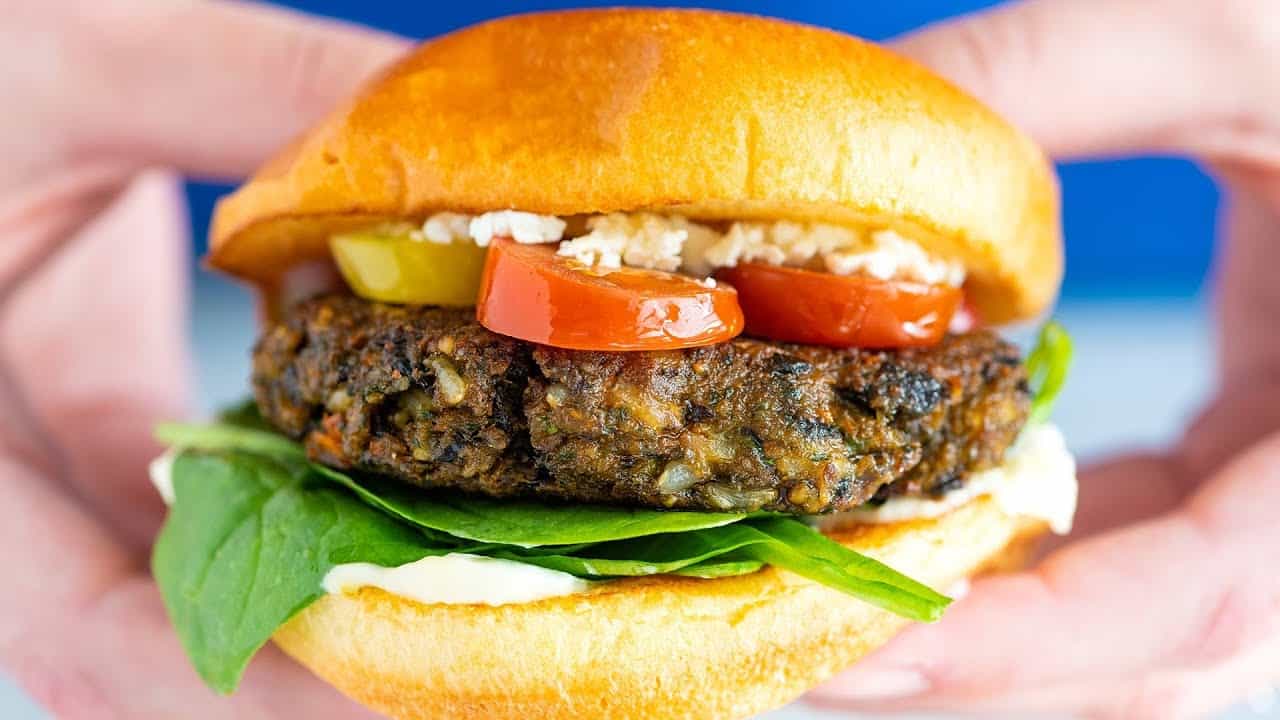 How to Make the Best Veggie Burgers
When setting out to create this veggie burger recipe, we had one major goal. If we are going to call this a veggie burger, let's make sure there are actually vegetables in it. Have you noticed that most of the veggie burger recipes, we stumble onto online are almost 100% beans. We add beans to this recipe, but they are far from the star. (If you are looking for a simple black bean burger recipe, though, here's our favorite version. They are so easy!)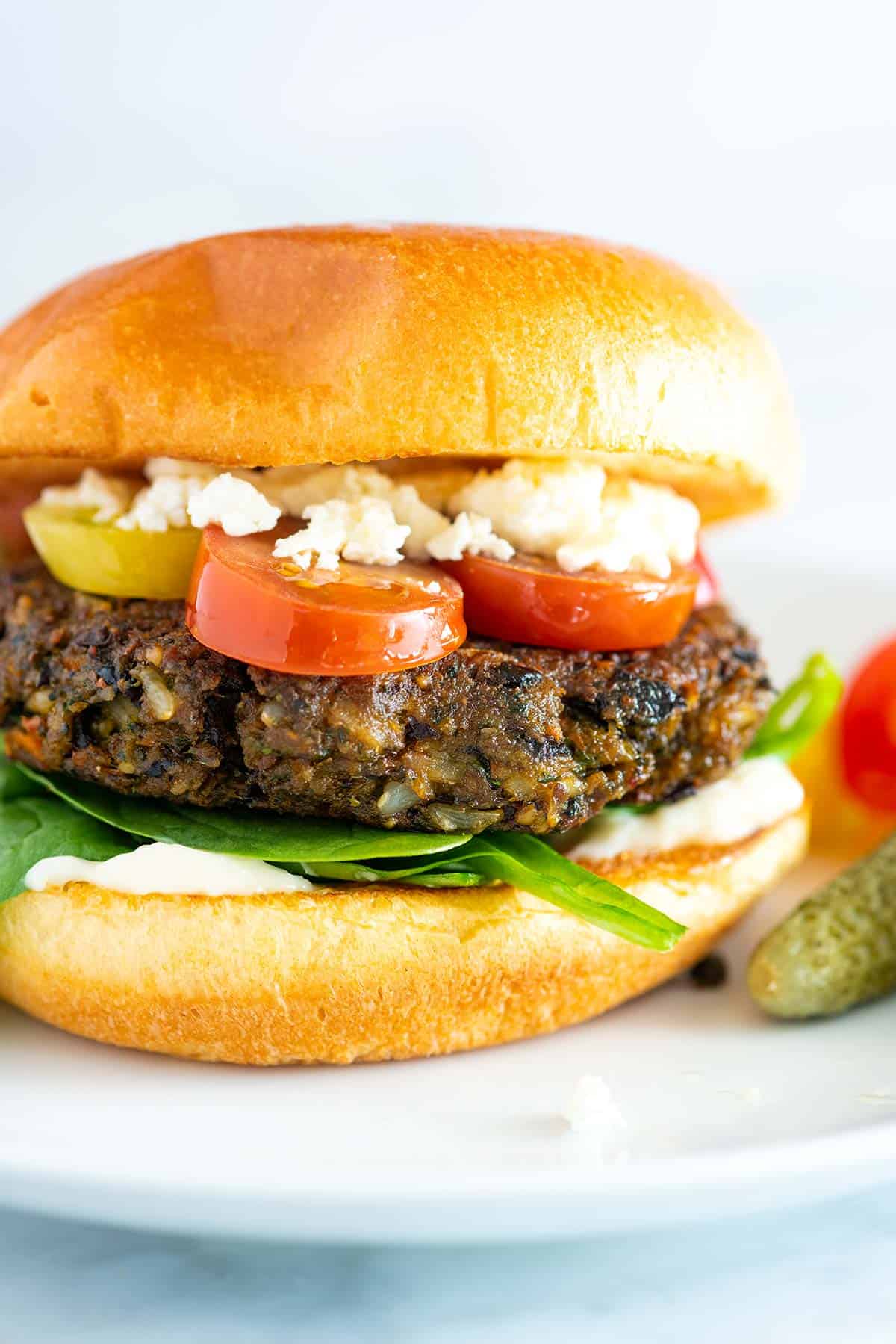 We add more than 8 cups of vegetables — that's 1 cup of veggies for every burger. We aren't trying to imitate a real meat burger here — see our no-fuss hamburger recipe or this seriously good turkey burger if that's what you're craving.
Mimicking meat is difficult to do and to be honest, I think it discredits how delicious vegetables can actually be. These meatless burgers hold up when cooking, fit nicely on a burger bun and don't smoosh out the sides when you take a bite. Most importantly, they are delicious.
We have a meatball recipe, too! Try our plant-based vegan meatballs recipe made with lentils, mushroom, and onion. They are delicious!
Let's Make Veggie Burgers, You Can Do This!
There's no getting around the fact that vegetable burgers take more time to make than regular hamburgers, but they are well worth it (trust us).
Nothing is difficult about the process, so stick with us. You can do this!
Rule one when it comes to making a great meatless burger — get rid of excess moisture. It's the extra moisture that causes some vegetable or bean burgers to smoosh so easily in the middle. We deal with this in two ways:
Roast the vegetables until caramelized and extra moisture has evaporated. We chop the veggies into tiny bits first and then roast them.
Roast the beans for about 15 minutes so they split open and dry out a bit (see the photo below).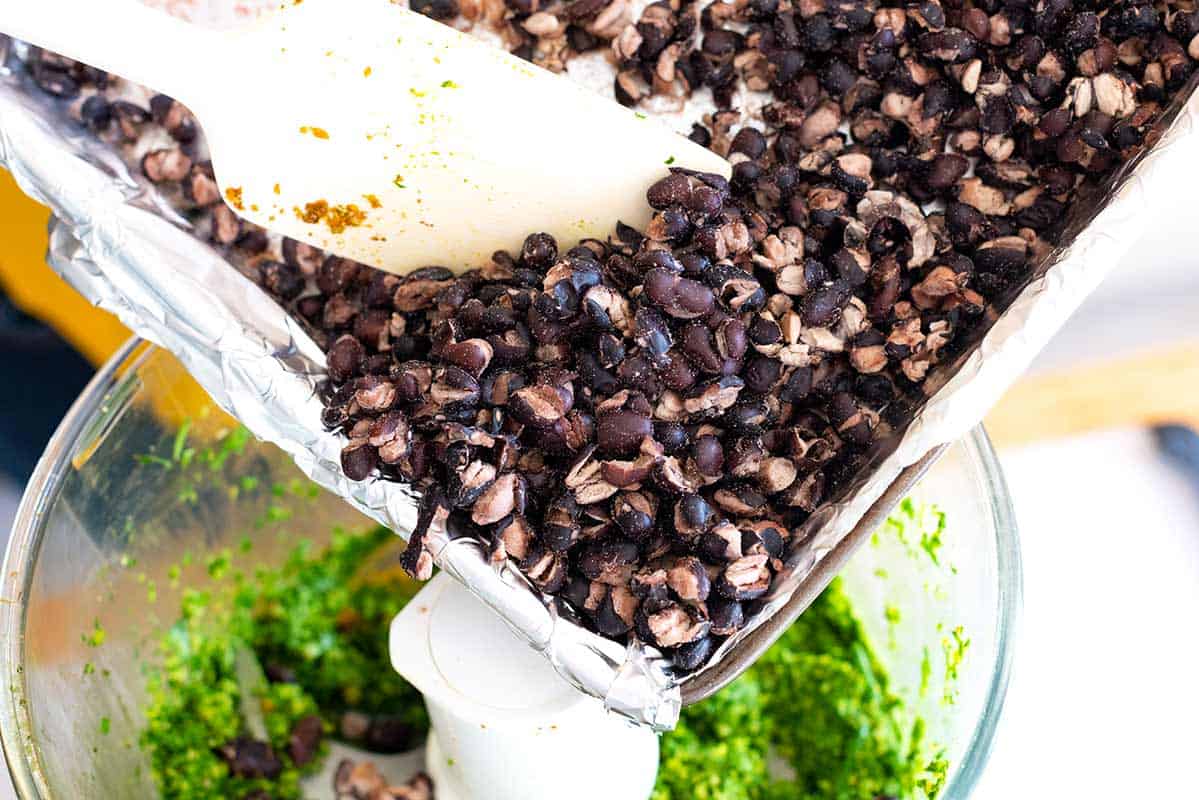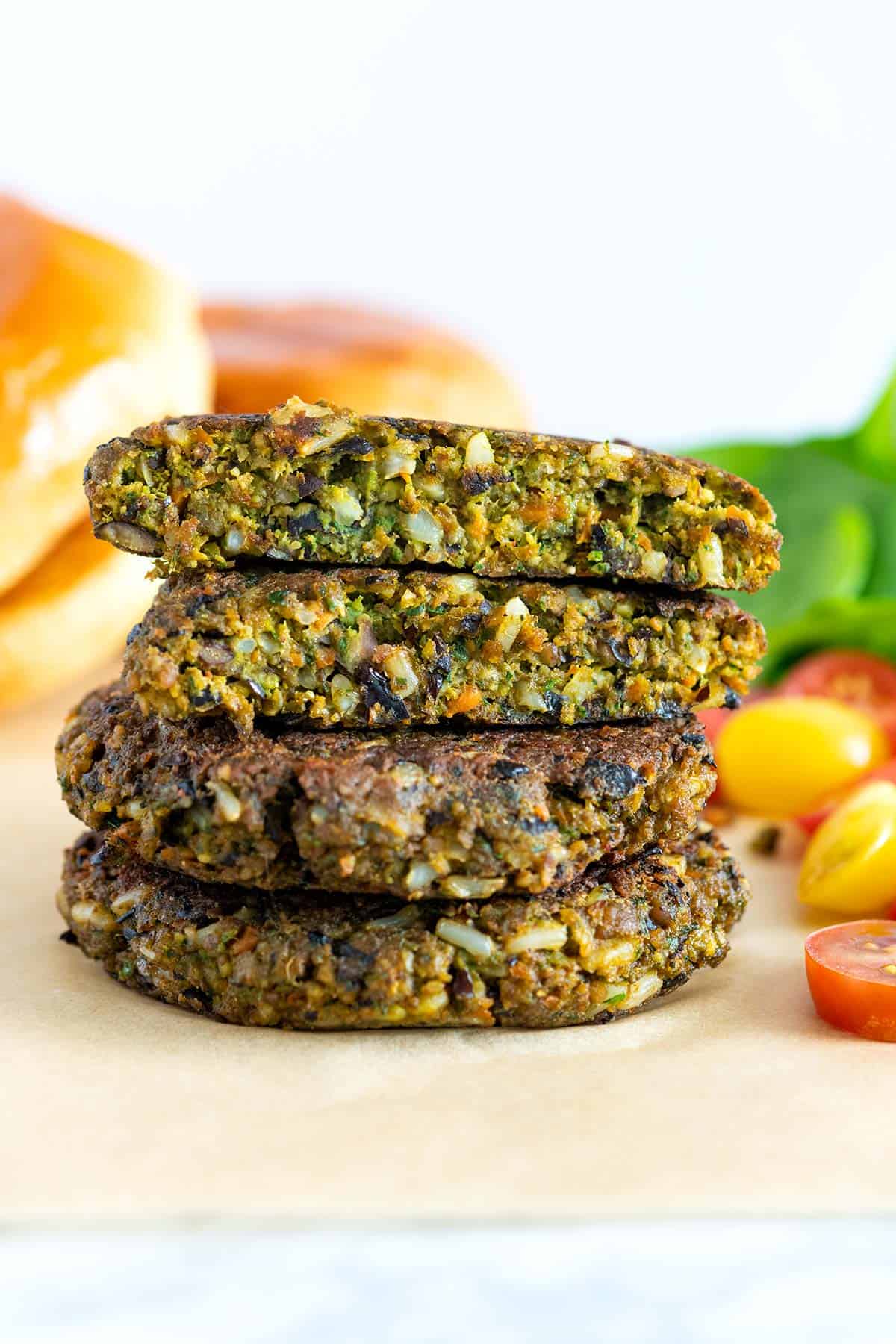 Rule two for making the best veggie burger — keep lots of texture. No one wants a boring burger, right?
See how you can actually identify different textures and ingredients in our photos? That's a good thing. Instead of biting into a patty with one color and one texture, these feel more "meaty" and have more oomph when you bite. We add texture four ways:
A food processor helps to chop vegetables so they look like coarse crumbs. This makes up most of the burger, which means you see the little bits of vegetable throughout the patty (see the photo below).
Two eggs help firm up the middles of the burgers so they stay together when you take a bite. If you don't eat eggs, don't worry, flax eggs are an excellent substitute. I've shared our tips below.
Watch out for over processing the burger mixture.
Fold in cooked brown rice before forming the burger patties. The rice gives extra texture and bites back a bit when you take a bite.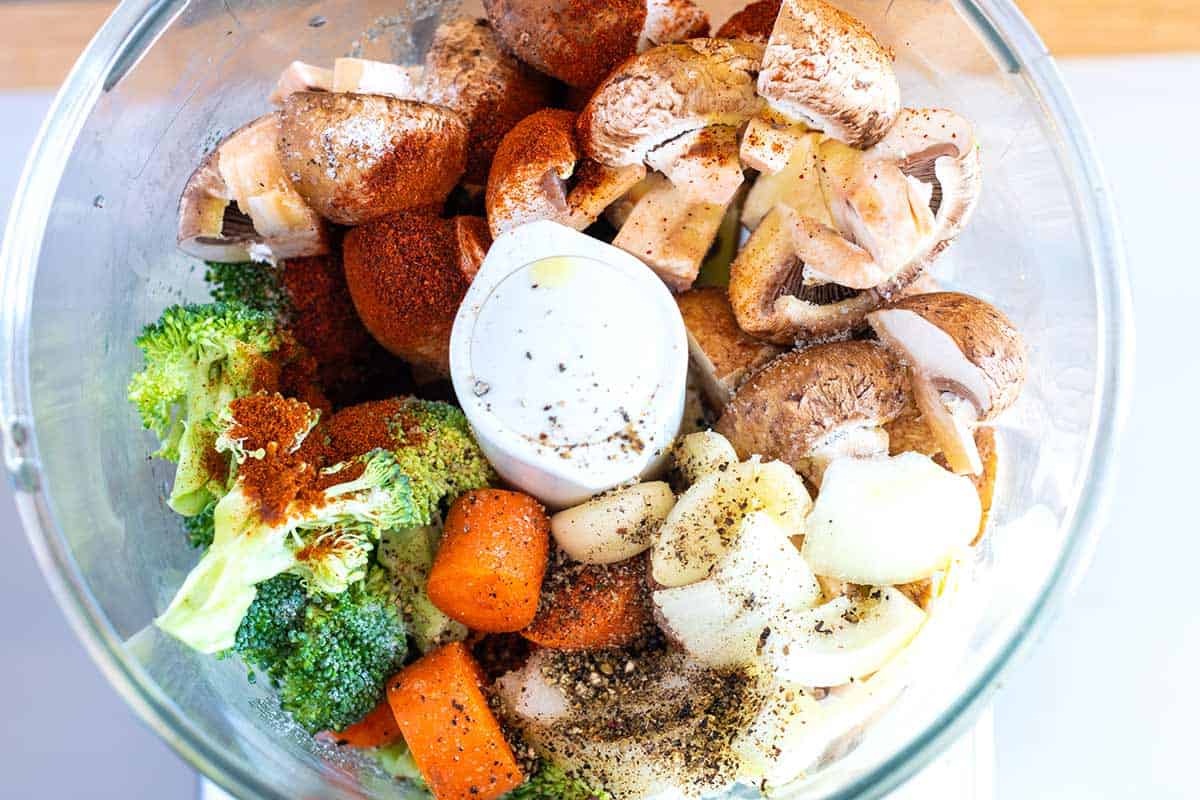 Making Vegan Veggie Burgers
When we first created this recipe, we called on eggs to help bind the burger together. They work like a charm, but since sharing these burgers with you, many of you have asked about making them vegan friendly.
Flax eggs are perfect in this recipe! They help bind and firm up the middles of the burgers. Here's what you'll need to make these veggie burgers vegan:
Use 2 flax eggs instead of the 2 eggs called for in the recipe. (Readers have commented that chia eggs work, as well. We have not tried this, yet.)
To make 2 flax eggs, whisk 2 tablespoons flaxseed meal with 6 tablespoons water. Set the mixture aside for 15 in the refrigerator then use in the recipe below.
Make Ahead Tips
Once you make the burger mixture, you can keep it in the fridge for 24 hours. Or you can form the patties, cook them and freeze up to three months (this is what we do).
Cooking The Veggie Burgers
Cooking the burgers is simple. Use a skillet over medium-low heat. You can do this on the stovetop or on a grill. (If you are grilling, we recommend still using a cast iron skillet or griddle). Baking them is an option, too (although, we do prefer the crunchy exterior you achieve when cooking them in a skillet).
These are still vegetable burgers after all, so take care when you handle them. They hold up well, but it is best to use a soft touch when moving them around or flipping.
More Vegetarian / Meatless Recipes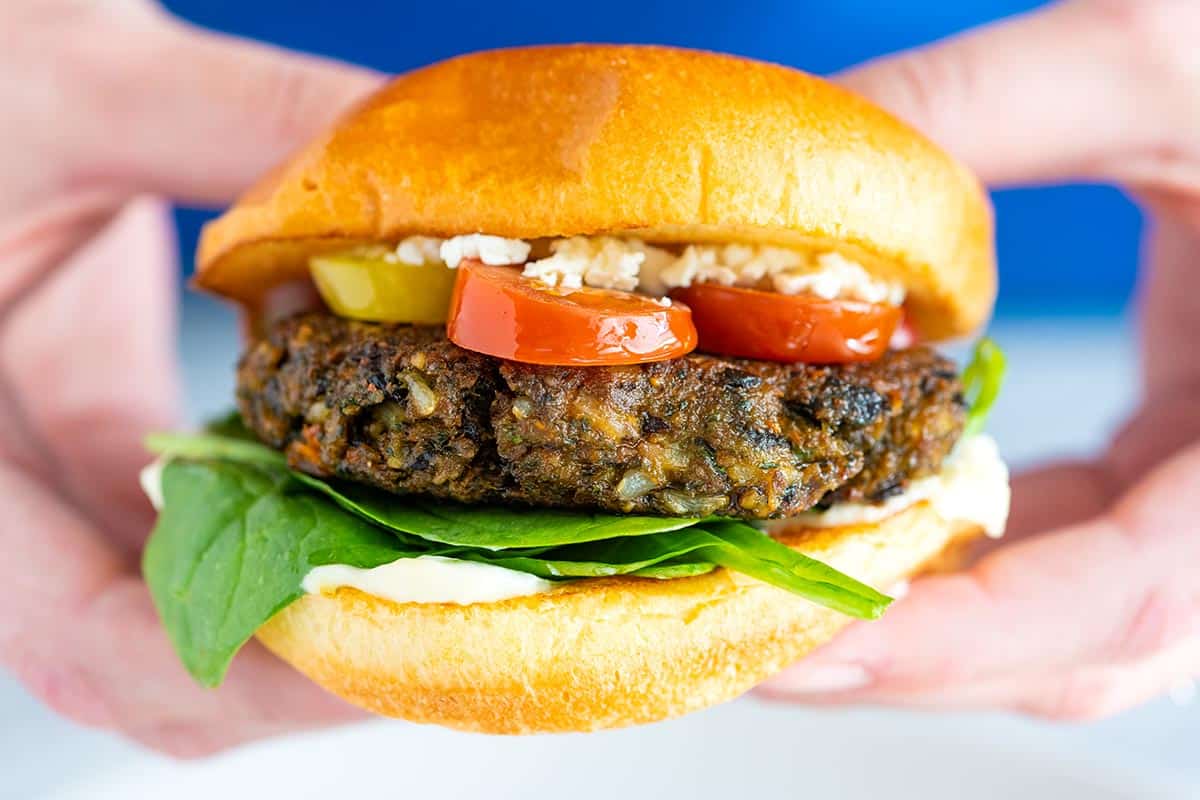 The Best Veggie Burger (Better Than Store-bought)
There's no getting around the fact that vegetable burgers take more time than regular hamburgers, but they are well worth it (trust us). Nothing is difficult about the process, so stick with us. You can do this! Once you make the burger mixture, you can keep it in the fridge for 24 hours. Or you can form the patties, cook them and freeze up to three months (this is what we do).
Makes 8 (3 1/4 ounce) veggie burgers
Watch Us Make the Recipe
You Will Need
8 ounces (225 grams) mushrooms
1 medium carrot
1 ½ cups (85 grams) broccoli florets
1/4 medium onion
2 medium garlic cloves
2 tablespoons (30 grams) oil such as olive oil, avocado oil or grape seed, plus more for cooking
1 teaspoon smoked paprika
1 teaspoon chili powder
3/4 teaspoon fine sea salt
1/4 teaspoon fresh ground black pepper
1 (15-ounce) can black beans, drained and rinsed
1/3 cup (35 grams) walnut halves (about 14 halves)
2 cups packed (85 grams) spinach leaves
Handful tender fresh herbs like chives, parsley or cilantro (optional)
1/2 cup (35 grams) panko breadcrumbs or use homemade breadcrumbs
2 large eggs or flax eggs
1 tablespoon (15 grams) tomato paste
3/4 cup (115 grams) cooked brown rice
Bread rolls, lettuce, tomato, cheese and favorite burger sauces
Directions
Prepare Veggies and Beans

1Heat the oven to 400 degrees F. Line two rimmed baking sheets with foil, parchment paper or silicon baking mats.

2Using a damp paper towel, brush all dirt from mushrooms. Cut away and discard any hard stems. Roughly chop the mushrooms, carrot, broccoli and onion into 1/2-inch chunks. Toss vegetables into the bowl of a food processor. Add the garlic, olive oil, smoked paprika, chili powder, salt and pepper. Close the lid and pulse 10 to 20 times until coarsely ground.

3Spread the ground vegetables onto one of the lined baking sheets. Pat them down with a spatula until a very thin layer of vegetables covers the majority of the baking sheet. Roast the vegetables for 15 minutes. (If the veggies around the outer edges start to turn dark brown, stir and press them back down into a thin layer).

4Meanwhile, spread the drained black beans onto the second baking sheet in one layer. When the vegetables have roasted for 15 minutes, stir them and press into a thin layer once more. Transfer both baking sheets (vegetables and the black beans) to the oven. Roast until the beans begin to split and look dry and the vegetables look drier and toasted, about 15 minutes. Let everything cool.
Make Burger Mix

1While the beans and vegetables roast, rinse the food processor bowl and pat dry.

2Place the walnuts, spinach and fresh herbs in it. Pulse until they are about the size of breadcrumbs.

3Add cooled beans and pulse 5 to 10 times until the beans look crumbly with large crumbs.

4Add the roasted vegetables, panko breadcrumbs, eggs and the tomato paste. Pulse until everything is just combined. You want to keep some texture, don't pulse until a smooth mixture.

5Scrape the mixture into a bowl and fold in the rice.

6Refrigerate the veggie burger mix up to 24 hours. Or make patties, cook them and freeze wrapped in foil up to 3 months.
Cook Burgers

1When you are ready to make the burgers, divide into 8 equal portions (about 3 1/4 ounces or 90 grams each). Form each portion into a 1/2-inch thick patty.

2Heat a skillet over medium-low heat, add oil, and then place patties in one layer. (We use about 1 tablespoon of oil to cook 4 burgers). Cook until heated through, firm and browned on both sides, about 4 to 6 minutes on each side. If any bits fall from the sides as you flip, press them back into the sides of the patty. Be careful when flipping so they stay together.

3For an outdoor grill, we recommend placing a cast iron pan or griddle over a low fire to cook the burgers.

4To reheat frozen cooked burgers: Bake in a 350 degree F oven until heated through, 15 to 20 minutes. Or reheat in a skillet over medium-low heat until heated through, 5 to 10 minutes on each side. We do not recommend microwaving the patties (they steam and become floppy).
Adam and Joanne's Tips
One (15-ounce) can of beans has approximately 1 1/2 cups of cooked beans (here's our recipe for home cooked black beans).
Other beans work for this recipe. Try cannellini beans, kidney beans and chickpeas.
Cooking brown rice: We love the texture and flavor of brown rice, but you can use white rice in its place. To cook brown rice, forget the package directions and cook it like you would pasta. Fill a large pot with lightly salted water, add the brown rice then let it cook, uncovered, at a simmer for 30 minutes. Drain the rice then add back to the pot off of the heat with a lid covering it so that it steams for an additional 10 minutes. This method is from Saveur and it really does make perfect brown rice.
Vegan / egg-free veggie burgers: If you don't eat eggs, you can leave the eggs out and use flax eggs as a substitute. Whisk 2 tablespoons flaxseed meal with 6 tablespoons water. Set the mixture aside for 15 minutes in the refrigerator, and then use in the recipe to replace the eggs.
The nutrition facts provided below are estimates. We have used the USDA database to calculate approximate values.
If you make this recipe, snap a photo and hashtag it #inspiredtaste — We love to see your creations on Instagram and Facebook! Find us: @inspiredtaste
Nutrition Per Serving
Serving Size
1 burger patty (no bread/cheese/toppings)
/
Calories
188
/
Protein
8.3g
/
Carbohydrate
22.7g
/
Dietary Fiber
5.4g
/
Total Sugars
2.8g
/
Total Fat
8g
/
Saturated Fat
1.3g
/
Cholesterol
46.5mg
/
Sodium
321.2mg