Loaded with fresh mushrooms, onions, sage, and thyme this homemade mushroom stuffing is deeply flavorful and absolutely delicious. The stuffing is savory and soft in the middle, and perfectly crisp on top. It is naturally vegan and you can make it in advance. Jump to the Mushroom Stuffing Recipe
Watch The Video
How We Make Mushroom Stuffing From Scratch
I've always loved stuffing, but this version with mushrooms, onions, and sage has quickly become my favorite. It's so delicious that I'm happy to eat it by itself, without gravy or other dishes.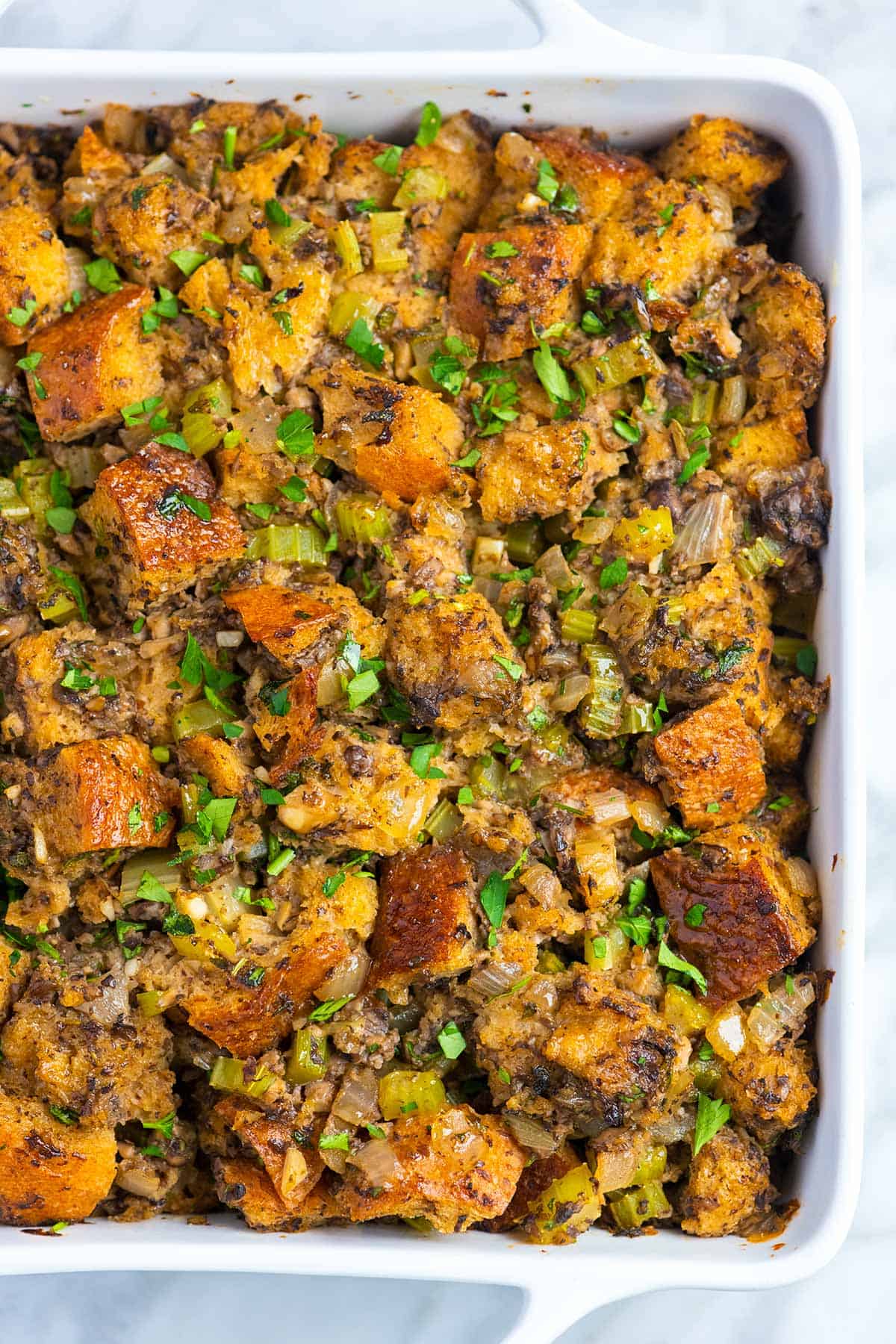 As written and photographed, the stuffing is vegan and let me tell you, it's incredibly delicious that way, and we truly believe that everyone, even the meat-eaters at the table will love it.
We use quality bread, lots of mushrooms, which add a deep savory flavor, onions, fresh herbs, and a rich vegetable stock. We don't typically add eggs, although, you are more than welcome to add them (check the variations sections below).
The recipe is straight-forward and is perfect for making ahead of time, which if you are adding this to a larger menu, like say for Thanksgiving, is perfect! Here's the basic process, and remember, there's a quick recipe video above to walk you through it:
Dry out the bread. For the best textured stuffing, we like to slice our bread into cubes and then, while we prepare the rest of the ingredients, bake the bread in the oven until dry. In a 350° F oven, this takes about 20 minutes. We aren't looking for the bread to be browned, but we do want the exterior to be dry and a bit hard.
Prepare the mushrooms. We use a lot of mushrooms in this stuffing (a whole pound) and love using a combination of two or more varieties. In the photos and video, we've used half cremini (baby bella) and half shiitake mushrooms. Using more than one variety adds extra flavor. We chop them very small, so small in fact, that you don't really see them in the final stuffing. They sort of hide in between the bread cubes. To chop them, use a food processor or do it by hand.
Prepare the onions, celery, and herbs. Onions and celery are classic ingredients for stuffing. We simply chop them small. As for the herbs, we rely heavily of sage, which tastes sweet, citrusy, and smells a little like pine. We love using fresh herbs for this, but you can use dried; ingredient amounts for both are shared in the recipe below.
Saute the vegetables. We cook the mushrooms first in a good amount of olive oil. By cooking them first, the mushrooms release a lot of liquid and start to brown, which deepens their flavor even more. Then to the already cooked mushrooms, we stir in the onion, celery, herbs, and some garlic. They cook for a few more minutes until soft and sweet.
Season well. This is a really important step. This recipe makes quite a bit of stuffing and getting the seasoning right is critical to how flavorful and delicious the final product is. In the recipe below, we share tips for how much salt and pepper you should add, but make sure that you taste the mushroom and onion mixture a few times to make sure that you are happy with the seasoning. If, when you taste it, the flavors don't really pop, add a bit more salt.
Add the broth and bread cubes. Just mix everything together, taking note as to whether the bread looks dry. If it does, add a bit more liquid. Depending on the type of bread you've used, you might find yourself adding close to a cup more broth.
Bake the stuffing. We bake our stuffing covered in a 350° F oven for 30 minutes, and then uncover it and bake another 10 minutes. This makes sure that the middle stays soft and moist and that the top gets a little color and is crisp.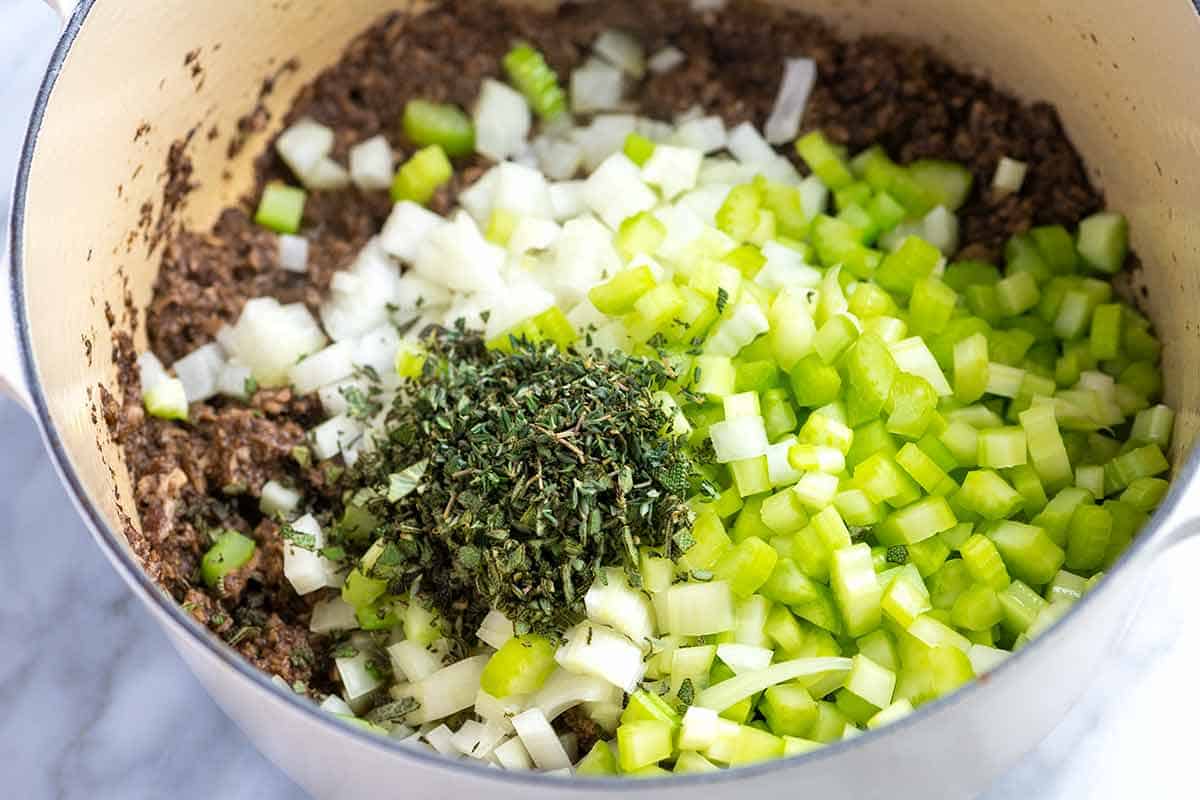 Stuffing Variations
This mushroom stuffing is absolutely delicious as written, but that doesn't mean that there aren't a few changes you can make so that it is your own. Here are a few suggestions:
Add eggs: For a more custardy, tightly packed texture, whisk in one or two eggs to the broth before combining with the vegetables and bread. (See the frequently asked questions section below for why we don't add eggs.)
Add sausage, bacon or pancetta: Cook the raw sausage, bacon or pancetta first until browned and crisp, and then transfer the meat to a bowl to add later, but leave the rendered fat in the pan. Cook the mushrooms and vegetables in the rendered fat. Then when you are stirring in the bread cubes, add the cooked meat.
Add even more mushroom flavor with mushroom powder: To make mushroom powder, add dried porcini mushrooms to a blender and blend into a fine powder. Stir in 1 teaspoon or so to the mushroom and vegetable mixture. Save the rest in an air-tight container and use for enhancing gravy, veggie burgers, and soups.
Add dried fruit or toasted nuts for texture and color: Add these along with the bread cubes. Consider dried cranberries, golden raisins or apricots for the dried fruit and toasted and chopped pecans or walnuts for the nuts.
Add apples: Cook peeled and cubed apples with the onions and celery. Apples will add a little sweetness to balance the savory stuffing.
Add parmesan cheese: For an extra pop of flavor, stir in 1/2 cup of grated parmesan cheese.
Add cooked lentils: To turn this stuffing into a vegetarian main dish, add 1 cup or more of cooked lentils for some extra sticking power and protein.
Frequently Asked Questions
Do you need eggs to make stuffing?
No, but it depends on the texture you expect the middle of the stuffing to be. Eggs don't really add much flavor, but they do change the texture. Eggs make the stuffing a little more dense, custardy (like bread pudding), and help the stuffing hold together when serving. Our stuffing (made without eggs), does not hold together like bread pudding would, but it is still moist and soft in the middle. If you'd prefer the stuffing to hold together a bit more, add an egg or two. See the notes section of the recipe for specific directions.
What kind of bread should I use?
Stay away from very soft or enriched breads like Brioche or Challah. For the best stuffing use high quality bread, preferably from a local bakery. We recommend a bakery-style hearty bread like French bread, sourdough or a rustic loaf. It's also best to use day old bread since the bread soaks up the flavors of the mushrooms and broth more easily without becoming mushy. If you don't have the time to wait, don't worry, we've built in a step to our recipe that dries out the bread anyway.
Can I make stuffing in advance?
Absolutely! You can dry out the bread and prepare the mushroom and vegetable mixture a couple days in advance and then mix the two together and bake. Or you can follow our recipe all the way up to adding the stuffing mixture to the baking pan, cover, refrigerate overnight, and then bake the next day. Leftover stuffing stores pretty well, too. Simply reheat in the oven (if it seems dry, add a splash more broth before baking).
Can I freeze stuffing?
Yes! After baking the stuffing, let it cool, and then transfer to freezer-safe, airtight containers. Freeze for a month (maybe more). When you are ready to eat it, reheat in the oven or the microwave until warmed through.
What's the difference between stuffing and dressing?
Technically, as the name suggests, to call this stuffing, it would need to be stuffed into something (like a turkey) and a dressing would be cooked in a separate baking dish. That makes a lot of sense to me, but as I am sure you've noticed, whether we call this stuffing or dressing usually depends on where we are from. In my case, my family has always called this stuffing — and that's whether we've stuffed it inside a turkey or not.
Can I stuff this into my turkey?
Technically, yes, but it can be a bit tricky. When cooking stuffing inside a turkey, you need to take care to cook the stuffing until it reaches 165° F in order for it to be safe to eat. The extra time it takes for the stuffing to reach this temperature usually means overcooking the turkey. It's because of this that we cook our stuffing in a separate baking dish and that's what we recommend.
More Thanksgiving Worthy Side Dishes To Try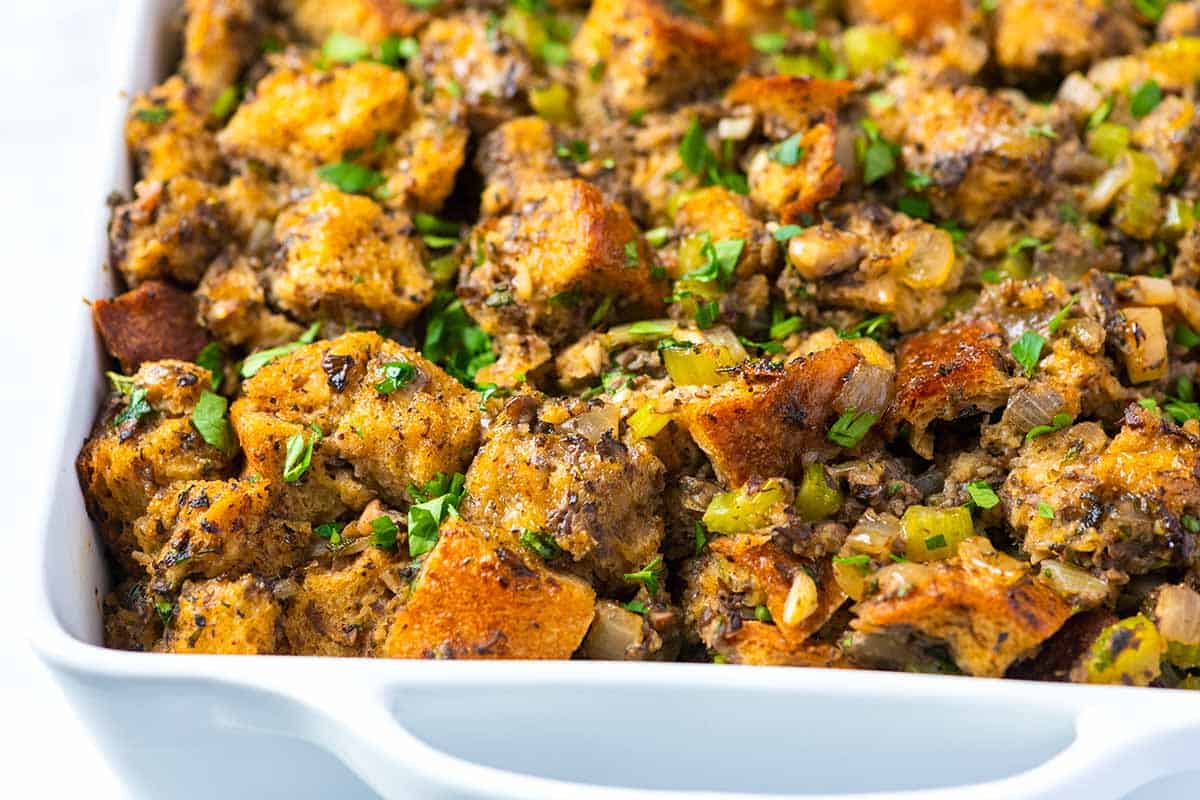 Seriously Good Mushroom Stuffing
Loaded with fresh mushrooms, onions, sage, and thyme this homemade mushroom stuffing is deeply flavorful and absolutely delicious. The stuffing is savory and soft in the middle, and perfectly crisp on top. We keep this stuffing vegan and use a rich vegetable broth. We find the stuffing is absolutely delicious this way, but if you prefer, you can use chicken or turkey broth as a substitute. Butter can also be substituted for the olive oil and you can add eggs, which will provide a slightly more dense, custardy texture. See our article above and the notes section below for more about eggs in stuffing.
Watch Us Make the Recipe
You Will Need
1 large bakery-style rustic bread loaf, like French bread or sourdough (14 to 16 ounces)
6 tablespoons (90 ml) olive oil
1 pound (450 grams) white button, cremini, shiitake, or wild mushrooms (or a mixture)
2 cups diced yellow onion (1 large onion)
1 1/2 cups diced celery (3 large celery stalks)
1 tablespoon minced garlic (3 cloves)
2 tablespoons finely minced fresh sage or 2 teaspoons dried sage
1 tablespoon finely minced fresh thyme leaves or 3/4 teaspoon dried thyme
1 tablespoon pure maple syrup, see note
2 to 3 cups (470 ml to 700 ml) rich vegetable broth or use chicken or turkey broth
1/4 cup fresh chopped parsley or 1 1/2 tablespoons dried parsley
3/4 teaspoon fine sea salt, plus more to taste
1/2 teaspoon fresh ground black pepper
Directions
Prepare the Bread

1Heat the oven to 350 degrees Fahrenheit (176° C).

2Cut bread into 1-inch cubes, spread out onto a large rimmed baking sheet, and bake, stirring every so often, until the bread is dry and hard on the outside, 20 to 25 minutes.
Cook Vegetables

1While the bread bakes, prepare and cook the vegetables. Chop the mushrooms into very small pieces either by hand or by using a food processor. If using a food processor (the quickest method), place half the mushrooms in the bowl of your food processor and pulse until roughly chopped into pieces the size of rice. Transfer to a bowl, and then repeat with the remaining mushrooms.

2Heat the olive oil in a large Dutch oven or deep pot over medium heat, and then add the mushrooms. Cook, stirring often, until the liquid has evaporated and they are starting to brown, 5 to 8 minutes.

3Stir in the onions, celery, garlic, sage, and thyme. Cook, stirring often, until the onions have softened and smell sweet, about 5 minutes. Season with salt and pepper — start with 3/4 teaspoon salt and 1/2 teaspoon pepper, taste, and then add from there. Stir in the maple syrup.

4Take the pot off of the heat, and then stir in the broth. Taste the mixture once more and check the seasoning. If it needs it, add a pinch more salt. Stir in the bread cubes and half of the parsley. If after the bread is well mixed into the vegetable mixture, it still looks dry, add 1/4 cup more broth or more until the bread looks moist, but stop before there is excess liquid at the bottom of the pot.
To Finish

1Transfer the stuffing mixture to a lightly greased baking dish (use a deep 8-inch x 8-inch square pan, 9-inch by 13-inch dish or similar). Cover with a layer of foil, and then bake for 30 minutes. Uncover the stuffing, and bake another 10 minutes or until the top is golden brown and crisp on top. Serve with the remaining parsley scattered on top.
Adam and Joanne's Tips
Broth: For the most flavor, use a rich stock like this homemade vegetable broth or use a premium store-bought broth or bouillon product. We've used Pacific Foods Organic Vegetable Broth with great success.
Maple syrup balances the ultra-savoriness of the mushrooms. If you do not have pure maple syrup, you can leave it out or substitute with 1 tablespoon brown sugar.
Adding Eggs: Whisk one or two eggs (depending on how dense you'd like the middle to be) into the cold broth. Let the mushroom and onion mixture cool down a bit, stir in the bread cubes, and then stir in the broth and eggs mixture. Transfer to a baking dish and bake as directed in the recipe above.
For vegan stuffing, make sure that the bread and broth you use are labeled as vegan.
Nutrition facts: The nutrition facts provided below are estimates. We have used the USDA database to calculate approximate values.
If you make this recipe, snap a photo and hashtag it #inspiredtaste — We love to see your creations on Instagram and Facebook! Find us: @inspiredtaste
Nutrition Per Serving
Serving Size
1 of 8 servings
/
Calories
270
/
Total Fat
11.4g
/
Saturated Fat
1.6g
/
Cholesterol
0mg
/
Sodium
694.7mg
/
Carbohydrate
37.2g
/
Dietary Fiber
4.2g
/
Total Sugars
5.2g
/
Protein
7.2g