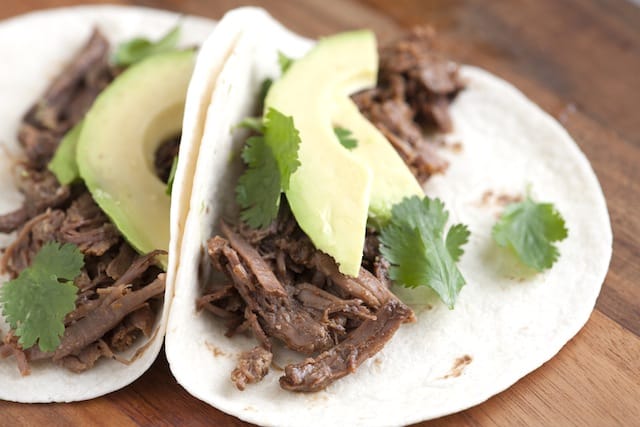 umm. yeah.
We love tacos, don't you? We love them even more after eating these. We braise (cook something that has liquid added and is covered with a lid or foil) beef with our favorite selection of spices and lots of garlic for over 3 hours until we could literally pull it apart. We dare you to only have 2 tacos. We top our tacos with avocado, lime and cilantro. A few diced raw onions would be a nice touch, too. Keep it simple, the beef should shine.
Enjoy!
How to make Shredded Beef Tacos
You are going to need a few spices for this, start with chili powder, ground cumin, ground coriander, bay leaves and cinnamon sticks. In addition to that, grab 3-4 cloves of garlic and 1 tablespoon of tomato paste.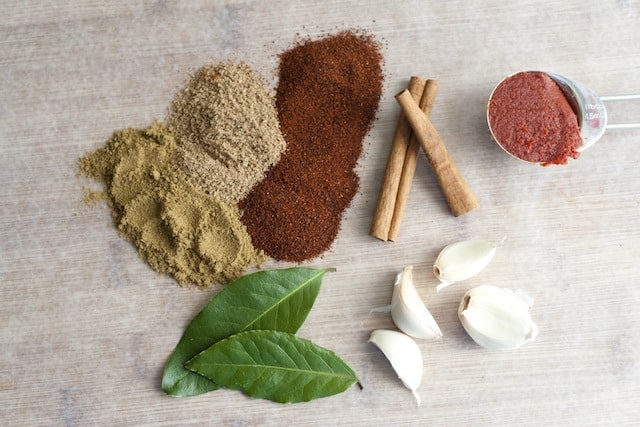 Peel and smash the garlic cloves, you won't need to mine or chop the garlic, we just want the flavor.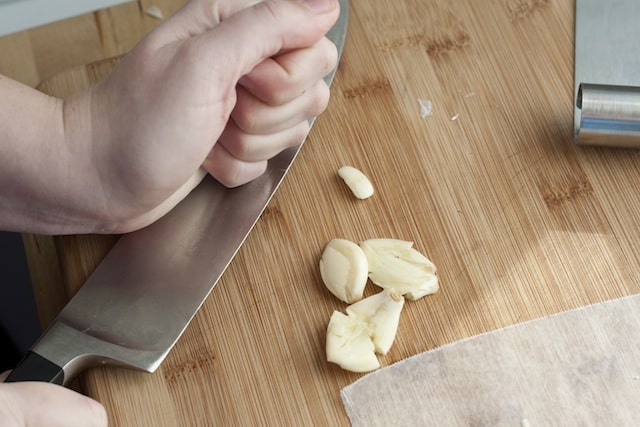 That is a 4 pound chuck roast (on the label it said Pot Roast). Generously season one side with salt and black pepper.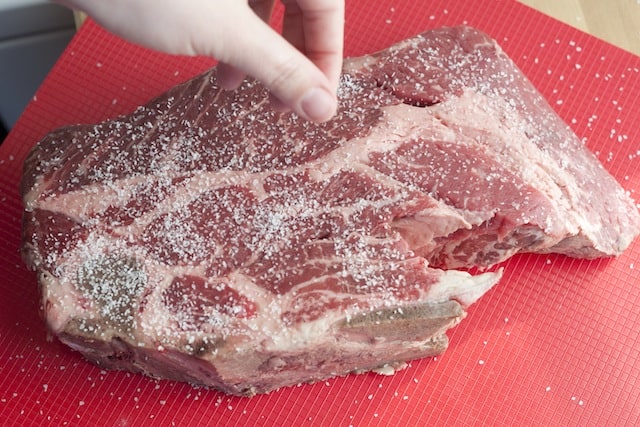 Add the beef, seasoned side down into very hot oil, and then season the other side. Allow the beef to brown on each side.
Thrown in all the spices, garlic and tomato paste. Then, add 3-4 cups of water. Add enough water so that it comes at least 3/4 of the way up the beef.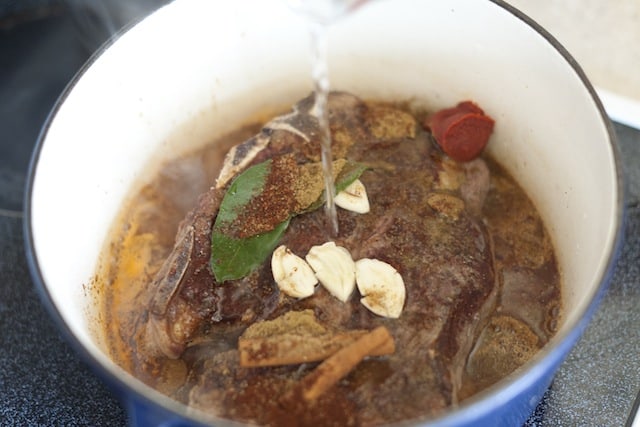 Cover then bake in a 275 degree oven for 3-4 hours. Our 4 pound roast did it in 3, but just check after 3 hours. If the beef is easily shredded, it's done.
See… that is done.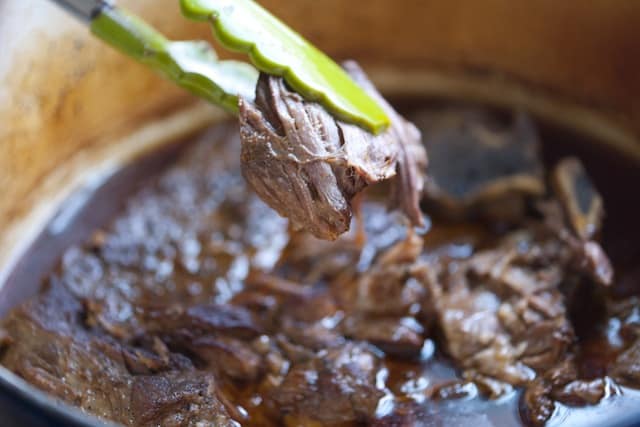 Now, remove the beef and use two forks to shred the beef.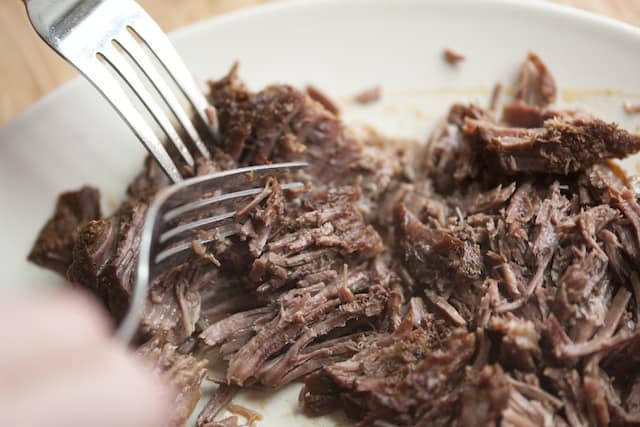 Strain the liquid left in the pot.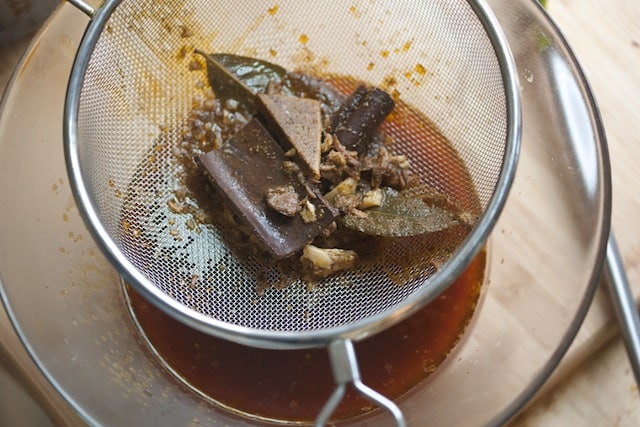 Next, use a spoon to remove the fat that collects on the top of the cooking liquid. See that smaller bowl on the right? That is all fat. Discard all the fat, we don't need it.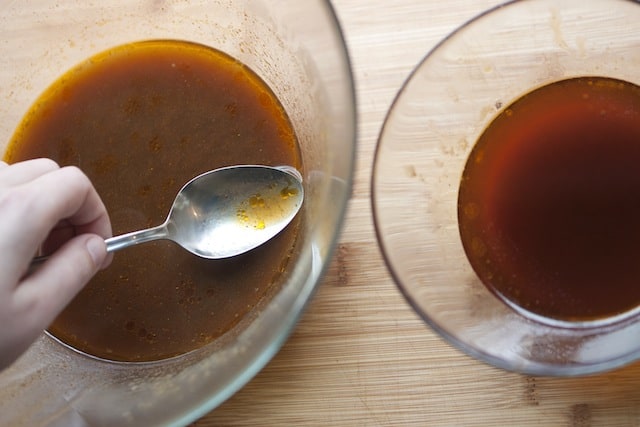 Add the cooking liquid (with fat removed) to the pot then add 2-3 teaspoons of real maple syrup to the liquid. This is only to balance the flavors a bit. This is also a good time to taste for seasoning and add salt if necessary.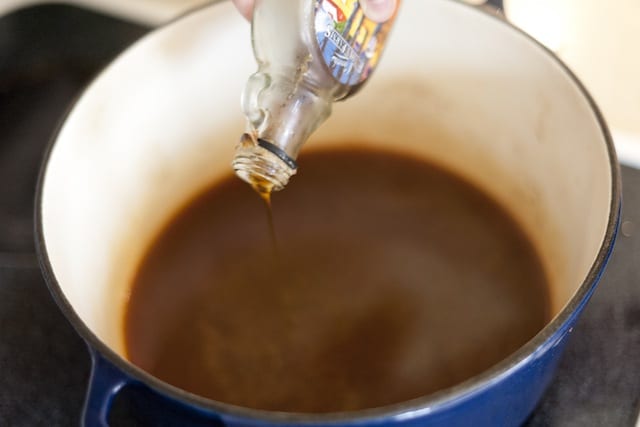 Allow the liquid to reduce by half then pour over the shredded beef.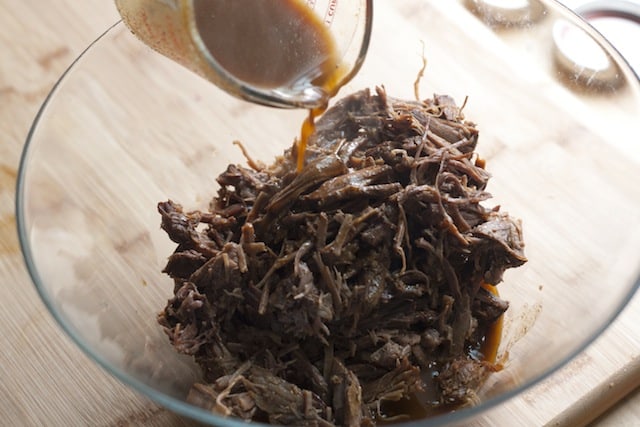 Now, find a tortilla, some avocado, cilantro, lime and maybe some diced onions and make yourself an AMAZING taco!
We created this recipe for Betty Crocker and are excited to share it with you!

Making shredded beef is quite a simple process, you just need to have the time to allow it to braise. A 3-4 pound chuck roast will take around 3 hours to cook. The trick to melt in your mouth shredded beef is cooking low and slow.
Created By:
Adam and Joanne Gallagher
You Will Need
4 to 5 pounds chuck roast
2 tablespoons vegetable or canola oil
salt and pepper
4 cloves garlic, smashed
1 tablespoon tomato paste
1 tablespoon chili powder
1 tablespoon ground coriander
1 tablespoon ground cumin
2 bay leaves
2 cinnamon sticks
2 teaspoons real maple syrup
10-12 tortillas
2 avocados, sliced
1/2 cup fresh cilantro leaves
2 limes, quartered
Directions
Preheat oven to 275 degrees F and heat a large dutch oven (large oven safe pot with lid) over high heat.
Generously season one side of the beef with salt and pepper.
Add oil to hot pot then add the beef, seasoned side down, to the hot oil. Allow to sear 2 minutes until browned. While the first side is searing, season the second side of beef with salt and pepper. Flip then sear on the other side.
Add garlic, spices and tomato paste to the pot. Then, add the water so it comes up 3/4 way up the side of the beef. Stir then cover with lid and cook in the oven 3 hours. Check beef after 3 hours, if the beef shreds easily, it is done, if not, cook for 30-40 more minutes.
Remove beef and shred with 2 forks.
Strain cooking liquid and skim off any fat then add strained liquid to the pot and bring to a simmer.
Add maple syrup and cook liquid until reduced by half. Taste for seasoning then pour over shredded beef.
Add beef to tortilla and top with avocado, lime and cilantro.