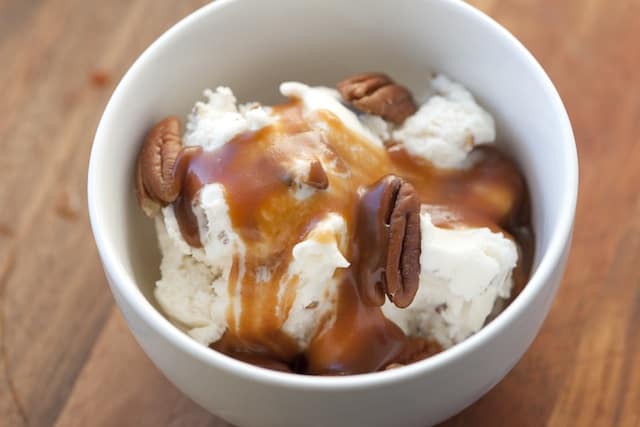 Can we tell you a secret?
Caramel sauce is ridiculously easy to make at home. It really, truly is. All you need is a few ingredients, a saucepan and a candy thermometer. Then, in just about 20 minutes you can make it at home — yourself. No fancy expensive store-bought jars of sauce needed.
This caramel sauce is addictive, especially when drizzled over butter pecan ice cream, brownies or whatever else you can get your hands on. We even show you how to turn it into salted caramel sauce — all you do is add salt. Simple!
Caramel Sauce Recipe - Just Four Ingredients + 20 Minutes
You will need sugar, water, cream and vanilla extract.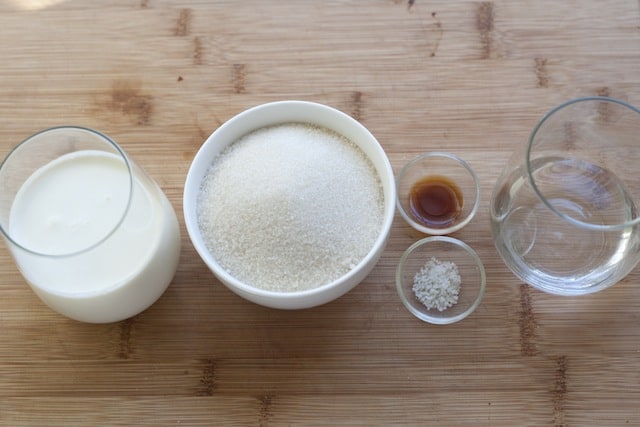 If you love the combo or salt and sweet, you will also need salt.
How to Make Caramel Sauce
Add the sugar and water to a large saucepan over low heat. Stir just to combine, but be careful not to slosh the sugar up the sides of the pan. Cook over low heat until the sugar has dissolved into the water. This would be a good time to add a candy thermometer to the pan, too!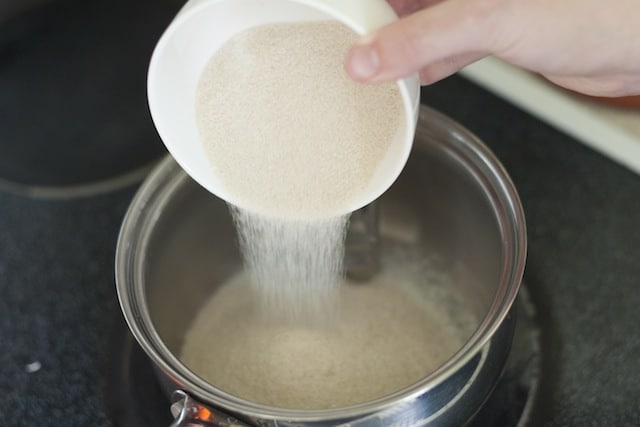 If some sugar granules have made their way up the side of the pan, knock them back down using a wet pastry brush. If you do have granules on the sides of the pan, they could cause crystals, which can burn later on.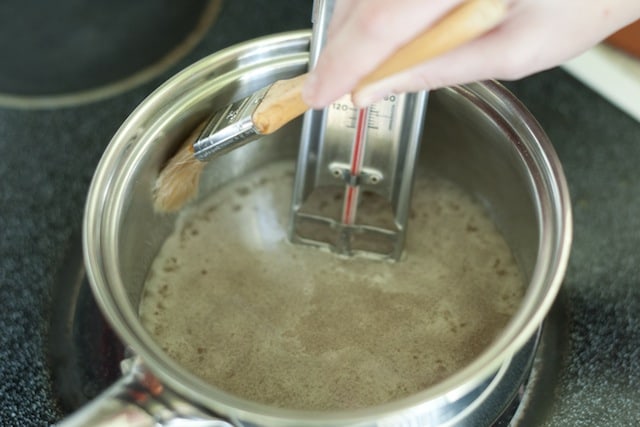 Now, go ahead and increase the heat, stop stirring the mixture and bring the sugar to 350 degrees F. This step takes 5-10 minutes, but stay close. Remember, you are working with very hot sugar, so be careful. If you need to, swirl the pan carefully to disperse any hot spots.
At 350 degrees F, the caramel will look like this, a dark brown color.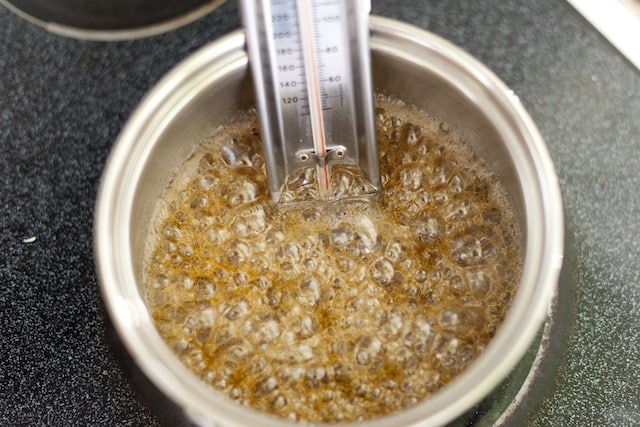 Turn off the heat, then add the cream. It will bubble violently, so stand back a bit.
Next, add some vanilla extract.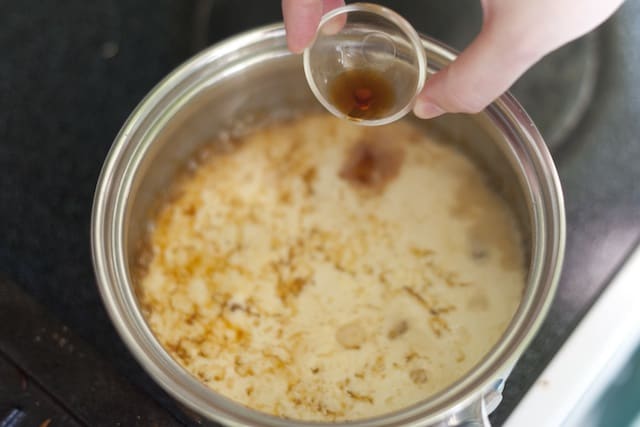 …and, if you're using it, add the salt. Can't have salted caramel sauce without the salt, right?
Now, place the pan back onto the heat and stir until smooth. Don't worry if the caramel is lumpy at first, any lumps will melt into the caramel after a minute or two. Then, allow the caramel to cool. You could give it a taste at this point… just be careful and blow on the spoon before trying — remember it is crazy hot right now.
With that said, when we've added salt, we like to try it (after blowing on it until cooled) to check for the saltiness — you may want to add an extra pinch or two.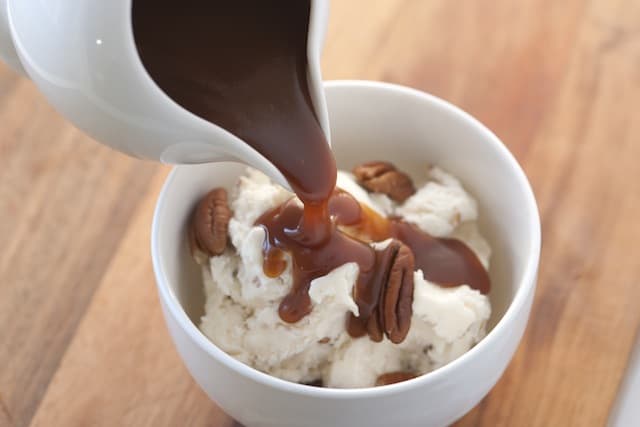 Once cooled, you can store the sauce in an airtight container in the fridge for two weeks! Although, we doubt it would last that long.When you want to use it, throw it in the microwave for 30 seconds and pour over whatever you desire… me? I went for butter pecan ice cream.
You May Also Like
Have you seen our simple salted caramels? You might also want to check out The Pioneer Woman's easy caramel sauce recipe.
Irresistible Caramel Sauce Recipe
We take one of our favorite caramel recipes and turn it into salted caramel sauce. Making your own sauce is not hard, but you do need a medium heavy bottomed saucepan and candy thermometer to make it, both are found at any kitchen store.
Created By: Joanne and Adam Gallagher
Yield: 6
You Will Need
1 1/2 cups sugar
1/3 cup water
1 1/4 cups heavy cream
1 teaspoon vanilla extract
1/2 – 1 teaspoon sea salt
Directions
Add sugar and water to a medium heavy bottomed saucepan. Stir then cook over low heat 5-10 minutes until the sugar has dissolved; do not stir while the sugar cooks. Gently, use a wet pastry brush to brush down any sugar crystals that have made their way up the sides of the saucepan, be careful not to drag the sugar/water mixture up the sides of the pan.
Attach a candy thermometer to the side of the saucepan and increase the heat to medium. Cook, without stirring, until the sugar reaches 350 degrees F. This will take 5-8 minutes, every so often, gently swirl the saucepan to distribute any hot spots and to stir the mixture.
Once 350 degrees has been reached turn off the heat and immediately pour in the cream and vanilla. The cream WILL splatter and bubble violently, just stand back and be careful during this step. After bubbling the caramel will solidify, this is fine.
Add caramel back to the burner over low heat for 2 minutes, constantly stirring until the solids have dissolved and the caramel is smooth. Stir in 1/2 teaspoon of salt, take a spoon and dip into the caramel and allow to cool to the touch then taste for seasoning, if it needs some more salt, add 1/4-1/2 teaspoon more. Cool to room temperature. Then, tightly cover and store in the refrigerator up to two weeks, warm before serving.