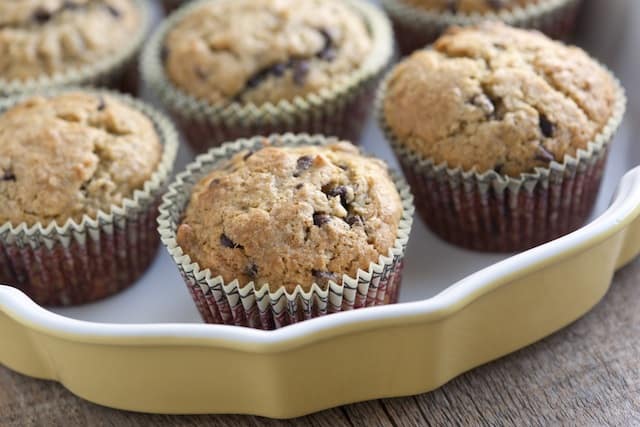 Forget the air freshener, make these muffins instead! The sweet aroma of banana, sugar and chocolate baking in the oven is amazing. So much in fact, that if any candle maker is reading this, we just found your new scent!
You May Also Like: Our Easy Banana Bread Recipe with a quick how-to video showing you how we make them.
My best friend doesn't like bananas… I know, it confuses me, too. These are obviously not for her, but if you're on the other side of the banana boat (ha!), you will love these and if you don't, package them up and send them our way, because we do.
p.s. since I know she's reading this, for all you anti-banana folks, try these strawberry yogurt muffins, instead!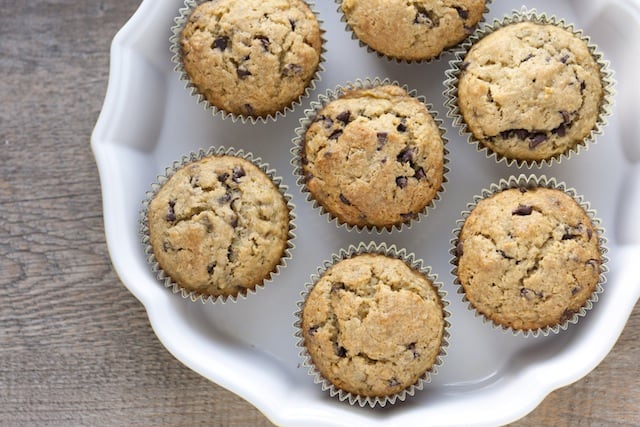 How to make Banana Chip Muffins
Making muffins are easy, start by combining all the dry ingredients: flour, sugar, baking powder, baking soda and salt.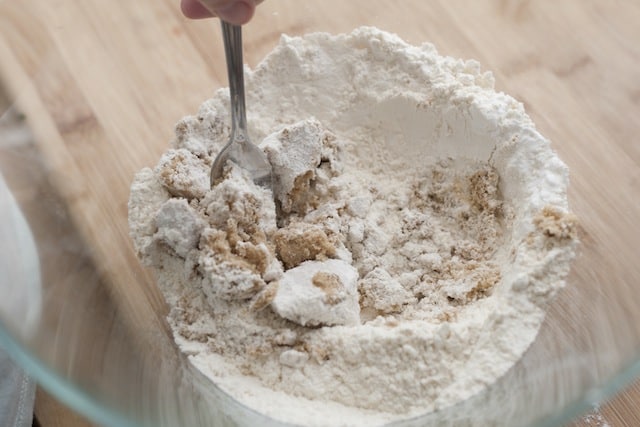 Next, use a fork to combine 3 ripe mashed bananas, an egg, vanilla extract and some melted butter.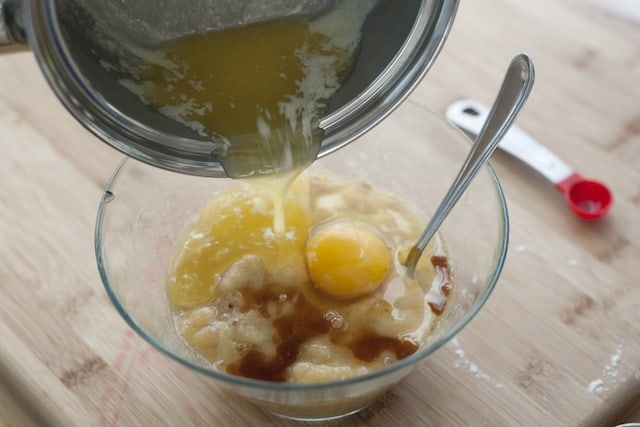 Add the banana mixture to the dry ingredients then use a fork to mix just until the two come together. No need to beat or over mix, here.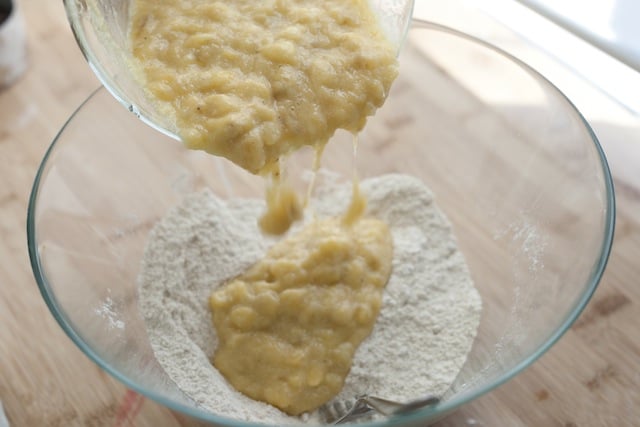 In go the mini chocolate chips. We like using mini chips so we can be absolutely sure that every bite results in chocolate!
Use a spoon, ice cream scoop or cookie/dough scoop to fill each cup 3/4 of the way full then bake for 25-30 minutes.
You could cool these completely, but warm is definitely the way to go in our book. Enjoy!

Banana Chip Muffins Recipe
These easy banana muffins with mini chocolate chips are a great snack or breakfast on the run. We like to use mini chocolate chips for these so that every bite has chocolate in it. Also, make sure the bananas you use are ripe, if not overripe. The more ripe, the more flavor. If you would like, adding some toasted walnut or pecan pieces would be delicious, too. This recipe will make 12-14 muffins depending on the size of your muffin/cupcake pan.
Created By:
Joanne and Adam Gallagher
You Will Need
1 1/2 cups all purpose flour
1/2 cup packed brown sugar
1 teaspoon baking powder
1 teaspoon baking soda
1/2 teaspoon salt
3 ripe bananas, mashed with a fork
1 egg
1/2 teaspoon vanilla extract
1/3 cup unsalted butter, melted and cooled slightly
3/4 cup mini chocolate chips
Directions
Heat oven to 350 degrees F. Line a muffin/cupcake pan with paper or silicone liners.
In a large bowl, use a fork to combine flour, sugar, baking powder, baking soda and salt. In another bowl, use a fork to combine the mashed banana, egg, vanilla and melted butter.
Add banana mixture to flour mixture then use a fork to combine. Try not to over mix, you only need to mix until the two come together. Add mini chocolate chips and fold into batter.
Fill muffin cups 3/4 full then bake 25-30 minutes until a toothpick can be inserted and come out clean. Cool 5 minutes and enjoy warm or cool completely.