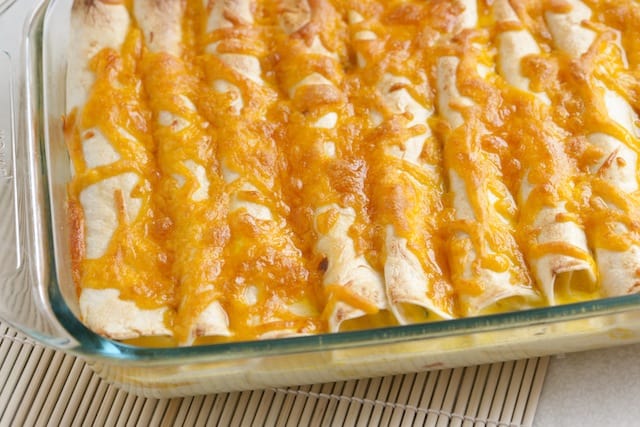 We love entertaining in the morning, but my gosh it can be a pain if you don't plan ahead. We want to spend time with our family and friends, not with our oven, frying pans or whisk! That's why we love, love, love this recipe. Prep it the night before, cover and keep overnight then bake in the morning while you enjoy your orange juice or coffee with company. Pretty perfect if you ask us! Oh, and if you don't manage to make it the night before, no worries, it comes together in minutes anyway.
Breakfast Made Easy – Make Ahead
The best part about these enchiladas is that you actually make everything the night before. All you need to do is roll up your favorite omelet toppings/fillings, line them up in a baking dish and top with our rich egg custard.
Cover and refrigerate. Then, bake the next morning!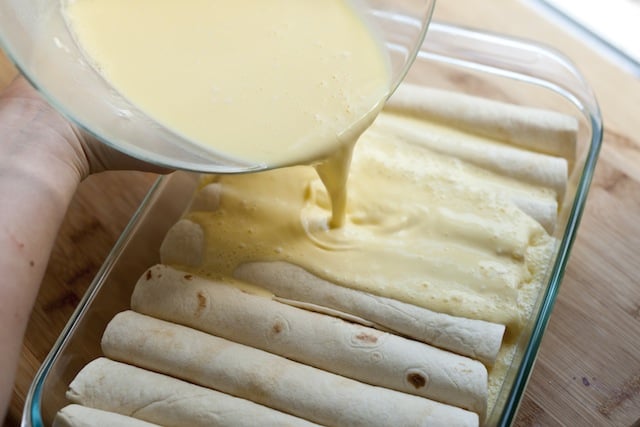 Feel Free To Mix it Up
What are your favorite omelet toppings/fillings? Cheese, peppers, onions … bacon, ham? Whatever they are, throw them into a bowl with some cheese and stir.
Then, just add a few spoonfuls to each tortilla and roll 'em up!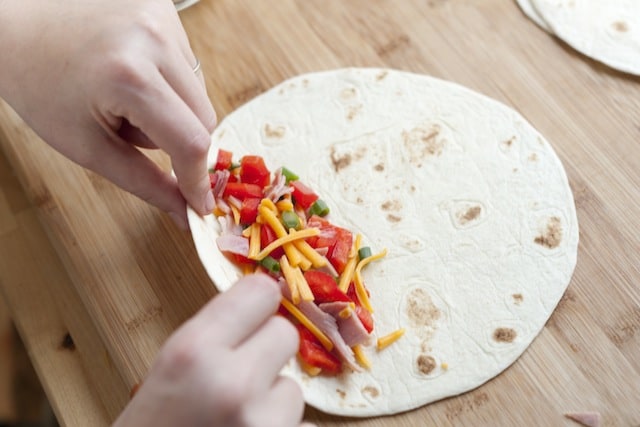 Need some more make-ahead breakfast or brunch ideas? Try our Baked Oatmeal with Strawberries, Banana and Chocolate!
These enchiladas were originally created for Betty Crocker and we are so happy to share with you!

Breakfast Enchiladas with Ham and Peppers
Why we love this recipe. You can prepare these enchiladas the night before, refrigerate overnight then bake in the morning. These are perfect for brunch or entertaining in the morning.

What you need to know. We kept the recipe below quite simple with ham, cheese and peppers, but feel free to add your favorite ingredients. Cooked bacon or sausage would be great as well as other vegetables like mushrooms.

Equipment you'll need. You will need a 13×9-inch (3-quart) glass baking dish, two large bowls and a whisk.
Created By:
Joanne and Adam Gallagher
You Will Need
2 cups (151 grams) diced cooked ham
1 bell pepper, diced
8 green onions, finely sliced
2 cups (227 grams or 8 ounces) shredded cheddar cheese
10 eight-inch flour tortillas
6 eggs
2 cups (473 ml) half-and-half
1 tablespoon all-purpose flour
1/2 teaspoon kosher salt
Directions
Prepare Baking Dish
Lightly spray 13×9-inch (3-quart) glass baking dish with cooking spray.
Roll Tortillas
In large bowl, stir together ham, bell pepper, green onions and 1 cup of the cheese. Place 1/3 cup of the ham mixture down the center of each tortilla; roll up and place seam side down in baking dish.
Prepare Egg Mixture
In large bowl, whisk eggs, half-and-half, flour and the salt. Pour over the tortillas. Cover then bake or refrigerate overnight to be baked in the morning.
Bake Enchiladas
Heat oven to 350 degrees F (177 degrees C). If made ahead of time, uncover baking dish. Scatter the remaining cup of cheese over enchiladas. Cover baking dish with aluminum foil and bake for 35 minutes. Uncover, and then bake 10 to 15 minutes longer or until set and cheese melted.