Ever brought a pint of strawberries home from the store and been less than satisfied with their taste? They look red and juicy, but don't actually follow through. That's exactly what happened not to long ago for us. We don't usually buy berries before summer, but they looked so good! We came home, opened the box, took a bite … annnnd nothin'.
Not wanting to waste the little guys, we decided to roast them. Ever roasted fruit? If not, you need to start!
Why Roast Strawberries?
Flavor! When you roast, something awesome happens. All roasting does is extract natural sweetness from whatever you throw into the oven. We did it with tomatoes not too long ago for our Cardamom Roasted Tomato Pasta and they were a huge hit!
We ended up roasting the strawberries with a sprinkle of brown sugar and ground coriander. The sugar helped with bringing out the sweetness of the berries, while the coriander gave an unusual, but welcomed earthiness.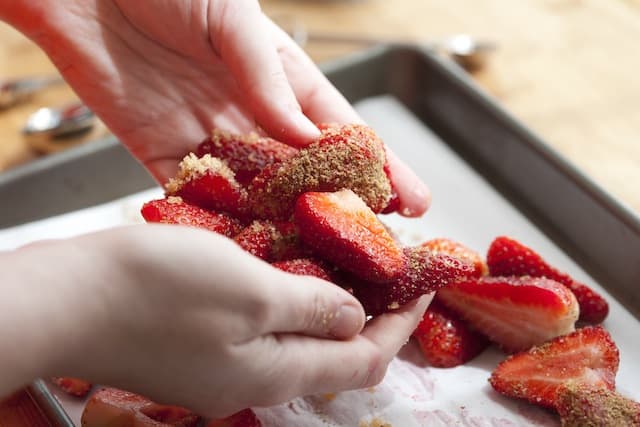 How to Serve Roasted Strawberries
Can we say softly whipped and sweetened cream. Or, even better … ICE cream! Definitely try them warm, they're delish! Oh, and by the way… you could totally use cinnamon, nutmeg, cardamom or just plain sugar for this instead of the coriander, it's totally up to you!

Coriander Roasted Strawberries
Simply place strawberries onto a baking sheet with sugar and a little spice and roast for a delicious and easy dessert!
Created By:
Adam and Joanne Gallagher
You Will Need
1 pint strawberries, hulled and halved
2 tablespoons brown sugar
1 teaspoon ground coriander
1/2 cup whipping cream
1/2 teaspoon vanilla extract
1 tablespoon powdered sugar
Directions
Heat oven to 350 degrees F. Line a baking sheet with sides with parchment paper or foil.
Add strawberries to baking sheet then toss with brown sugar and coriander then spread into one layer.
Roast strawberries 20-25 minutes until slightly softened.
Add cream, vanilla extract and powdered sugar to a bowl and whip either by hand or with a hand blender until soft peaks form. Then, top warm strawberries with a dollop of cream and enjoy!