When walking around town the other day, it hit us. The smell of fall just hit us. It's some odd combination of falling leaves, pumpkins outside every door and quick whiffs of all those pumpkin spiced lattes as people walk by. You also start to notice store fronts changing colors – blouses and shirts on display look warmer and show off darker colors and patterns and grocery stores start displaying pumpkin puree for all those pumpkin recipes they know we all want to make. And, of course, you can buy Starbucks pumpkin scones! Yep, they're good — heavily spiced, perfect with coffee and the prettiest orange color. Just perfect for when you're all caught up with fall. Within days of biting into our first Starbucks pumpkin scones, we were determined to make our very own at home. We, of course, took a few liberties, but these pumpkin scones are pretty darn close.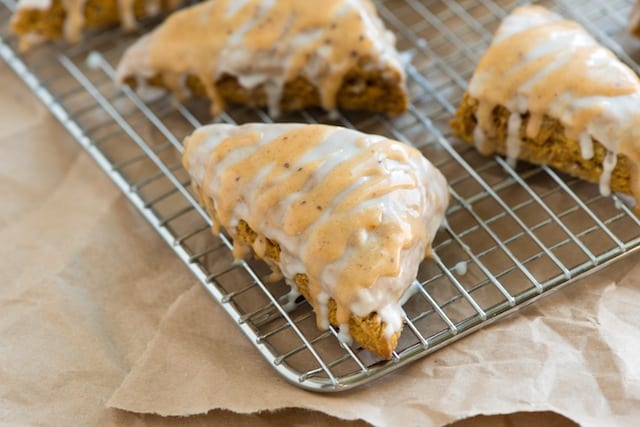 How to Make Our Spiced Pumpkin Scones Recipe That Were Inspired by Starbucks Pumpkin Scones
The trick to making a great scone is cold butter — if it isn't cold, you're done before you even get started. See that photo below? See all those specks of yellow? That's butter, cold butter.
To make these pumpkin scones, you first need to combine flour, baking powder, baking soda and a bunch of delicious fall spices. Then, you "cut" in some cold butter — we do this by hand with a pastry cutter, but you can use two knifes (takes a bit longer) or speed things up and use a food processor. Basically, you cut the butter into the flour just until the mixture looks like coarse crumbs or cornmeal. Then, add in pumpkin puree, an egg, vanilla and a little half and half to make a dough.
Pat the dough out into a rectangle, cut into triangles and you're ready to bake!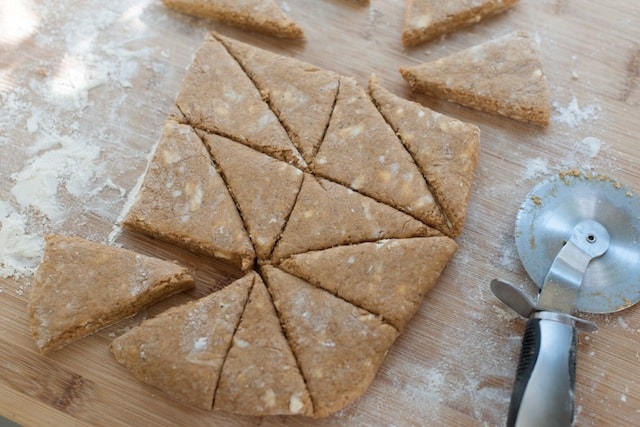 After the pumpkin scones have baked, we add two glazes to them. Just because this is what we do, does not mean you need to follow suit — if you would prefer, use only one of the glazes or none at all. It's completely up to you!
The first glaze we add is a simple sugar glaze – made from powdered sugar and half and half. Then, we make a similar glaze but add lots of spices and a little pumpkin puree. Not only does it look pretty, but it adds a little extra spice – something we really loved about the Starbucks pumpkin scones recipe.
Did you enjoy our Spiced Pumpkin Scones Recipe? If so, you may also enjoy these:
Spiced Pumpkin Scones Recipe
The inspiration for this pumpkin scones recipe was a popular treat from Starbucks! The ingredient list for these pumpkin scones is a little longer than you usually see on Inspired Taste. We really wanted these scones to be heavily spiced, which means we used lots of cinnamon, ginger, ground cloves and nutmeg both in the scones themselves as well as in a spiced glaze that we drizzle over the cooled scones.If you wanted to simplify this recipe a bit, the scones are delightful without both of the glazes - not too sweet and perfect warm with a little butter. One more thing, we call for molasses in this recipe - we felt it gave a nice backbone/foundation to the scones. If you do not have it on hand and prefer not to buy a whole bottle just for one tablespoon, the scones are delicious without it.
You Will Need
For the Pumpkin Scones:
2 cups (280 grams) all-purpose flour
1/3 cup (65 grams) brown sugar
1 teaspoon baking powder
1/2 teaspoon baking soda
1/2 teaspoon kosher salt
1 teaspoon ground cinnamon
3/4 teaspoon ground ginger
3/4 teaspoon ground cloves
1/2 teaspoon ground nutmeg
8 tablespoons (113 grams or 1 stick) cold unsalted butter
1/2 cup (113 grams) pumpkin puree
1 tablespoon molasses (we use Blackstrap Unsulphured Molasses)
3 tablespoons half and half
1 large egg
2 teaspoons vanilla extract
For the Simple Sugar Glaze:
1 cup (125 grams) powdered sugar, sifted
1 to 2 tablespoons half and half
For the Spiced Glaze:
1 cup (125 grams) powdered sugar, sifted
1 tablespoon pumpkin puree
1/8 teaspoon cloves
1/8 teaspoon ground nutmeg
1/8 teaspoon ground ginger
1/4 teaspoon ground cinnamon
1 to 2 tablespoons half and half
Directions
Center a rack in the middle of the oven and heat oven to 400ºF. Line a large baking sheet or two small baking sheets with parchment paper (you can also spray with non-stick cooking spray if you do not have parchment paper).
Make Scones: Whisk the flour, sugar, baking powder, baking soda, salt, cinnamon, ginger, cloves and nutmeg together until blended.
Cut the butter into small cubes then scatter over the flour mixture. Use two knives or a pastry cutter to "cut" the butter into the flour until the mixture resembled coarse cornmeal with a few pea-sized bits of butter, about 5 minutes.
(You could also use a food processor for this - if using, add flour mixture to the bowl of a food processor, add the cold butter cubes. Then pulse three to four times until the mixture looks like coarse cornmeal or crumbs).
In a separate bowl, whisk the pumpkin puree, molasses, half and half, egg and vanilla extract until blended. Stir into the flour and butter mixture until a soft dough forms.
Transfer the dough to a floured surface. Knead three to four times until it comes together.
Pat the dough into a 10-inch by 7-inch rectangle (a rolling pin can be used here). Cut the rectangle in half lengthwise then cut into 4 even pieces crosswise, making eight rectangles. Cut each rectangle into two triangles, making 16 scones.
Bake Scones: Transfer scones to baking sheet(s) then bake 10 to 15 minutes or until golden brown and a toothpick inserted into the middle comes out clean. Transfer to a wire rack and cool completely.
Glaze Scones: Once scones have cooled, make the glazes.
To make the simple sugar glaze, add the sugar to a medium bowl then add one tablespoon of half and half. Stir then judge the consistency. If when you pick a spoon up and out of the glaze it slowly drizzles back into the glaze, it is fine. If it is too thick, add a little more half and half (a little goes a long way, here). If it is too thin, add a little more powdered sugar.
Dip each cooled scone directly into the glaze then place glazed side up back onto the cooling rack.
For the pumpkin spiced glaze, combine the sugar, pumpkin puree, spices then add one tablespoon of half and half. Stir and check consistency. Adjust the same way as you would the simple glaze. Use a spoon to drizzle a zigzag pattern across each scone.
Wait 15 minutes or until the glaze has set then enjoy!
To Store: Scones are best eaten fresh. If you do anticipate leftovers, your best bet is to freeze the unbaked scone dough. Chill cut scones in the freezer until firm, and then transfer to resealable plastic bags. Keep up to three weeks. Bake in a 400ºF oven straight from the freezer. (They may take a few extra minutes).
To store baked and glazed scones, we've found covering these with plastic wrap and refrigerating is best. They will lose a little moisture, but will still taste great.
Notes and Tips
Half and half is made from equal parts of whole milk and cream. It is sold in the United States in cartons next to milk. If you do not have it on hand, you can make your own or use cream instead.