If there's one thing that will instantly make our knees buckle, it's baked ziti. Just the thought of it makes us gasp. We love it. Since we weren't happy to just think about a plate of steaming, cheesy baked pasta, we made some. We made this simple baked ziti with spinach and artichokes and it was incredible!
You see, it all starts with pasta tossed with marinara sauce (we used store-bought) then we add  fresh baby spinach leaves and a whole jar of quartered artichokes. Then, since that wasn't enough for us, we sneaked a layer of sour cream mixed with pesto in the middle. Oh, and topped with cheese.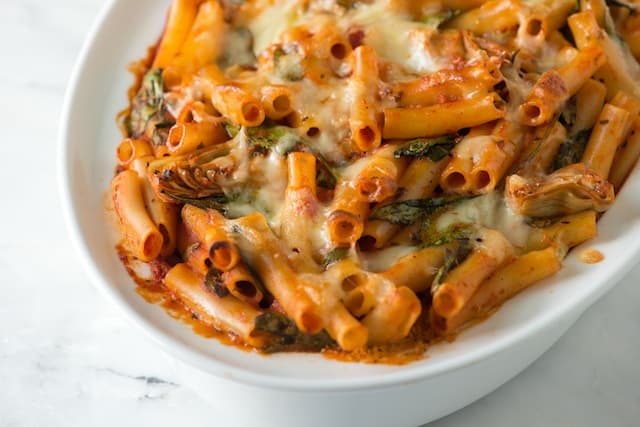 It's So Easy to Make Our Baked Ziti Recipe with Spinach, Artichokes and Pesto
There really isn't much time required from you at all for this. Just about 15 minutes in the beginning to boil pasta and mix everything together. Not bad, right?
That's the layer of sour cream and pesto I mentioned earlier – it is so good! By the way, if you didn't have sour cream, you could use cream cheese, cottage cheese or ricotta cheese. They would all be delicious.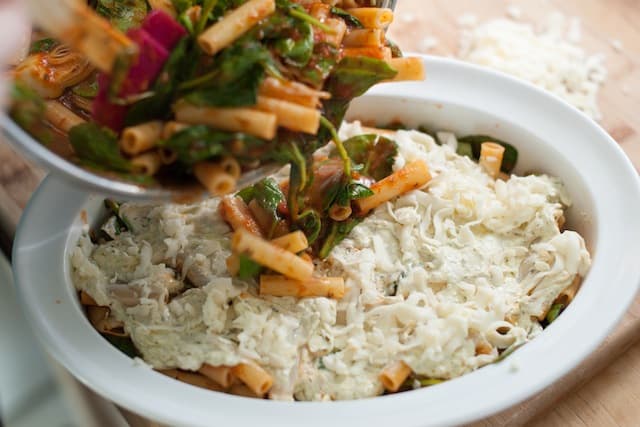 One of our favorite parts to this easy baked ziti is the crust. Since we bake it for 30 minutes before serving, the tips of the pasta on top become a little crunchy, the cheese melts and browns and any artichokes peeking out of the ziti become caramelized.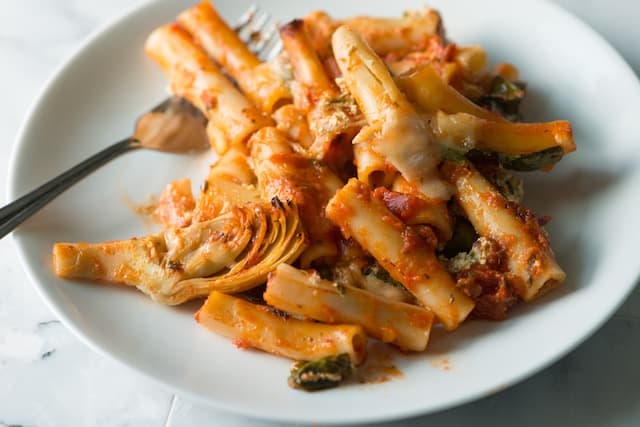 Did you like our Simple Baked Ziti Recipe with Spinach, Artichokes and Pesto? If so, you may also enjoy these:
Simple Baked Ziti with Spinach, Artichokes and Pesto
With only about 15 minutes of hands-on time this easy baked ziti with spinach and artichokes is perfect for a weekday. A layer of sour cream and pesto is sandwiched in the middle of the baked ziti. If you do not have sour cream, feel free to use cream cheese, cottage cheese or ricotta cheese.
Created By:
Adam and Joanne Gallagher
You Will Need
1 pound (454 grams) dry ziti pasta
One 26-ounce (737 grams) jar tomato pasta sauce
1/4 cup (60 grams) basil pesto
3/4 cup (175 grams) sour cream
6 cups (180 grams) loosely packed baby spinach leaves
One 12-ounce (340 grams) jar artichokes, drained
4 ounces (113 grams) shredded mozzarella cheese (about 1 cup)
Directions
Heat oven to 350 degrees F (177 degrees C). Spray a 3-quart baking dish with non-stick cooking spray or lightly grease with butter. (A 13-inch by 9-inch pan works well for this).
Bring a large pot of salted water to a boil then add pasta and cook according to the package directions (this usually takes about 10 minutes). Before draining, reserve about a 1/4 cup of the pasta water - we will use this later. Then, drain pasta.
While the pasta cooks, heat the tomato sauce. You can do this on the stove or in the microwave, and then set aside.
In a small bowl, stir the basil pesto and sour cream together, and then set aside.
Add drained pasta to a large bowl then add spinach, drained artichokes, hot tomato sauce and about a 1/4 cup of the reserved pasta water. Then, toss.
Add about half of the pasta and spinach mixture to the baking dish. Then, spread the sour cream and pesto on top. Scatter about half of the shredded mozzarella cheese on top of the sour cream then add the rest of the pasta on top of that. Press everything down into the baking dish then scatter the rest of the mozzarella cheese on top.
Place the baking dish onto an aluminum-lined baking sheet (just in case any sauce drips over the sides of the baking dish). Then, bake for about 30 minutes or until cheese has melted and the sauce is bubbling.
Let the baked ziti cool for 5 to 10 minutes before serving - it's really hot! Then, enjoy!