So, we had some cheese lying around. What better to do with it than make this amazing basil-scented baked cheese dip? We combine sour cream, lots of cheese and fresh basil then bake in the oven until bubbly, turn the oven to broil to add a golden brown crust then serve piping hot with toasted baguette slices. It's heavenly.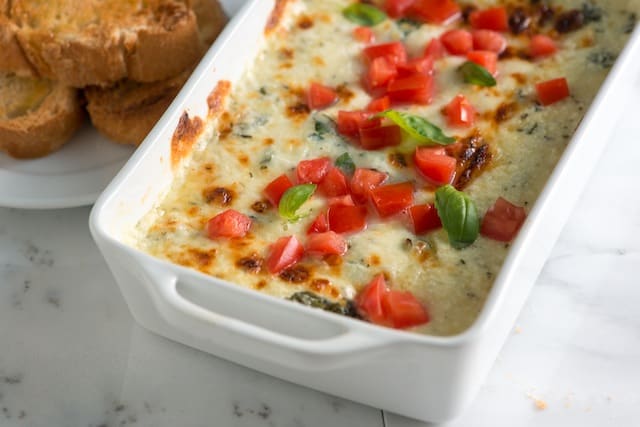 You've Got to Try This Ooey Gooey Baked Cheese Dip
After baking, the cheese dip becomes so gooey and delicious. It's the perfect consistency to spread onto warm toast. You could dip crisp cool vegetables into it, too!
If you serve this to friends, don't be surprised if they all crowd around the cheese dip – that's perfectly normal!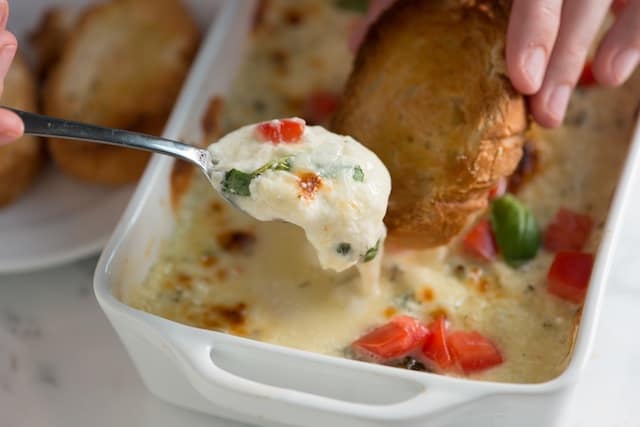 To freshen things up a little, we added even more basil leaves on top as well as some diced tomato. It adds a ton of color, but also lightens the cheese a little. Yum!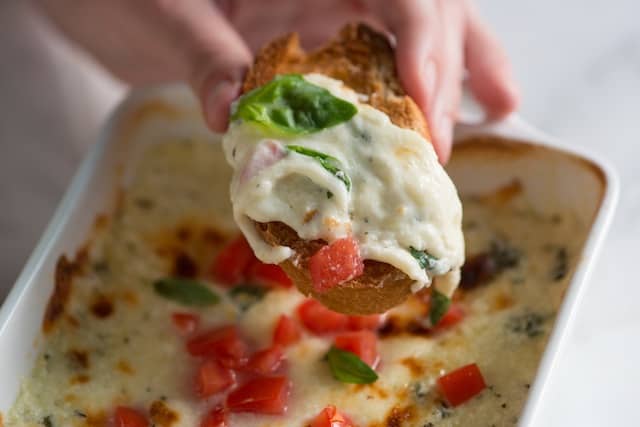 Did you enjoy our Baked Cheese Dip with Tomato and Basil Recipe? If so, you may also enjoy these:
Baked Cheese Dip with Tomato and Basil
This basil-scented baked cheese dip is one of our favorite things to serve friends. Everyone seems to crowd around the baking dish. We love to serve this with toasted bread slices, but you could also serve alongside crisp, cool vegetables. When the cheese melts, it turns spreadable. There will be a little water released from the cheese after baking and siting a little - don't be worried if it separated a little after baking. It is still completely delicious!
You Will Need
1 cup (233 grams) sour cream
1/2 teaspoon mustard powder
1 teaspoon dried thyme
8 ounces (225 grams) mozzarella cheese, grated (about 2 cups)
12 ounces (340 grams) Monterey Jack cheese, grated (about 3 cups)
1 cup basil leaves, chopped
1 tomato, diced
Extra basil leaves
1 baguette, sliced
Directions
Heat oven to 350 degrees F (177 degrees C).
Stir sour cream, mustard powder and thyme in a large bowl then add mozzarella, Monterey Jack and the cup of chopped basil leaves. Stir then add to a small baking dish or pie dish.
Bake for 10 to 15 minutes or until cheese has melted and is bubbling.
While the dip is in the oven, add bread slices, in one layer, to a baking sheet. Slide into the oven and bake 6 to 8 minutes until toasted.
After baking the cheese dip, turn oven to broil and broil the cheese dip 2 to 4 minutes until golden brown on top.
Serve warm with tomato and extra basil leaves scattered on top and alongside toasted bread slices.