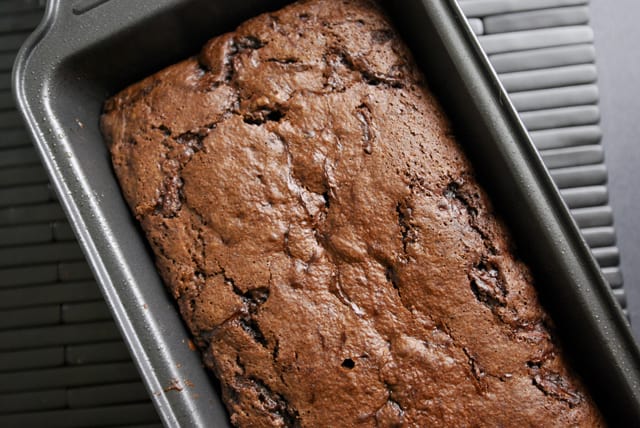 Until last weekend we had never made or even tasted zucchini bread, we knew it existed, but just never tried it.  Boy were we missing out!  The genius idea (Joanne's) to actually make zucchini bread came from the ridiculous amount of zucchini we had in the fridge.  We do not have a garden (every time we have tried….we fail, miserably), so this unusual increase of zucchini came from something else.  We were stumped, why the heck do we have so much zucchini??? We came to the conclusion that since we often stop on the way home from work at the grocery store, we must have bought zucchini every time we stopped (I am serious, we had a lot of zucchini) and then due to a complete lack of awareness, we had racked up a serious amount.  With this odd realization and hating to waste, Adam and I jumped into zucchini action.
This recipe was one way to use up some of the zucchini, others were stir-fry and zucchini fritters (still to be posted).  Without any experience making it before, we went over to Joy of Baking for some help and then adjusted to our likings.  The recipe was easy and gave us a chance to use the grating attachment to our food processor (it gives a sense of authority when at a touch of a button you can shred a whole vegetable in 3 seconds).  If you do not have a fancy attachment or food processor, you can use a hand grater, but we thought we should have full disclosure in the fact that we did not do the manual labor, which is why my statement saying it is easy may be slightly biased.
Anyway you really should try this one out, first you mixed the dry ingredients, which were flour, cocoa powder, baking soda, baking powder and salt.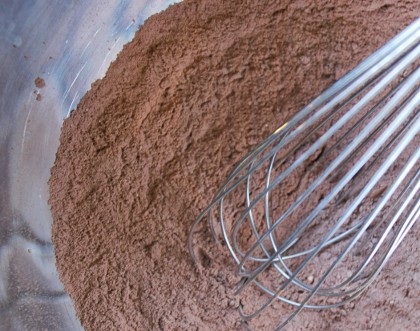 Then, in a separate bowl, use a hand mixer for the wet ingredients and sugar: oil, sugars, eggs, vanilla extract and our secret ingredient, instant coffee.  The coffee brings out so much flavor in the cocoa, you don't actually taste a coffee flavor, just an enhanced chocolate flavor.
Finally, add the grated zucchini to the dry ingredients and then slowly incorporate the dry ingredients into the wet ingredients.  Pour the mixture into a loaf pan and bake for about 55 – 65 minutes.
Take the bread out of the oven and allow to cool, then serve with a little powdered sugar on top or anyway you like it.  The bread is so incredibly moist and flavorful… and beautiful too!
If you enjoyed this, we bet you will also love our Easy Banana Bread Recipe (there's even a recipe video included).

Chocolate Zucchini Bread
An easy chocolate zucchini bread recipe. Moist, decadent and flavorful, this is not your typical quick bread.
Created By:
Adam and Joanne Gallagher
You Will Need
1 1/2 cup shredded raw zucchini
1 cup all-purpose flour
1/2 cup (45 grams) unsweetened cocoa powder (we used Ghirardelli)
1 teaspoon baking soda
1/4 teaspoon baking powder
1/4 teaspoon salt
1 tablespoon instant coffee granules
1/2 cup vegetable oil
1/2 cup granulated sugar
1/2 cup light brown sugar
2 large eggs
1 teaspoon vanilla extract
Directions
Preheat the oven to 350 degrees F and spray a loaf pan (9x5x3) with nonstick cooking oil.
In a medium bowl, combine the flour, cocoa powder, baking soda, baking powder and salt, then set aside.
In a large bowl, using a hand mixer beat the oil, sugars, eggs, vanilla extract and coffee granules for about 2 minutes.
Add the shredded zucchini to the dry ingredients and then in batches add the dry ingredients to the wet ingredients; use a spatula to incorporate everything until just mixed. Pour the mixture into the loaf pan and bake in the oven for 55 - 65 minutes or until a toothpick can be inserted in the bread and then be removed clean. Remove from the oven and cool on a wire rack.