Perfect roasted pork tenderloin is juicy, it's moist and is full of flavor. That's exactly what you'll get with this easy pork tenderloin recipe. Jump to the Pork Tenderloin Recipe now or read on to see how we make it.
Not only is the pork delicious, but it's also roasted on top of sweet apples and onions. Savory, a touch of sweet and easy.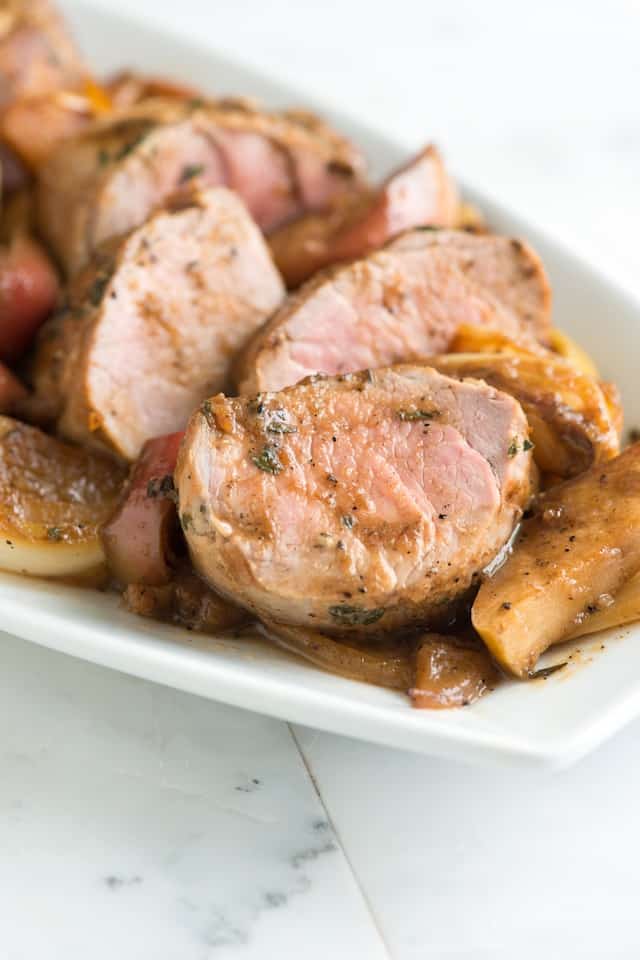 This baked cinnamon apples recipe is easy enough for tonight, but doubles as the perfect dessert for friends and family (or the holidays). These just might beat apple pie!
How to Make Perfectly Moist Roasted Pork Tenderloin, Every Time
Pork tenderloin is lean and has almost no fat. So, keeping it moist and juicy can be tricky. That is, unless you know a few secrets.
Pork Tenderloin Recipe Secret 1: Sear It First
Before roasting, we always sear our pork tenderloins on all sides first. To do this, we pat the pork dry, rub with a little oil then season with salt. Throw it into a hot pan and sear all sides until they're golden brown. This adds color, flavor and keeps juices inside the tenderloin.
Pork Tenderloin Secret 2: Don't Overcook
We know that sounds sort of obvious, but we've all been served overcooked (and dry) pork tenderloin, right? Here's the deal. Keep your oven temperature high (we go for a 425 degree oven). Then, only roast the pork for 10 to 15 minutes.
That's really all you need. We cook our pork until an internal thermometer inserted into the thickest part registers between 145 and 150 degrees F (63 and 65 degrees C). That will mean that the pork will be juicy and slightly pink in the middle. If you're not a fan of the pink, cook a little longer, but be careful not to overdo it.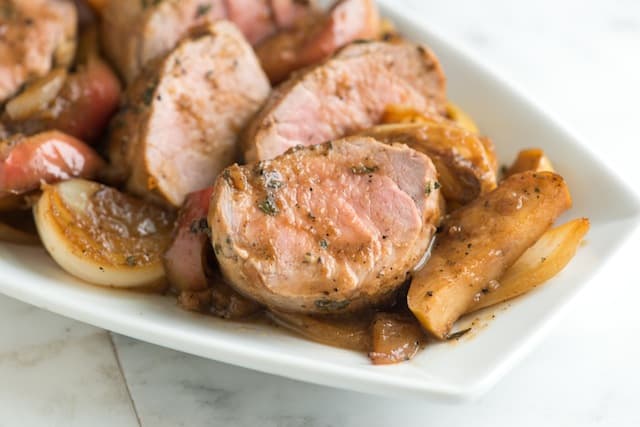 You May Also Like These Recipes
Recipe updated, originally posted February 2013. Since posting this in 2013, we have tweaked the recipe to be more clear and added a quick recipe video. – Adam and Joanne

Perfect Roasted Pork Tenderloin with Apples
The trick to flavorful and moist pork tenderloin is to sear the pork before roasting. In our recipe, the pork is seared and then is roasted on top a bed of apples and onions. Most often, you will find that pork tenderloins are sold in packages with two tenderloins. One tenderloin should generously serve 2 people and most likely serve 3. One note, "pork tenderloins" and "pork loin" are two different cuts of meat. Pork tenderloins are much thinner and take less time to cook.
Created By:
Adam and Joanne Gallagher
You Will Need
2 (1- to 1-1/2-pound) pork tenderloins
2 tablespoons vegetable oil, plus more as needed
1 1/2 teaspoons salt, plus more as needed
1 tablespoon Dijon mustard
1 tablespoon chopped fresh thyme leaves
1/4 teaspoon ground black pepper
2 apples, cored and sliced (We use Granny Smith, Golden Delicious or
Braeburn)
2 onions, sliced
1 cup chicken stock
1 tablespoon butter
Directions
Heat oven to 425 degrees F (220 degrees C).
Trim each tenderloin of any silver skin (this can be tough when cooked, just use a small sharp knife and slide the blade under and outward to remove it). Pat pork dry with paper towels.
Then, using your hands, rub the tenderloins all over with 1 tablespoon of the oil, sprinkle with 1 1/2 teaspoons of salt, and rub until both tenderloins are evenly coated.
Heat a tablespoon of oil in a large cast iron skillet or heavy-bottomed oven-safe frying pan over medium heat. You will know when the pan is ready when the oil shimmers.
Add the pork tenderloins and cook, turning occasionally, until evenly browned all over. This should take about 12 minutes.Transfer the browned pork to a large plate or cutting board.
Check the pan, if it looks dry add 2 to 3 teaspoons of additional oil. (If there is fat left in the pan from cooking the pork, there is no need to add additional oil). Now, add apples and onions then cook, stirring occasionally, until lightly browned around edges, about 5 minutes.
While the apples and onions cook, use a pastry brush (or use your hands) to rub the pork all over with the mustard, sprinkle it with 2 teaspoons of the thyme and black pepper, and rub until it's evenly coated.
Add the remaining teaspoon of thyme to the apples and onions, stir. Then, place pork tenderloins on top of apples and onions and slide into the oven. Roast 10 to 15 minutes or until an internal thermometer inserted into the thickest part registers between 145 and 150 degrees F (63 and 65 degrees C).
Transfer pork to a large plate and cover with aluminum foil. Let rest about 10 minutes.
While the pork rests, place the pan with apples and onions back onto the stove and turn heat to medium. Add chicken stock and use a wooden spoon to scrape the pan, lifting any brown bits from the bottom. Bring to a simmer and cook until reduced by half. Add butter and stir until melted.
Slice pork into 1-inch slices then serve on a bed of the apples and onions with pan sauce drizzled on top.
**Update: Some reviewers felt the apples became a little too soft in this recipe. We don't mind it since they turn into a lovely sauce, but if you are concerned, try cooking the apples and onions separately to the pork -- just use two pans. This way you are able to roast the pork until done, while at the same time cooking the apples and onions until you're happy with their texture -- possibly a few minutes less than stated above.