How to cook the best, juiciest pork tenderloin in under 30 minutes. We like simple recipes. That's why this roasted pork recipe is a favorite around here — You need a hot pan, spice rub or herbs and pork tenderloin (also called pork fillet outside the US).
Watch the Video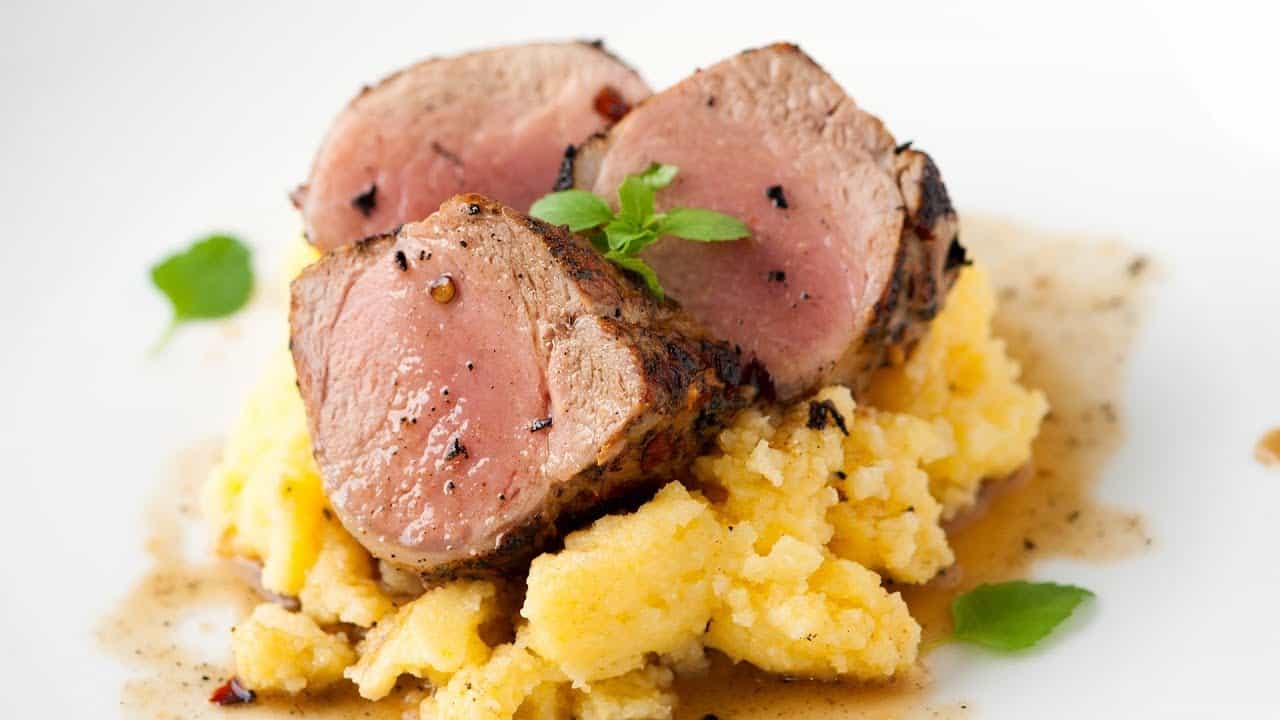 Related: We love this roasted pork tenderloin with apples and onions
Our No-Fail Method for Cooking the Best Pork Tenderloin
Pork tenderloin is lean and has almost no fat. So keeping it moist and juicy can be tricky. That is unless you know these steps for the most succulent roasted pork tenderloin. You don't need a specific recipe for this, only the steps for cooking it best. The flavors are up to you — we've given a few suggestions below. We use the same method when making our pork tenderloin with peppers and onions.
Step 1: Season the Pork
For the best pork tenderloin, pat the pork dry then liberally season with salt and pepper. Patting the meat dry helps the salt and pepper to stick. It also means less sputtering in the skillet when you brown the meat.
Step 2: Brown the Pork in a Skillet
Before roasting, we always sear the pork on all sides first. After seasoning, throw it into a hot pan — we love our cast iron skillet for this. Sear all sides until they are golden brown. It's okay if the pork is still raw in the middle. When the pork is browned on all sides, it's ready to slide into the oven. We use this same method when making pork chops!
If you're using any herbs or seasonings, now is the time to add them. You could have added herbs before searing the pork, but that risks burning them. By adding them after searing and before roasting, the herbs will add flavor, but won't turn brown and bitter.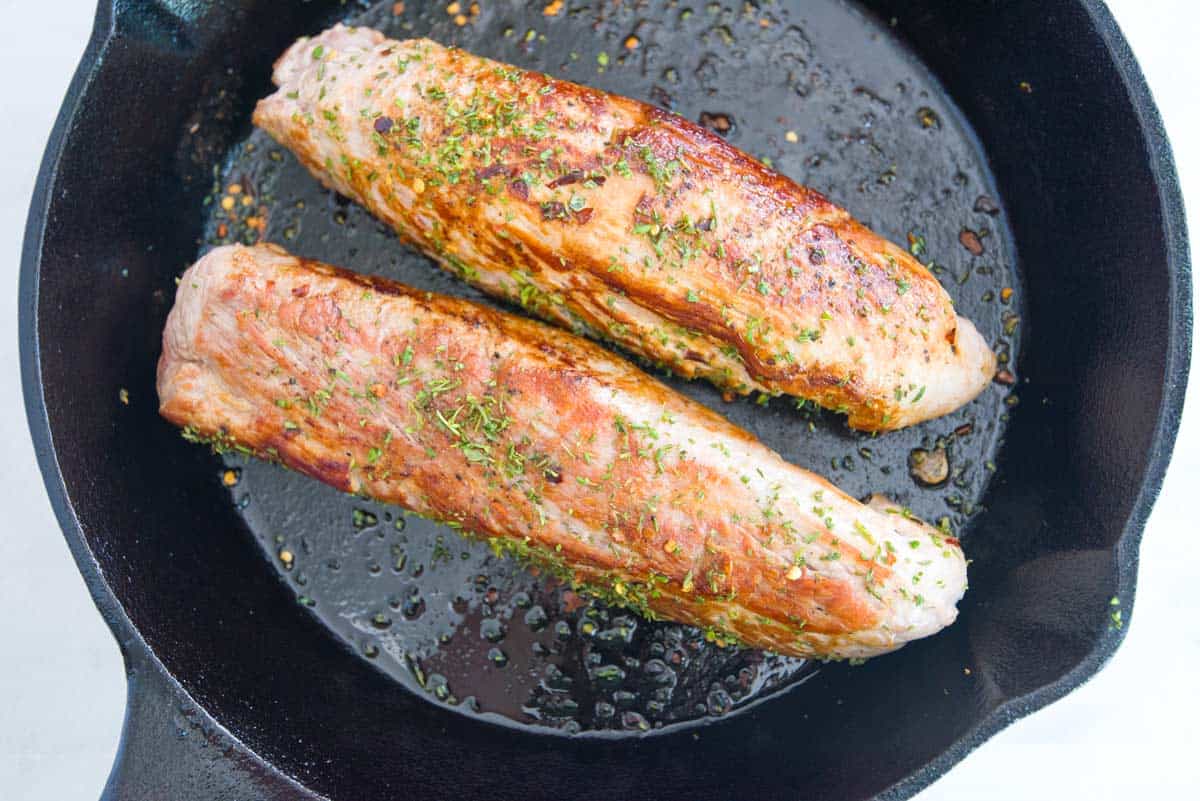 Step 3: Finish in the Oven
To finish cooking the pork, we slide it into a hot oven. We keep the oven temperature high and roast the pork for 15 to 20 minutes.
Cook pork until an internal thermometer inserted into the thickest part registers between 145 and 150 degrees F. That will mean that the pork will be juicy and slightly pink in the middle. If you're not a fan of the pink, cook a little longer, but be careful not to overdo it.
In our Easy Lemon Chicken Recipe, we use the same method: Season, sear, and then finish in the oven until cooked through. It makes chicken that's perfectly cooked and juicy with crispy skin.
Step 4: Make a Quick Pan Sauce
For the juiciest pork tenderloin, make a quick pan sauce. To do this, using the same skillet you cooked the pork in, add about 3/4 cup of liquid. You could use apple cider (that is what we did), wine, chicken stock, vegetable stock or even beef broth. Cook that liquid until reduced by half then swirl in a tablespoon of butter.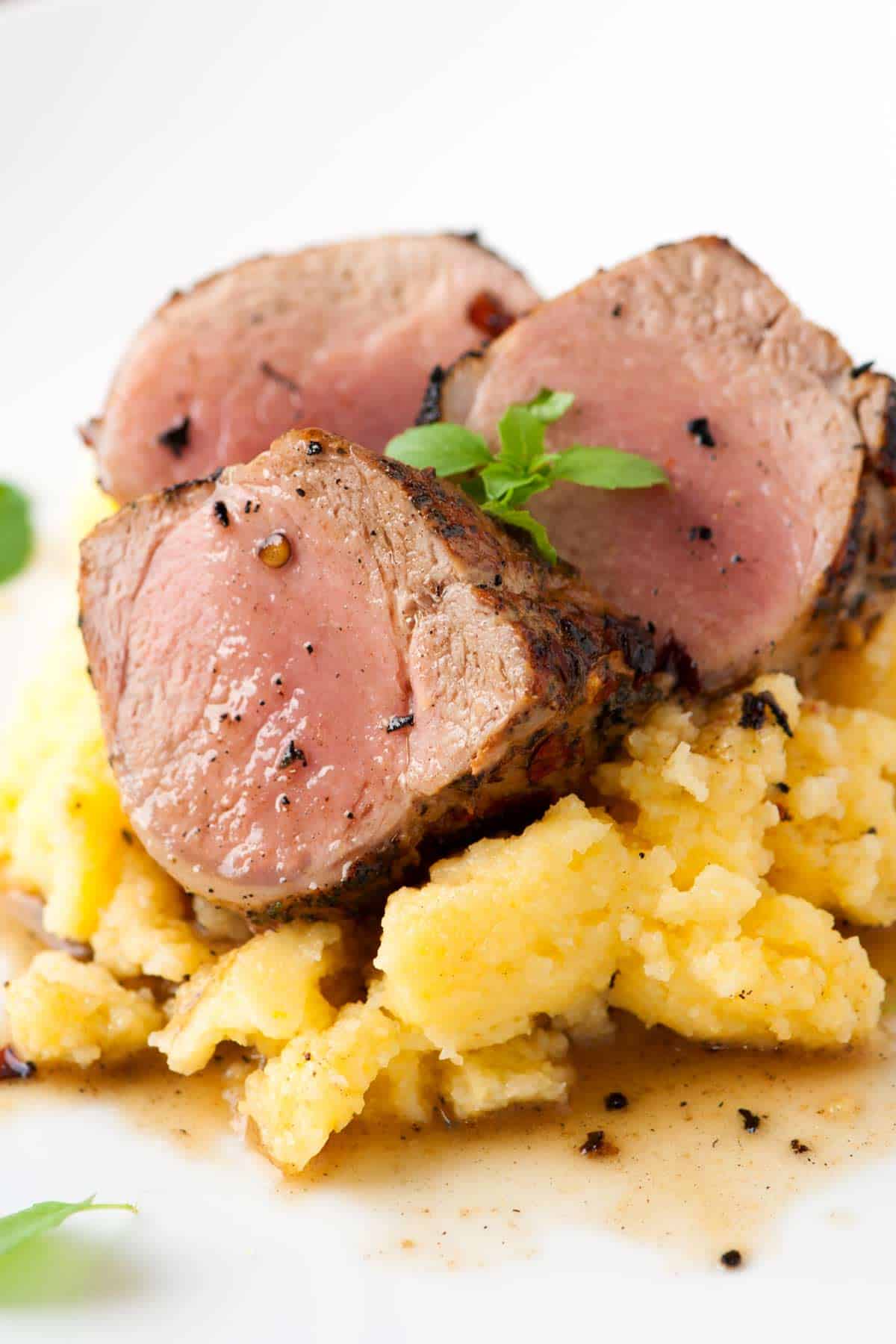 Flavor Combinations
You may already have a bunch of half-used spice rubs in your pantry, here are a few suggestions for how to use them in this recipe. Our recipe calls for three things: pork, spice rub, and a deglazing liquid for making the pan sauce.
A spicy rub with pepper, garlic, maybe some chipotle + Apple Cider, Apple Juice or Cranberry Juice
Chicken Seasoning + Chicken Stock
Steak Seasoning + Red Wine or Beef Broth
Rosemary or Thyme Blends + Dry White Wine, Dry Red Wine, Beef Broth or Chicken Stock
More Easy Pork Recipes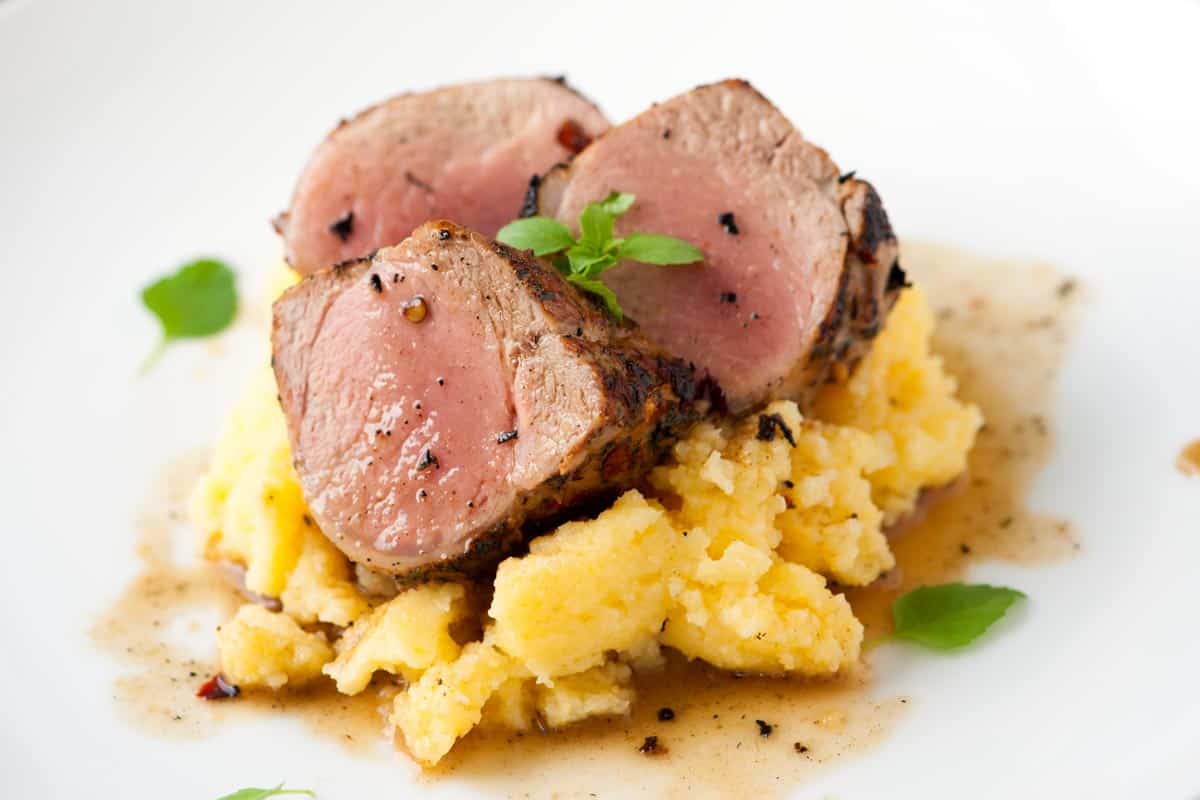 Easy Roasted Pork Tenderloin
For the best, juiciest pork tenderloin, sear the pork on all sides in a skillet before finishing in the oven. The spice blend you use is up to you; we love using a spicy steak spice blend or fresh herbs like rosemary and thyme. We love to serve this pork over polenta or mashed potatoes.
Makes approximately 6 servings
Watch Us Make the Recipe
You Will Need
2 (1 to 1 1/2-pound) pork tenderloins (also called pork fillet)
Salt and fresh ground black pepper
2 tablespoons canola or vegetable oil
1 to 2 tablespoons seasoning blend/rub of your choice, fresh or dried
3/4 cup wine, broth, apple cider or a combination
1 tablespoon unsalted butter
Directions
Prepare Pork

1Heat oven to 425 degrees F. Trim each tenderloin of any silver skin (this can be tough when cooked. Use a small sharp knife and slide the blade under and outward to remove it). Pat pork dry with paper towels. Then generously season with salt and pepper.

2Heat a tablespoon of oil in a large cast-iron skillet or heavy-bottomed oven-safe frying pan over medium heat. Add the pork tenderloins and cook, occasionally turning, until browned all over, about 2 minutes per side. Scatter the seasoning blend or herbs over the pork.

3Roast 10 to 15 minutes or until an internal thermometer inserted into the thickest part registers between 145 and 150 degrees F.
To Finish

1Transfer pork to a large plate and cover with aluminum foil. Let rest about 10 minutes. While pork is resting, place the skillet back over medium heat. Add the apple cider and simmer until reduced by half. Add butter then serve drizzled over pork.
Adam and Joanne's Tips
When is Pork Tenderloin Done? We cook our pork to 145 degrees F. This means the pork will be barely pink in the middle, safe to eat, and ultra juicy. You can cook pork tenderloin to anywhere between 145 degrees F and 160 degrees F. Just keep in mind that keeping it as close to 145 degrees F will result in the juiciest, most tender piece of meat.
Nutrition facts: The nutrition facts provided below are estimates. We have used the USDA database to calculate approximate values.
If you make this recipe, snap a photo and hashtag it #inspiredtaste — We love to see your creations on Instagram and Facebook! Find us: @inspiredtaste
Nutrition Per Serving
Serving Size
1/6 of the recipe
/
Calories
265
/
Protein
34 g
/
Carbohydrate
4 g
/
Dietary Fiber
0 g
/
Total Sugars
3 g
/
Total Fat
12 g
/
Saturated Fat
4 g
/
Cholesterol
101 mg