A fresh and easy cucumber salad recipe with a simple, sweet, and tangy dressing made of cider vinegar, a little sugar and Dijon-style mustard. Jump to the Cucumber Salad Recipe now or read on to see how we make it.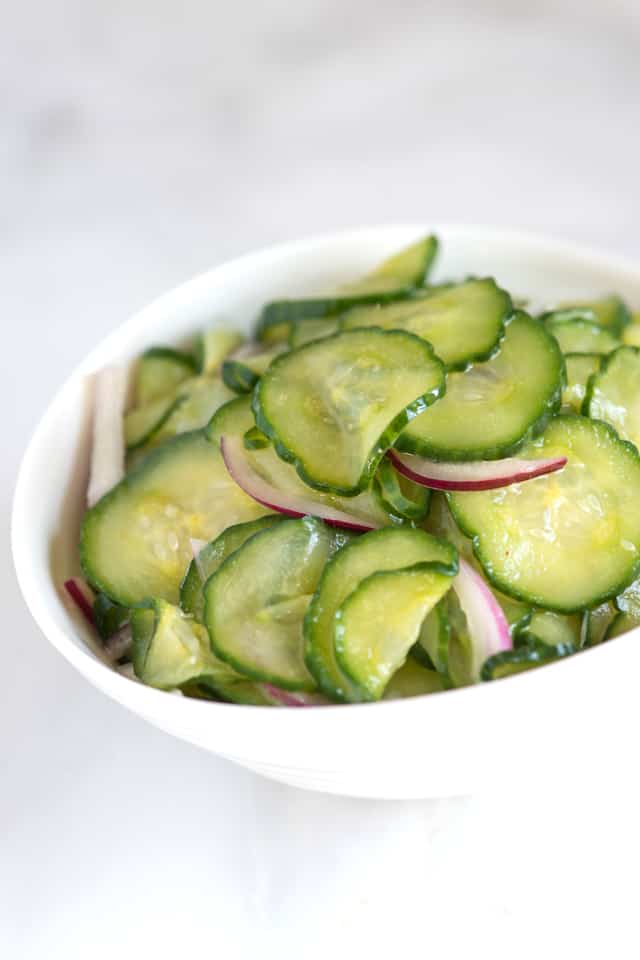 This is a very simple salad — only 15 minutes hands-on time.
You May Also Like this Lemony Chicken Breast  Recipe with Feta and Cucumber Salad – it is very quick to make and is perfect for weeknight meals.
The key to this cucumber salad recipe is salting the cucumbers …
You see, cucumbers are made up of lots of water. By salting them, we draw out some of that excess water before tossing with the dressing. This way, the dressing is flavorful, not watered down.
Another win with salting cucumbers is the flavor you achieve — salting makes cucumbers taste more "cucumbery."
The salting process takes about 30 minutes and is so worth it.
Two ways to slice the cucumbers:
We like the cucumbers thinly sliced. You have two choices when slicing — use a sharp knife or use a mandoline slicer. If you have it, the mandoline really does wonders with making things go quickly.
One tip: If you're using a mandoline, buy yourself a kevlar glove. Some slicers come with an awkward attachment that's supposed to hold whatever you're slicing so you don't have to. We've never really had much success with it, so we throw that part away and just use the glove, which protects your hand from being injured.
This salad is so fresh and light. Plus, it's full of cucumber flavor. We love to serve this alongside other salads or even on top of burgers and sandwiches. This is perfect for picnics, too.
Recipe updated, originally posted June 2013. Since posting this in 2013, we have tweaked the recipe to be more clear. – Adam and Joanne

Tangy Cucumber Salad Recipe
The secret to this salad is salting the cucumbers. After slicing them thin we generously salt and leave them alone for 30 minutes. As they sit, the cucumbers become even more "cucumbery" and release extra moisture, which if not removed, would make the dressing watery. Then, they are tossed with a simple dressing and left to marinate at least 1 hour, but no more than a day. The salad takes a little extra time with salting and marinating, but your hands-on time is minimal.

What You Need to Know: The inactive time for this recipe is 1 1/2 hours. We like to slice the cucumbers thin (1/16-inch or 1.5 mm) for this. After making the salad, the cucumbers are crisp, but a little floppy. If you'd like the cucumbers to be more substantial, slice them thicker.

Special Equipment: Chef's knife (or mandoline slicer), bowl, colander, dish towel.
Created By:
Joanne and Adam Gallagher
Yield:
4 (1/2 cup) servings
You Will Need
2 hot house or seedless cucumbers (about 1 1/2 pounds)
Kosher salt
2 to 3 teaspoons granulated sugar, depending on how sweet you like the salad
1/4 cup (60 ml) cider vinegar, or distilled white vinegar
2 teaspoons Dijon-style mustard
1 medium red onion, thinly sliced (optional)
Directions
Slice cucumbers into 1/16-inch (1.5 mm) slices, toss with 2 teaspoons of salt then add to a colander. Drain for 30 minutes. (We like to leave the colander in the sink for easy clean-up).
Rinse cucumbers then squeeze excess water from them. (To make this easy, we add the cucumbers to a clean dish towel then tie it up and squeeze).
In a large bowl, whisk together 2 teaspoons of sugar, vinegar and mustard. Taste then add the additional teaspoon of sugar if needed. Add cucumbers and red onion then toss.
Refrigerate salad at least 1 hour and up to a day before serving.
Notes and Tips
Seedless cucumbers:
You will often find seedless cucumbers sold wrapped in plastic. They have a thinner skin and are a little sweeter than regular cucumbers. Other names include English cucumber and hot house cucumber. If you cannot find these, buy regular cucumbers, but use a spoon to scoop out the seeds before slicing.
Variation
- Add Lettuce: After marinating the cucumbers, you will notice quite a bit of liquid will be sitting at the bottom of the bowl. If you would like, transfer some of the liquid to a small bowl then whisk in 2 to 4 tablespoons of olive oil, making a salad dressing. Then, tear up lettuce leaves, toss with dressing and serve cucumbers on top.
Reference:
Recipe Adapted from
this Cucumber Salad
by Gourmet Magazine.