You're going to want to eat two of these. It's okay, though — we ate three.
A little bit ago, we made this blueberry pie recipe. We fell completely in love and it seems a few of you have too. That love inspired us to shoot a video showing how to make the pie. It also nudged us to make this extra easy and quick version.
Our Secret for Our Handheld Blueberry Pie Recipe? Use Puff Pastry.
Have you used puff pastry before?
It's genius. It's lots and lots of dough layers separated by butter (lots of butter). So when you bake it, the butter puffs lifting the layers of dough above it. Leaving you with extra flaky dough. Fill that with blueberry goodness and you've got one amazing individual pie.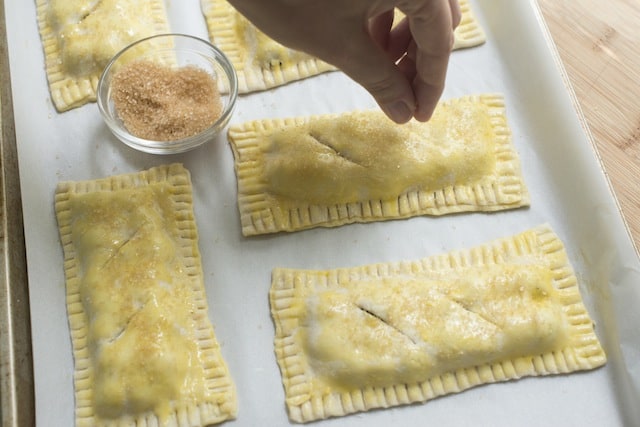 These aren't mini, either. You could make them that way, but we went big. You don't mind, do you?
We just love how the filling oozes out. So delicious.
We should also probably mention that this is just a process. Just think of all the flavors you could add to these individual pies. Try blackberries or strawberries instead of blueberries. Or, change it altogether and add a layer of sweetened cream cheese as well as berries. (So good). Whatever you do, make sure you save an extra pie for yourself, you'll be glad you did.
You May Also Like
Handheld Blueberry Pie Recipe
When we're not feeling up to making an entire pie, we love to make these individual handheld pies. You'll notice that the filling bubbles out a bit during baking -- this is perfectly fine. Plenty of filling will be left in the middle.

What You Need to Know: We used Pepperidge Farm puff pastry for this. Use your favorite brand (or make your own). If using store-bought, check the package for how to thaw. This usually takes about 40 minutes (we included this in the prep time).
Created By:
Joanne and Adam Gallagher
You Will Need
2 cups (300 g) blueberries (1 pint)
3 tablespoons granulated sugar
1 1/2 tablespoons cornstarch
1 tablespoon lemon juice
1/4 teaspoon almond extract
1/8 teaspoon kosher salt
1 (17.3 oz) box puff pastry sheets (2 sheets per box), thawed
1 egg yolk
1 tablespoon cream
2 tablespoons coarse sugar or granulated sugar for topping pies (optional)
Directions
Heat oven to 400 degrees F (200C). Line two baking sheets with parchment paper or aluminum foil.
In a medium bowl, combine blueberries, 3 tablespoons of sugar, cornstarch, lemon juice, almond extract and the salt. Stir then set aside.
Unfold 1 thawed puff pastry sheet on a lightly floured work surface. Roll the pastry sheet into a 12-inch (30 cm) square. Using a knife or pizza cutter, cut into four 6-inch (15 cm) squares. Repeat with the remaining pastry sheet.
Spoon a 1/4 cup of the blueberry filling onto one half of each pastry square. Spoon liquid accumulated on the bottom of the bowl over blueberries. (It is helpful to do this on the baking sheet so you don't need to move the pies once filled).
In a small bowl, make egg wash by whisking egg yolk and cream. Brush edges of pastry with egg wash, fold the half of pastry without filling over blueberries then use a fork to press edges and seal. Brush tops with more egg wash and top with coarse sugar (this adds a nice crunch once baked). Cut two to three 1-inch slits (2.5 cm) into the top of each pie and transfer to baking sheet, if you have not already.
Bake 15 to 20 minutes until golden brown and filling is bubbling out of the slits on top. (Don't worry, plenty of filling is left inside).
Cool pies on baking sheets for 5 minutes then transfer to cooling racks to cool completely.