Tacos (of any kind) are a made at least once a week in our home. We're always reaching for extra smoky spices like cumin, smoked paprika and chili powder for tacos. We crave the combination of well-seasoned and tender meats or vegetables alongside fresh, bright toppings like lime, onion and cilantro.
You May Also Like: Go meatless and try our Roasted Sweet Potato and Chipotle Tacos — They're extra tasty.
How we made our chicken tacos recipe better? It includes bacon.
We've been making a variation of these chicken tacos for quite some time. It's hard to top tender spiced chicken, but we think we did.
We added bacon.
Adding bacon is never a bad thing, but it's perfect added here. It's like the chicken is kissed with a salty smoke.
You see, we cook the bacon first and render all its fat. Then, instead of cooking the chicken in oil or butter, we use the bacon fat.
After that, we toast lots of spices and garlic then add the chicken back into the pan with a little stock. The stock helps lift any brown bits stuck to the bottom of the pan. See the photo below?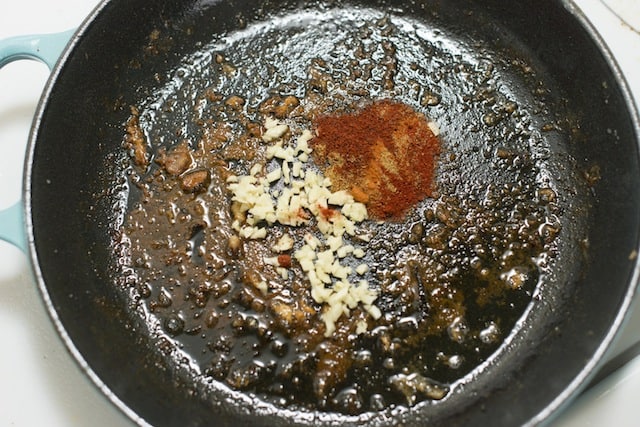 All that stuff stuck to the pan is pure gold. By adding some stock, you can use a wooden spoon to scrape it all up — making the tacos extra flavorful and delicious.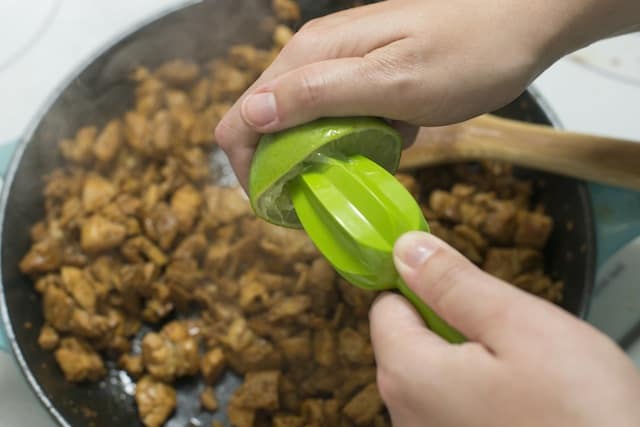 After three minutes or so, the chicken will be browned and the pan clean. Give it a squeeze of fresh lime and you're ready for taco assembly.
We truly love the combination of smoky spices, bacon and chicken, but we love something else a little more. The toppings.
Here's our taco topping ritual:
Thinly sliced raw onions that have sat in warm water for 10 minutes (which makes them less pungent) OR pickled red onions (click for recipe). Love them so much.
Sour cream or, if you can find it, "crema." Think thinner than sour cream, more flavorful and what a Mexican creme fraiche would taste like. It's completely awesome.
Avocado slices or guacamole (click for recipe).
Shredded cabbage, lettuce and/or Cilantro – it's bright, fresh and green.
Lime or lemon is a good idea.
Adam likes adding hot sauce or salsa. His favorite is salsa verde (click for recipe). It's made with tomatillos and green peppers.
He's also partial to pickled jalapeños. We buy them jarred at the store.
And, since we used the bacon fat for cooking the chicken, you'll have 3 crispy bacon strips leftover. They are absolutely perfect crumbled on top of the tacos.
We have no restraint when it comes to topping our chicken tacos. Then again, who does?
You'll notice, from the photo, that we actually did well this time — only a tiny drizzle of crema, some pickled onions and cilantro. That said, I should probably tell you the tacos that followed took a turn. In a good way. A second generous drizzle of crema and extra bacon were added. It felt like the right thing to do at the time.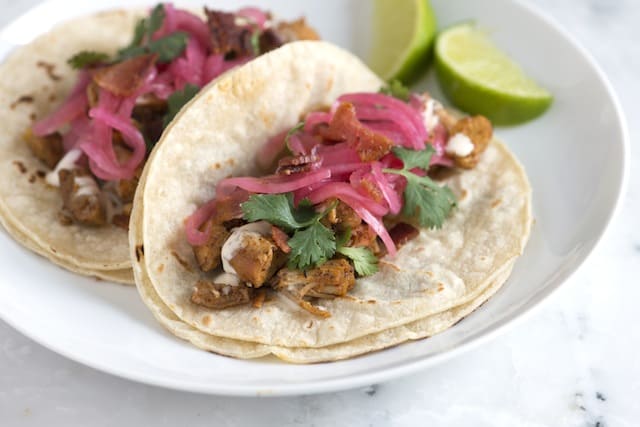 Make these. Fill your tacos to the brim then go back for seconds.
You May Also Like
Chicken Taco Recipe with Bacon
Serve these smoky and savory tacos topped with your favorite toppings. We love something bright and fresh like lime, onion and cilantro. We've given a list of suggested toppings, but add what you love.
Created By:
Joanne and Adam Gallagher
You Will Need
3 slices bacon
1 1/2 - 2 pounds (680 g to 900 g) boneless and skinless chicken thighs (can substitute chicken breast)
1 teaspoon chili powder
1/2 teaspoon ground cumin
1/2 teaspoon smoked paprika
1/4 teaspoon ground coriander
2 garlic cloves, minced
1/8 teaspoon cayenne pepper (add less/more based on how spicy you like your tacos)
1/4 cup chicken stock (substitute vegetable stock or water)
Juice of half a lime
Salt, to taste
10 Corn or flour tortillas, warmed
Optional taco toppings:
Onions, pickled red onions, cheese, sour cream or crema, avocado or guacamole, hot sauce, pickled jalapenos, lettuce or cabbage and cilantro
Directions
Cook bacon in a large skillet over medium heat, turning as necessary until fat has rendered and bacon is crispy. About 8 minutes.
Drain bacon on paper towels (save for later). Discard all but 2 tablespoons of bacon fat.
Season chicken on both sides with salt. Place chicken in skillet, in a single layer, and cook until a crust forms, about 5 minutes, Turn and cook until thighs are just cooked through, 5 to 6 minutes longer. Turn heat to low then transfer chicken to a cutting board and cut into small pieces.
Add chili powder, cumin, smoked paprika, coriander and garlic to the pan. Cook, while stirring, for 1 minute.
Place chicken back into the pan. Pour stock over chicken then use a wooden spoon to scrape up any brown bits stuck to the bottom of the pan. Cook until stock has thickened and coated the chicken. Stir in lime juice.
Serve chicken next to warm tortillas and your favorite taco toppings. (Don't forget to crumble the bacon from earlier and add to the tops of your tacos).
Notes and Tips
Smoked paprika, sometimes labeled hot Pimentón or hot Pimentón de La Vera, is not the same as sweet paprika. It is a little spicy and very smoky. Look for it in the spice aisle or online.