We love simple, no-fail recipes. Recipes you come back to again and again. Those that you know are easy to adapt or add to with ease. This recipe is just that. It's quick to make and we're willing to bet you've got everything you need to make them right now.
We've already shared one of our adaptations with you — it was our cinnamon pancakes.
You May Also Like: We used this exact recipe with a few twists to make our popular Cinnamon Pancakes with a Cinnamon Roll Glaze.
In the past, we called on boxed mixes. Not anymore.
Boxed mixes are great, but everything needed to make fluffy, light pancakes already sits in our kitchen. We said goodbye to the mix and haven't looked back since.
Let us show you how simple it is to make pancakes at home without a box.
How to Make Pancakes: Pancake Recipe 101
This recipe makes light and fluffy pancakes. They're not too sweet and are lightly scented with vanilla, making them extra delicious. See all those air pockets?
1. The Ingredients
For the dry, you'll need:
Flour
Sugar
Baking powder
Salt — We like to use 3/4 teaspoon of kosher salt (sometimes 1 teaspoon). It balances the sugar nicely and brings out lots of flavor in the pancake.
For the wet, you'll need:
Milk
Melted butter
One egg
Vanilla extract
2. Mix It
Over-mixing batter is a common mistake — it makes pancakes heavy and flat. To prevent this, mix dry and wet ingredients separately at first then combine just before cooking.
Once you're ready to cook, combine the two mixes — we use a fork. Stir until you no longer see dry clumps of flour. There can be some small lumps, though.
3. Adapt It
This is our basic recipe. We use it often as is, but have used it as a base for other pancakes. Add what you love. Here are a few suggestions:
Sprinkle a handful of berries, nuts or chocolate chips into the batter. (We love adding fresh blueberries for blueberry pancakes)
Layer a few thin slices of strawberry or banana onto the wet batter once added to the skillet. Then, flip.
Add lemon zest or spices such as cinnamon, nutmeg or allspice.
Try replacing some of the all-purpose flour with whole wheat flour.
Add a few spoonfulls of flax seeds, oats or reduce the sugar.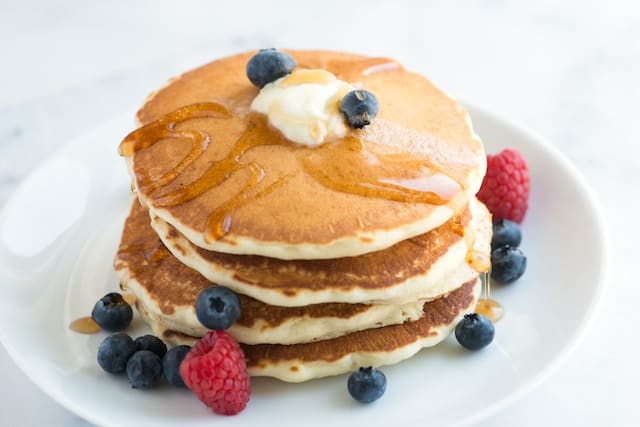 There's lots of things you can do to make these your own. So go experiment and add what you love. Then, if you'd like, come back and share what worked for you. We'd love to read about it.
More Breakfast Recipes to Try:
For something different, try another favorite (and easy) breakfast: Perfect French Toast Recipe.

Essential, Easy Pancake Recipe
Pancakes that are light and fluffy. They're not too sweet and are lightly scented with vanilla, making them extra delicious. These are easy to adapt -- try adding a handful of berries, nuts or chocolate to the batter.
You Will Need
1 1/2 cups (195 grams) all-purpose flour (we use Gold Medal all-purpose flour)
2 tablespoons sugar
1 tablespoon baking powder
3/4 teaspoon kosher salt
1 1/4 cups (295 ml) milk, whole or 2% reduced fat milk are best
1 egg
4 tablespoons butter, melted, plus more for skillet
1 teaspoon vanilla extract
Directions
Prepare Batter
Whisk flour, sugar, baking powder and the salt in a medium bowl.
Warm milk in microwave or on top of stove until lukewarm, not hot (you should be able to keep your finger submerged for 10 seconds). Whisk milk, egg, melted butter and the vanilla extract until combined. (By warming the milk slightly, the melted butter mixes into the milk instead of turning into small lumps).
Cook Pancakes
Heat a large skillet (or use griddle) over medium heat. The pan is ready if when you splatter a little water onto the pan surface, the water dances around the pan and eventually evaporates.
Make a well in the center of the flour mixture, pour milk mixture into the well and use a fork to stir until you no longer see clumps of flour. It is okay if the batter has small lumps, in fact you want that – it is important not to over-mix the batter.
Lightly brush skillet with melted butter. Use a 1/4-cup measuring cup to spoon batter onto skillet. Gently spread the batter into a 4-inch circle.
When edges look dry and bubbles start to appear and pop on the top surfaces of the pancake, turn over. This takes about 2 minutes. Once flipped, cook another 1 to 2 minutes or until lightly browned and cooked in the middle.
Serve immediately with warm syrup, butter and/or berries.
Notes and Tips
We use kosher salt. If you don't have it on hand, keep this in mind: 1 teaspoon fine sea or table salt = about 1 1/4 teaspoons kosher salt.