Learn how to make our favorite Maryland-style crab cake recipe. This is definitely a must make if you are a crab cake fan! Jump to the Crab Cake Recipe now or read on to see how we make it.
One thing we've enjoyed experimenting over the last month or two have been crab cakes. They're somewhat of a passion of ours. Living near the Chesapeake Bay means that our summer weekends are full of sunny days, cracking crabs, an abundance of sweet corn, Old Bay and the water. Its all incredibly exciting.
With all of that comes a serious love for Maryland-style crab cakes. A great crab cake doesn't call for lots of ingredients, it has a ridiculous amount of sweet blue crabmeat and has very little filler.
How To Make The Best Crab Cake Recipe, Ever!
Use Jumbo Lump or Backfin Lump Crabmeat
So lump crabmeat is pretty expensive. That said, we really do believe that lump (preferably jumbo lump) crabmeat makes the absolute best crab cake. It was hard for us to take out our wallet at first, but once we realized 1 pound of crabmeat can make 6 generously sized cakes — or 24 mini crab balls — we were sold.
Oh, and don't worry, nothing else called for in our recipe racks up the bill — it's just saltine crackers and a few extras you probably already have in your fridge.
Saltine Crackers, Mayonnaise & Egg Make a Great Binder
Around here, fillers and extras are a no-no. All the menus promise "no filler" crab cakes. In all honestly, you do need a little bit of filler so they stay together. We go for the absolute minimum, which is a glue made from crushed saltine crackers, mayonnaise and one egg. It works beautifully.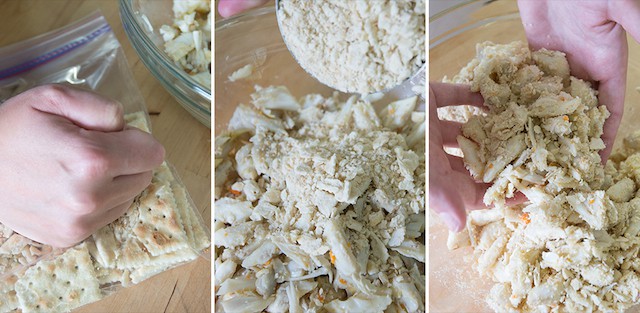 We start by tossing the lump crab meat with the crushed crackers. The crackers absorb extra moisture from the crab. Then, we make a mixture of mayonnaise, egg, mustard and some Worcestershire sauce and add it to the crab and cracker mixture. After a few stirs, the mixture is pretty loose. That's why you see us sliding it into the refrigerator. We keep it in there for an hour or so. The crackers continue to absorb the liquid and that glue I was talking about earlier forms.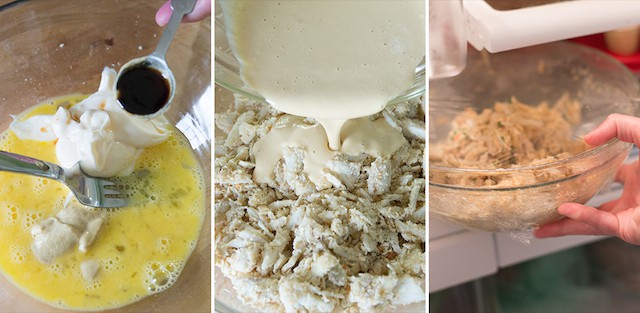 After some time in the refrigerator, you can easily form the cakes. We like using a 1/2-cup measure to make 6 generous cakes, but you can make them slightly smaller and make 8 or make them donut-hole size for mini crab balls.
Pan-Fried or Broiled?
Our local restaurants usually give us three options for how they are cooked: fried, pan-fried and broiled. We never request fried, so we're not going to spend time talking about that. We do, however, ask for pan-fried and broiled often.
Pan-frying is great — they become dark golden brown and a little crispy on both sides. We love using our cast iron pan, which really helps get that golden brown sear.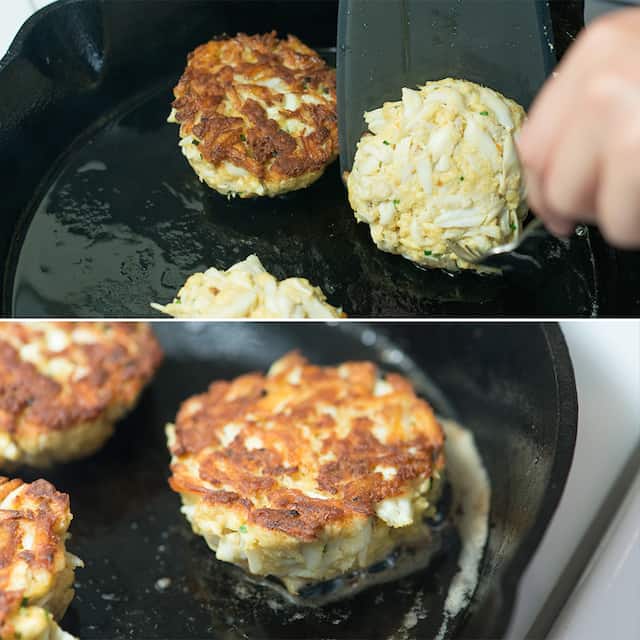 Broiled crab cakes are also pretty delicious. We like to start with a hot pan on top of the stove until the underside of the crab cakes are golden brown. Then, we add a little dot of butter to the tops and broil until golden brown. The nice thing about broiling is that the cake is never pressed or squashed flat. The tops stay perfectly rounded.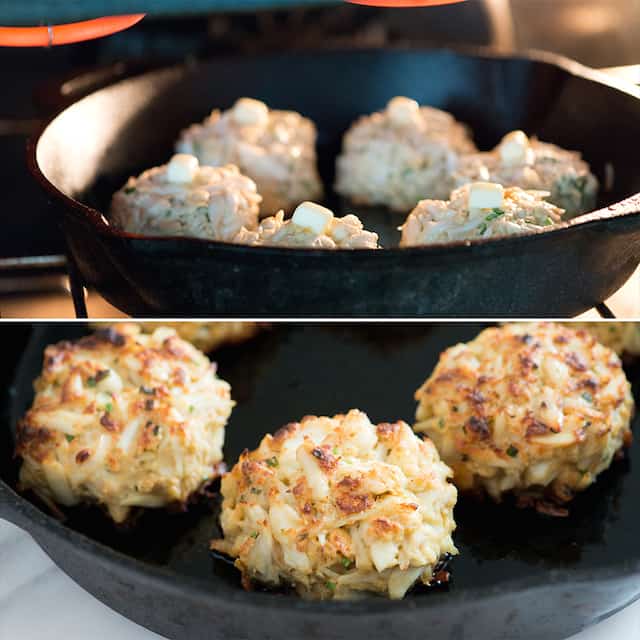 Ask most Marylanders and they will have a preferred cooking method. If you don't know which you prefer, try them both, you really can't go wrong!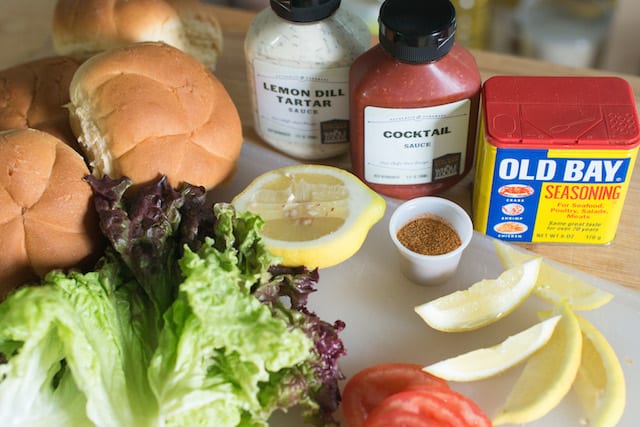 When we make these at home, we'll always serve them with a lemon wedge, a little tarter sauce and if we're feeling it, a touch of Old Bay Seasoning (just be careful, it's pretty potent). Joanne loves turning her's into a sandwich and I pretty much eat them out of the pan (I can't help myself).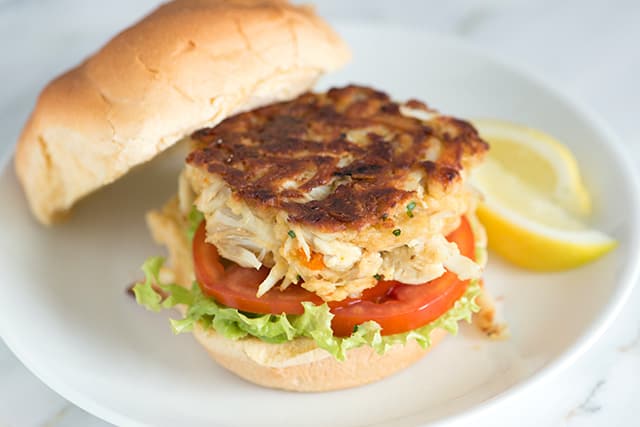 Try our crab cakes with one or two of these popular sides: Smoky Black Bean and Corn Salad, Perfect Potato Salad, Rosemary Roasted Potato Wedges or our Baked Sweet Potato Fries.
Recipe updated, originally posted August 2014. Since posting this in 2014, we have tweaked the recipe to be more clear and added a quick recipe video. – Adam and Joanne

Adam's Maryland-Style Crab Cakes
Spending much of our childhood and young adult life in and around Maryland, we like to think we know a little when it comes to a great crab cake. We've enjoyed countless crab cakes and have come to the realization that our favorite is this one -- it's simple with few ingredients, little filler and tastes of sweet crab. When we're out at our favorite restaurants, we usually get three options for how the crab cake is cooked: fried, pan-seared and broiled. We hardly ever choose fried, but often go for pan-seared or broiled. We have shared our method for both options below.
Created By:
Adam and Joanne Gallagher
Yield:
6 Large Crab Cakes or 24 Mini Crab Cakes
You Will Need
1 pound jumbo lump or backfin lump crabmeat, fresh or pasteurized
20 saltine crackers, crushed into crumbs (65 grams or just less than 1 cup of crumbs)
1 tablespoon minced chives or parsley, optional
1/4 cup (55 grams or 2 ounces) mayonnaise, try our homemade mayonnaise recipe
1 large egg
1 tablespoon Dijon mustard
1 tablespoon Worcestershire sauce
1/4 cup (60 ml) canola oil, or mild flavored oil
1 tablespoon butter
Lemon wedges, for serving
Directions
Prepare Crab Cakes: Drain the crabmeat, if necessary, and pick through it for any rogue shells. Toss the cracker crumbs, herbs (optional) and crabmeat together, using your fingers to gently break apart some of the lumps.
Whisk the mayonnaise, egg, mustard and Worcestershire sauce together then stir into the crab mixture until mixed. It will look somewhat loose. Cover with plastic wrap and refrigerate for 1 to 3 hours.
Scoop the crab mixture into six 1/2-cup mounds and lightly pack into 6 patties, about 1 1/2 inches thick. Cook the crab cakes -- our method for pan-searing and broiling are below.
How to Cook Pan-Seared Crab Cakes: In a 12-inch nonstick or cast iron skillet, heat the oil over medium heat. When the oil shimmers, add the crab cakes to the pan. Cook until the underside of the cakes are dark golden brown, 4 to 6 minutes.
Carefully flip the cakes, reduce the heat to medium-low, and add the butter. Continue cooking until the second side is well browned, 4 to 6 minutes.
How to Cook Broiled Crab Cakes: Position an oven rack 6 to 8 inches from the top of the oven. Turn broiler to high. In a 12-inch oven-safe skillet, heat the oil over medium heat. When the oil shimmers, add the crab cakes to the pan. Cook until the underside of the cakes are golden brown, 3 to 5 minutes.
Cut the butter into six pieces then add one to the top of each crab cake. Slide the pan under the broiler and cook until the tops are well browned, 4 to 6 minutes.
A + J's Serving Suggestions: We love adding a splash of lemon juice to the tops of our crab cakes. Adam also adds a dash of seafood seasoning (like Old Bay). You can serve these as-is or on top of a soft roll with crisp lettuce and a slice of tomato. Tarter sauce and cocktail sauce are also great to have on the side. One more thing: a pickle spear on the side doesn't hurt, either.
Making Mini-Crab Cakes or Crab Balls: Instead of just six large crab cakes, we make 24 mini crab cakes for parties.