Beer bread is a genius recipe. All it takes is 4 ingredients to make the basic recipe: Self-rising flour, beer, butter and sugar. For this cheesy beer bread, we add sharp cheddar cheese, fresh green onion and a little salt and pepper.
You May Also Like: Our Focaccia Bread Recipe is just as easy to make or, if you want to skip the bread making and get right to the cheese try our Cheesy Garlic Bread.
Beer bread is such a simple recipe to make — all you need is a bowl, a spoon and a loaf pan. No mixer, no fancy ingredients and a great excuse to buy your favorite beer? It's a winner in our book.
How to Make Our Easy, Cheesy Beer Bread Recipe
When it comes to choosing the beer for this, you have free reign. There are so many fantastic options out there. For the loaf you see in our photos, we used one of our favorites — Guinness.
A simple light beer, pumpkin ale, hoppier versions or even hard ciders would all work. It all depends on what flavors you want represented in the bread. You could even try seltzer water or ginger beer for a non-alcoholic version.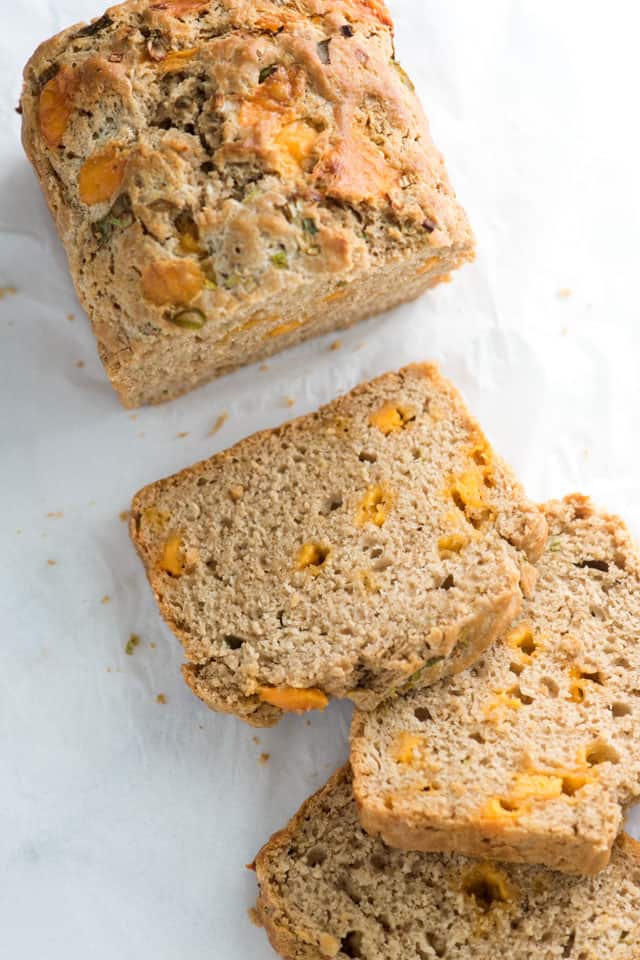 You could also go a different direction when it comes to the add-ins. Switch out cheddar cheese for brie, gruyere or add some type of meat like ham or bacon.
Switching it from a savory bread to something on the sweeter side is an option, too. Try adding cooked, diced apples or raisins and cinnamon instead of cheese and onions. A hard cider version of beer bread with cheddar would be delicious, too.
Whatever you do, we would love to hear about it in the comments. Please share your own versions below.
If you enjoyed our cheesy bread, you may also like these recipes
Easy Banana Bread Recipe with ripe bananas, flour, butter, eggs and spices. So good, you'll want to make 2 loaves!
Focaccia Bread Recipe, An easy focaccia bread that's perfectly crisp on the outside and soft and chewy on the inside.
Cheesy Beer Bread Recipe
Beer bread is such a simple recipe to make -- all you need is a bowl, a spoon and a loaf pan. Feel free to use your favorite beer in this -- we used a stout beer, but light beers, pumpkin ale, hoppy beers or even hard cider would be great. By placing the loaf pan on an insulated baking sheet (or two stacked baking sheets), the loaf bakes evenly and the bottom doesn't over-brown. We use an 8 1/2- x 4 1/2-inch loaf pan for this. If you are using a 9- x 5-inch pan, check for doneness 5 minutes before the baking time stated below.
Yield:
One 8 1/2- x 4 1/2-inch loaf
You Will Need
3 tablespoons unsalted butter, melted and cooled, divided
3 cups (390 grams) self-rising flour
3 ounces sharp cheddar cheese, cut into small cubes (generous 1/2 cup)
2 green onions, ends and tops trimmed and thinly sliced
2 teaspoons granulated sugar (see notes)
1/4 teaspoon kosher salt
1/8 teaspoon freshly ground black pepper
12 ounces (1-1/2 cups) stout beer, or beer of your choice
Directions
Center a rack in the oven and heat to 375ºF. Lightly grease an 8 1/2- x 4 1/2-inch loaf pan. Place the pan on an insulated baking sheet or on two regular baking sheets stacked on top of each other.
Make Bread Batter: Set around 10 pieces of cheese and a small handful of green onion aside for the top of the bread.
Mix the flour, the remaining cheese and green onion, sugar, salt and black pepper in a large bowl until well blended.
Make a well in the middle of the flour mixture and add the beer. Stir with a spatula or spoon until fairly smooth. Stir in two-thirds of the butter, leaving the remaining third for the top of the loaf.
Spoon the batter into the prepared pan and smooth the top. Scatter with the leftover pieces of cheese and green onion then drizzle with the remaining third of butter.
Bake the Bread: Bake the bread until a toothpick inserted into the center of the bread comes out clean, or with only a few crumbs attached; 45 to 50 minutes. Cool the loaf in the pan for 5 minutes then transfer to a cooling rack and cool completely.
Store the bread in an airtight container at room temperature or in the refrigerator, where it will last a little longer.
Notes and Tips
Beer Substitute:
If you are not a fan of beer, replace the beer with 12 ounces of seltzer water.
Sugar:
There are beer bread recipes that call for quite a bit more sugar than we do — up to a 1/4-cup. By calling for 2 teaspoons, we find the bread has a slight sweetness. You can increase the amount of sugar based on what you think you will like — 1 to 2 tablespoons will result in a sweeter bread, but one that can still be used for sandwiches.
This recipe was inspired by and adapted from King Arthur Flour's
Classic Beer Bread Recipe
.