Zucchini noodles, cucumber, tomatoes, feta and a spicy yogurt dressing — we've been inhaling this easy low-carb, gluten-free salad for the last few days. Jump to the Zucchini Noodles Salad recipe now or read on to see how we make it.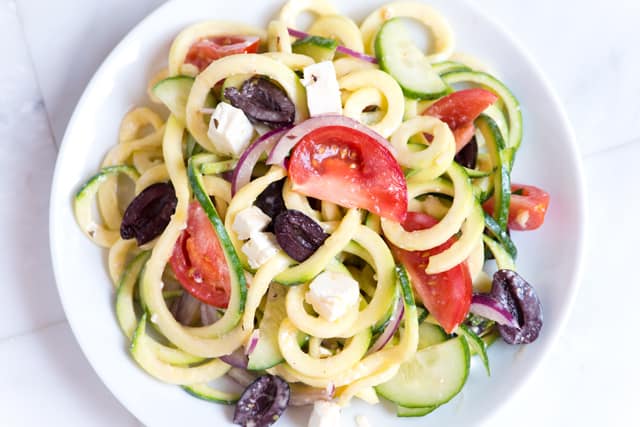 It takes no time at all — about 15 minutes — and holds up exceptionally well in the fridge. This zucchini noodle salad is perfect for taking to work or making ahead for dinner.
By the way, if you don't have the gadget in your kitchen that makes vegetable noodles, don't fret. We've shared our top picks below to help you out or you can simply cut the zucchini into half moons or cubes.
Three Ways To Make Zucchini Noodles
Spiralizer — we have this one. Using a spiralizer means you'll get thin, curly, long noodles fast. They're not too expensive and can be used for much more than zucchini (sweet potato noodles anyone?).
Julienne Vegetable Peeler — like this one from OXO. These come in at under $10 and might even be hiding in your kitchen gadget drawer right now. You won't get the curly, extra-long noodles like with a spiralizer, but you'll still get thin noodles that are perfect in this salad. here's a tutorial from Oh She Glows for making zucchini noodles with a julienne veggie peeler.
Mandoline Slicer — we have one similar to this that we found at an Asian market, but you can find lots of options online. Just like with the julienne peeler, you won't get curly noodles, but it's a really useful tool to add to your kitchen.
You can also use a standard vegetable peeler and make wide noodles.
Since you've got zucchini, you may want to take a look at our Easy Zucchini Bread Recipe with a lightly spiced, perfectly sweetened batter and a whole pound of grated zucchini mixed in. Or, jump over to our Parmesan Basil Zucchini chips recipe. They are insanely good!
Making our Mediterranean Zucchini Noodles Salad
This really could not be easier. Just as I mentioned earlier, if you can't make noodles out of the zucchini, simply chop the zucchini into half moons or cubes.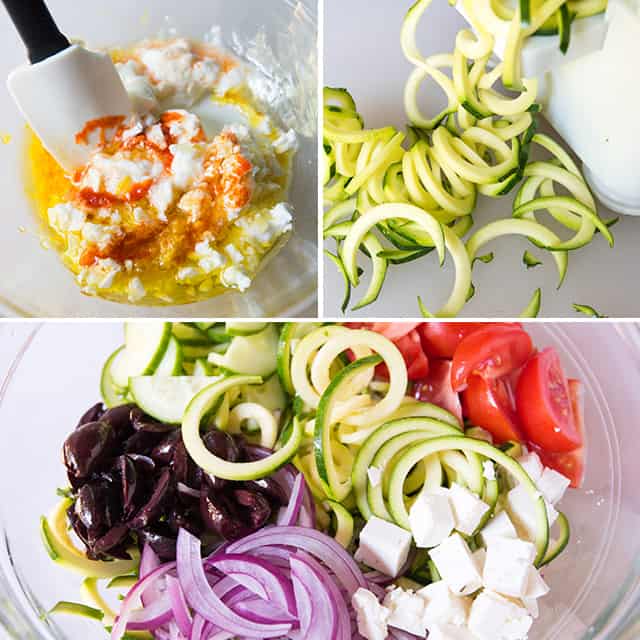 The dressing is an insanely tasty combination of Greek yogurt, garlic, lemon, feta and spice. We use Sriracha since it's a little bit hot and a little bit sweet — you could swap it out for your favorite hot sauce, though.
Once the dressing is made, you can keep it in the fridge for days — in fact, it will get better over time.
When you're ready to toss the salad, throw everything into a bowl and get to it. You can keep the dressed salad in the fridge for up to 1 day — longer than that and you'll have a pretty soggy salad.
If you're making a day ahead, just keep the dressing separate from the salad and you'll be fine.
And that's it — a low-carb, gluten-free, no-guilt salad that's hearty enough for dinner or simple enough for a quick lunch. Enjoy!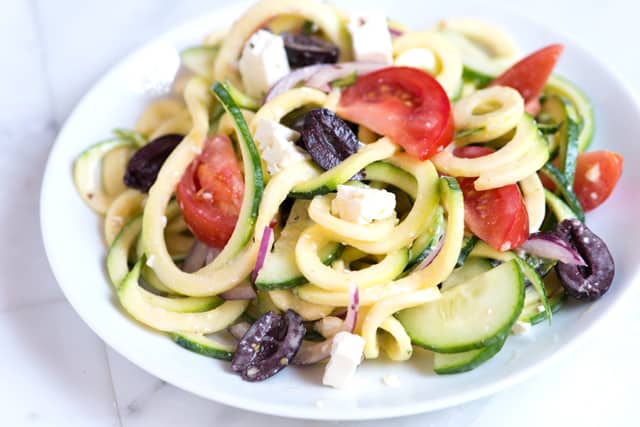 Mediterranean Zucchini Noodles Salad with Spicy Yogurt Dressing
Make this guilt-free zucchini noodles salad in 15 minutes! The yogurt-based dressing has just the right amount of kick from garlic, feta cheese, lemon and Sriracha hot sauce. The salad is perfect to eat straight away or made in advance.
Yield:
Makes 2 large salads or enough for 4 side salads
You Will Need
For the Zucchini Noodles Salad:
2 medium zucchini, spiralized or cut into noodles
1/2 medium hothouse cucumber, sliced into half moons
2 medium tomatoes, cut into small wedges
1/4 medium red onion, sliced thinly into half moons
1/2 cup (2.5 ounces) cubed feta cheese
15 Kalamata olives, pitted and halved
For the Greek Yogurt Dressing:
1/4 cup Greek yogurt
1 medium garlic clove, finely minced (about 1 teaspoon minced)
1 tablespoon crumbed feta cheese
1 teaspoon lemon zest
1 tablespoon lemon juice
1 tablespoon olive oil
1/2 teaspoon Sriracha hot sauce, or a few dashes of your favorite hot sauce
1/2 teaspoon honey
1/4 teaspoon salt, or more to taste
Directions
Prepare Salad: Add zucchini noodles, cucumber, tomato, red onion, cubed feta cheese and olives to a large bowl then toss with two-thirds of the Greek Yogurt Dressing. Add more dressing if needed. Enjoy the salad straight away or keep refrigerated up to one day. The noodles will soften slightly over time, but will still have crunch.
If making ahead more than a day, keep the salad and dressing separate and toss the day of.
Make Dressing: Stir yogurt, garlic, feta cheese, lemon zest, lemon juice, olive oil, Sriracha, honey and salt together. Taste for seasoning and adjust with additional salt and/or Sriracha as needed.
Notes and Tips
Three Ways to Make Zucchini Noodles: Make noodles from zucchini using a spiralizer, a julienne vegetable peeler or with a mandoline. The spiralizer is the only one that will get that curly look, but the other two are a great options. You can also use a standard vegetable peeler and make wide noodles.

If you don't have any of these, simply cut the zucchini into half moons or cubes.

Hothouse Cucumber: We buy hothouse or seedless cucumbers almost exclusively. They are the long, thinner-skinned variety usually sold in plastic wrap. You can use whatever cucumber variety you like, just keep in mind that you may need to peel and remove seeds.

A Note About Salt: We use kosher or coarse sea salt in our kitchen, not table salt. If using table salt, reduce the amount used to taste.