Rich and fudgy brownies topped with almonds and sea salt that are easy to make from scratch. This one-bowl recipe makes brownies that have dense, fudgy middles. There's even a good chance you already have the ingredients needed on hand. Click here to jump to the recipe or read on to see how we make them!
This easy recipe is a riff off our popular brownies recipe. The base is similar — there's cocoa powder instead of melted chocolate, butter, sugar, eggs and flour. The original is pretty amazing, this time, though, we add lots of crunchy roasted almonds and sea salt on top. A nut lovers dream!
If you love this, you need to see these recipes:

Our original Fudgy Brownies recipe from scratch has hundreds of 5-star reviews. It was the inspiration for this recipe. There's even a quick recipe video where you can watch us making the recipe. Take a look now!

These Double Chocolate Cookies are a must for chocolate lovers. Since you've already got the cocoa powder out for brownies, you might as well make a batch of these cookies! They are Joanne's favorite!
How to Make Salted Almond Brownies from Scratch
I mentioned above that this is a simple recipe — it only requires one bowl, a spatula and ingredients you probably already have in your kitchen.
By the way, the original recipe is slightly adapted from Alice Medrich's Cocoa Brownies found in many of her popular cookbooks. We HIGHLY recommend buying one (or many) of her cookbooks — she's a genius when it comes to desserts.
The batter start with butter, cocoa powder and sugar. They are all added to a bowl then set above gently simmering water until the butter has melted.
This is how we do it, since it generates the most consistent results, but our readers have mentioned that skipping the simmering water for a microwave does the trick nicely.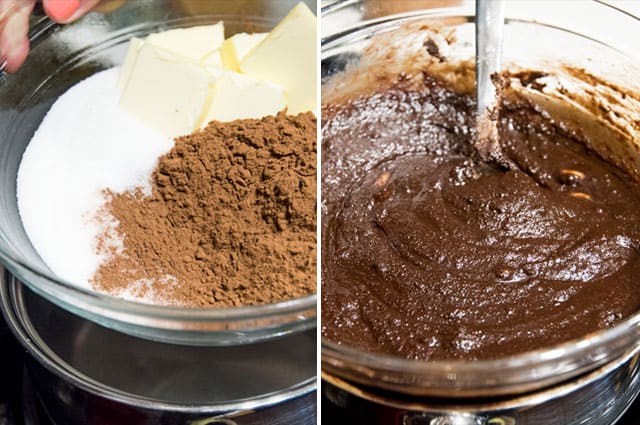 Next, eggs are added as well as a small amount of flour.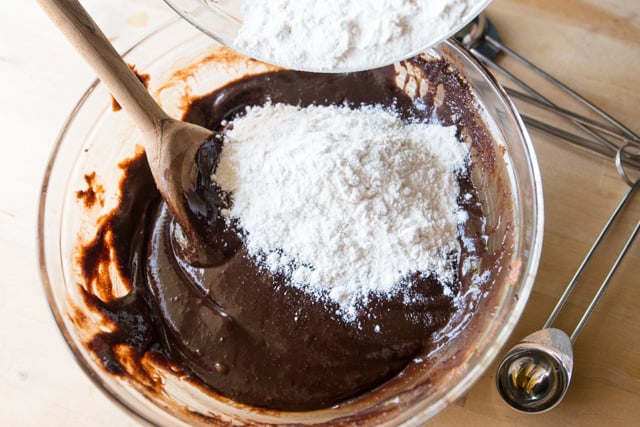 The flour is stirred in until the batter looks thick and shiny.
Now transfer the batter to a square metal baking pan — here's the one we use — and top with roughly chopped almonds and sea salt.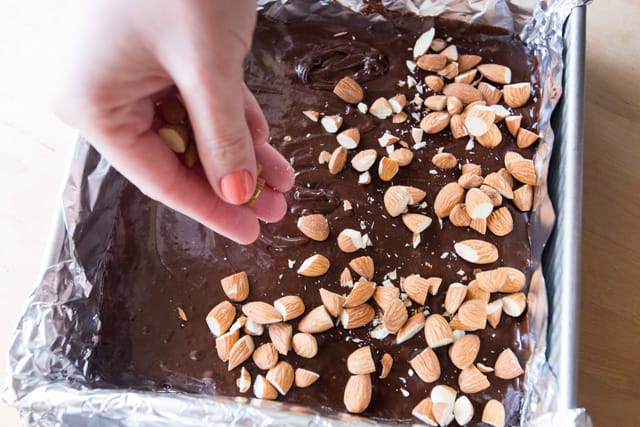 And that's it — they bake in the oven for about 25 minutes and they are done!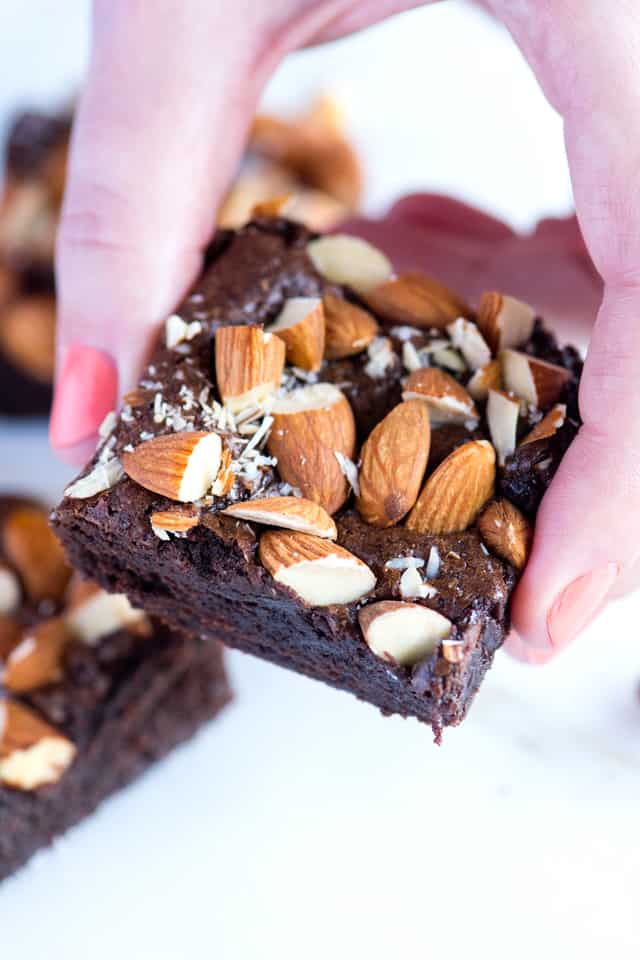 These brownies are so rich and fudgy. They are easy to make, too. Just a few simple ingredients, a bowl and a spoon are needed. Give them a try then come back and share what you think in the comments below.
You can also share a photo of your brownies on Instagram, simply tag #inspiredtaste or include our handle @inspiredtaste. Happy baking!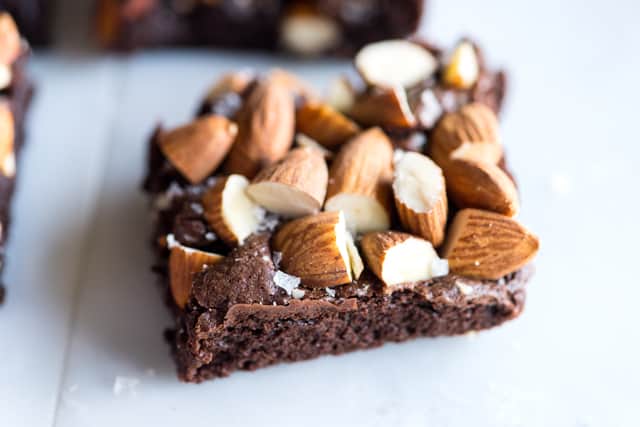 Salted Almond Brownies Recipe
Rich and fudgy brownies topped with almonds and sea salt. This one-bowl recipe makes brownies that have dense, fudgy middles.
Equipment we use:
saucepan
,
mixing bowl
,
spatula
,
8-inch square metal pan
,
measuring cups
, and
measuring spoons
.
Subscribe for free recipes:
Click below and join our community of home cooks and
sign up for our free weekly email
with hand-picked recipes, recipe videos and inspiration.
You Will Need
10 tablespoons (140 grams) unsalted butter
1 1/4 cups (250 grams) granulated sugar
3/4 cup plus 2 tablespoons (85 grams) unsweetened cocoa powder
1 teaspoon vanilla extract
2 large eggs, cold
1/2 cup (65 grams) all-purpose flour
1 cup (150 grams) whole roasted almonds, roughly chopped
1/4 teaspoon coarse or flaky sea salt
Directions
Position an oven rack in the lower third of the oven and heat to 325 degrees F. Line the bottom and sides of an 8-inch square baking pan with aluminum foil, leaving an overhang on two opposite sides. This helps when removing the baked brownies from the pan, once cooled.
Add enough water to a medium saucepan so that it is 1 to 2 inches deep. Heat water until barely simmering. Combine butter, sugar, and the cocoa powder in a medium heat-safe bowl. Rest the bowl over simmering water (if the bottom of the bowl touches the water, remove a little water).
Stir mixture occasionally until the butter has melted and mixture is quite warm. Don't worry if it looks gritty, it will become smooth once you add the eggs and flour.
Remove the bowl from heat and set aside for 3 to 5 minutes until it is only warm, not hot.
Stir in vanilla with a wooden spoon or spatula. Then, add eggs, one at a time, stirring vigorously after each one.
When the batter looks thick, shiny and well blended, add the flour and stir until fully incorporated, then beat with the wooden spoon or spatula for 40 to 50 strokes. (The batter will be quite thick). Spread evenly in lined pan and scatter the top with chopped almonds and the sea salt.
Bake 20 to 25 minutes or until a toothpick can be inserted into the center and come out almost clean (you want it to be a little moist with batter).
Note: Some have found they need to bake an extra 10 minutes, so keep an eye on the doneness of the brownies and use the toothpick test as your guide.
Cool completely then remove from pan.
For the cleanest lines when cutting, place into freezer for 20 to 30 minutes to firm up. Cut into 16 squares.
Notes and Tips
To see
how we make our original brownie recipe, watch our recipe video here
! This almond version was inspired by that, so all of the steps until adding the almonds and salt are the same.
This recipe is slightly adapted from Alice Medrich's Cocoa Brownies found in many of her cookbooks. Here's one of them: "
Sinfully Easy Delicious Desserts
." If you love dessert as much as we do, buy it. You won't regret it.
After multiple questions about what equipment we use in our own kitchen, we are including links to some of the equipment (or similar) that we use. Some links are affiliate links, this just means that if you were to buy one of our suggestions, Inspired Taste would get a small kick-back from Amazon. Even if we didn't, we'd still send you to all options.