These easy, cheesy baked zucchini chips are addictive. They are perfect to serve with dinner or just as an afternoon snack. Jump to the Baked Zucchini Chips Recipe now or read on to see how we make them.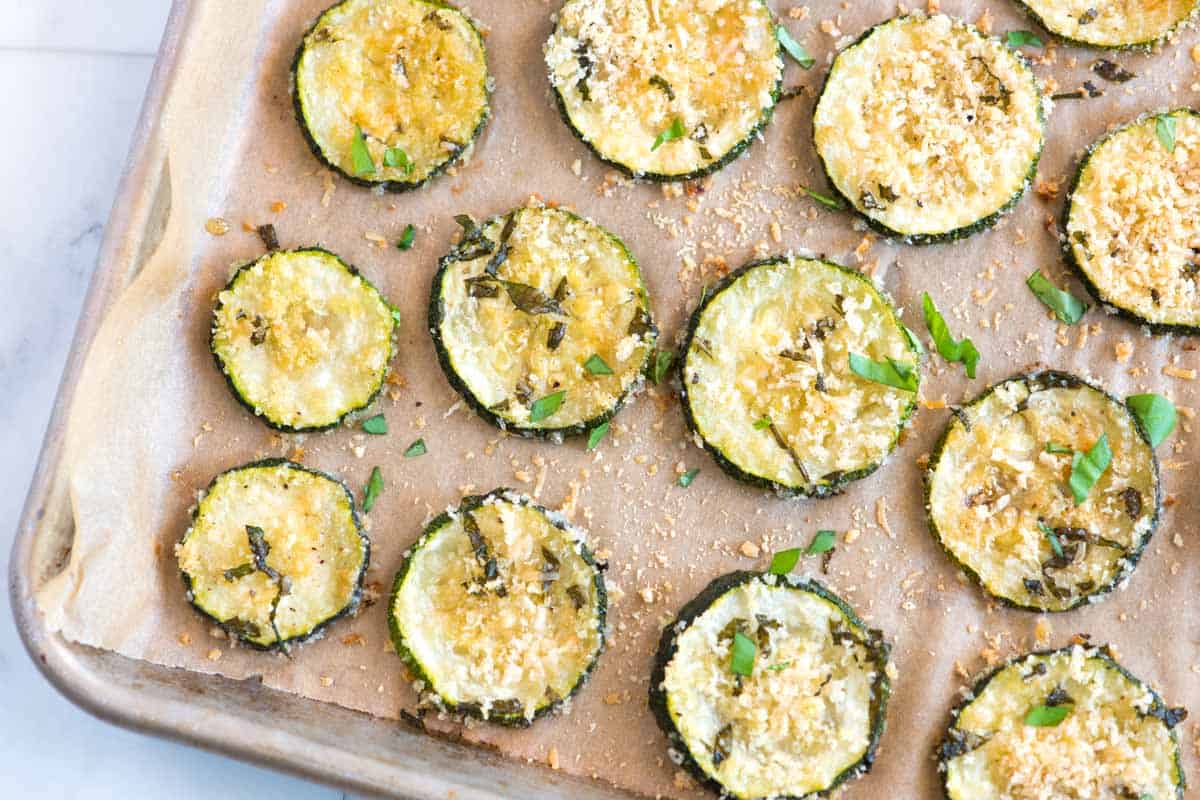 We're always on the lookout for easy and healthy zucchini recipes. Zucchini is available in mass quantities during the summer and is often readily available year round. We've already shared one of our favorite zucchini salads and this zucchini bread with almonds with you. Now it's time to share these easy zucchini chips.
A few years ago, we fell in love with an appetizer at one of our favorite restaurants. It was parmesan zucchini fries. Amazing, but fried. Looking for a healthier option, we started making these baked zucchini chips at home. Still delicious and much healthier.
The ingredients for this recipe are kept to a minimum and you can make these in under 45 minutes. Let me show you how to make them.
Here's another one of our top ways to cook zucchini — Click the photo or here to see our recipe for Fresh Vegetable Lasagna. It is a 5-star recipe and is packed with fresh vegetables, like zucchini and peppers.
How to Make Healthy Zucchini Chips in the Oven
I mentioned above that the ingredients for this recipe are kept to a minimum. They are also easily swapped out based on what you have in your kitchen.
These chips are made with Parmesan cheese and fresh basil. You could always swap the Parmesan for another hard cheese, like cheddar. The basil can also be replaced with another fresh herb — fresh dill would be really nice.
By the way, if you're looking for a low-carb zucchini chips recipe, simply leave the breadcrumbs out. You will lose some crunch from the coating, but the chips will still taste great.
After cutting the zucchini into 1/4-inch thick rounds we toss them in olive oil until well coated on both sides, and then add them to a mixture of cheese, bread crumbs and basil.
We find that pressing some of the coating onto the rounds helps it stick a little better than just stirring the chips around the breading.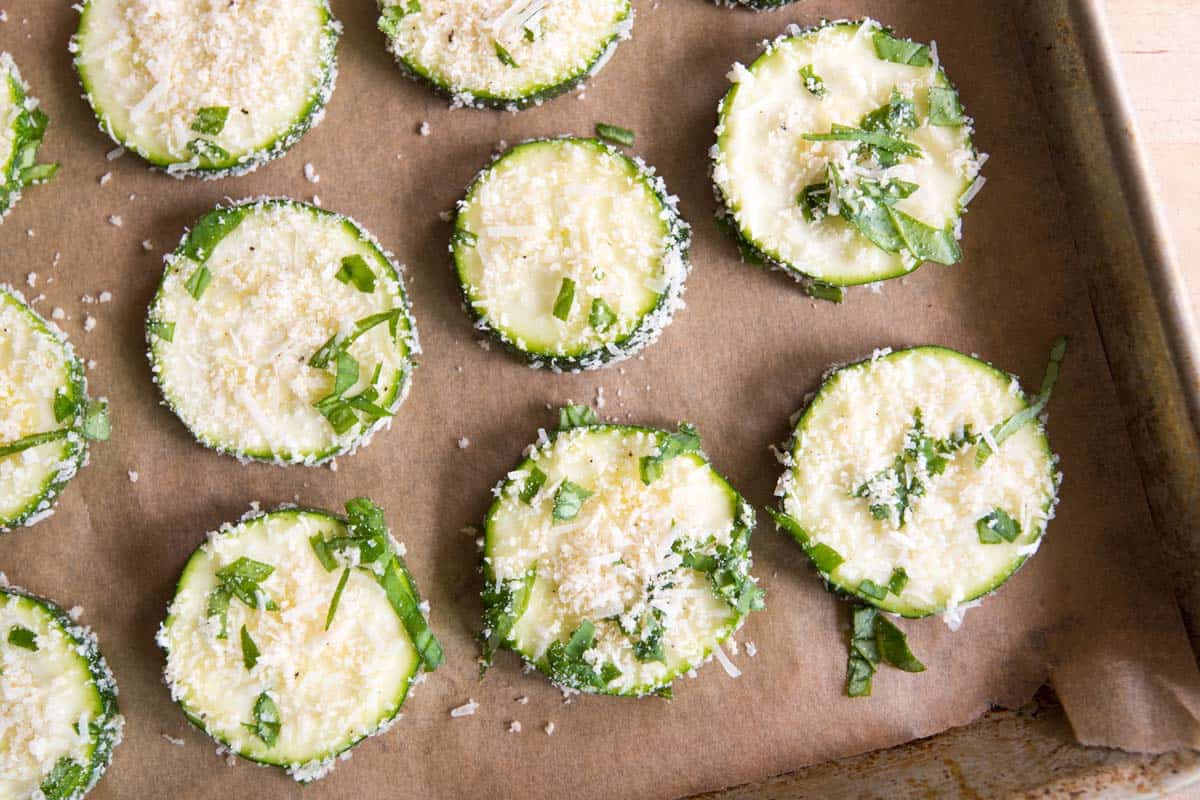 After about 30 minutes in a hot oven, the zucchini chips become tender on the inside and the coating becomes crisp on the outside.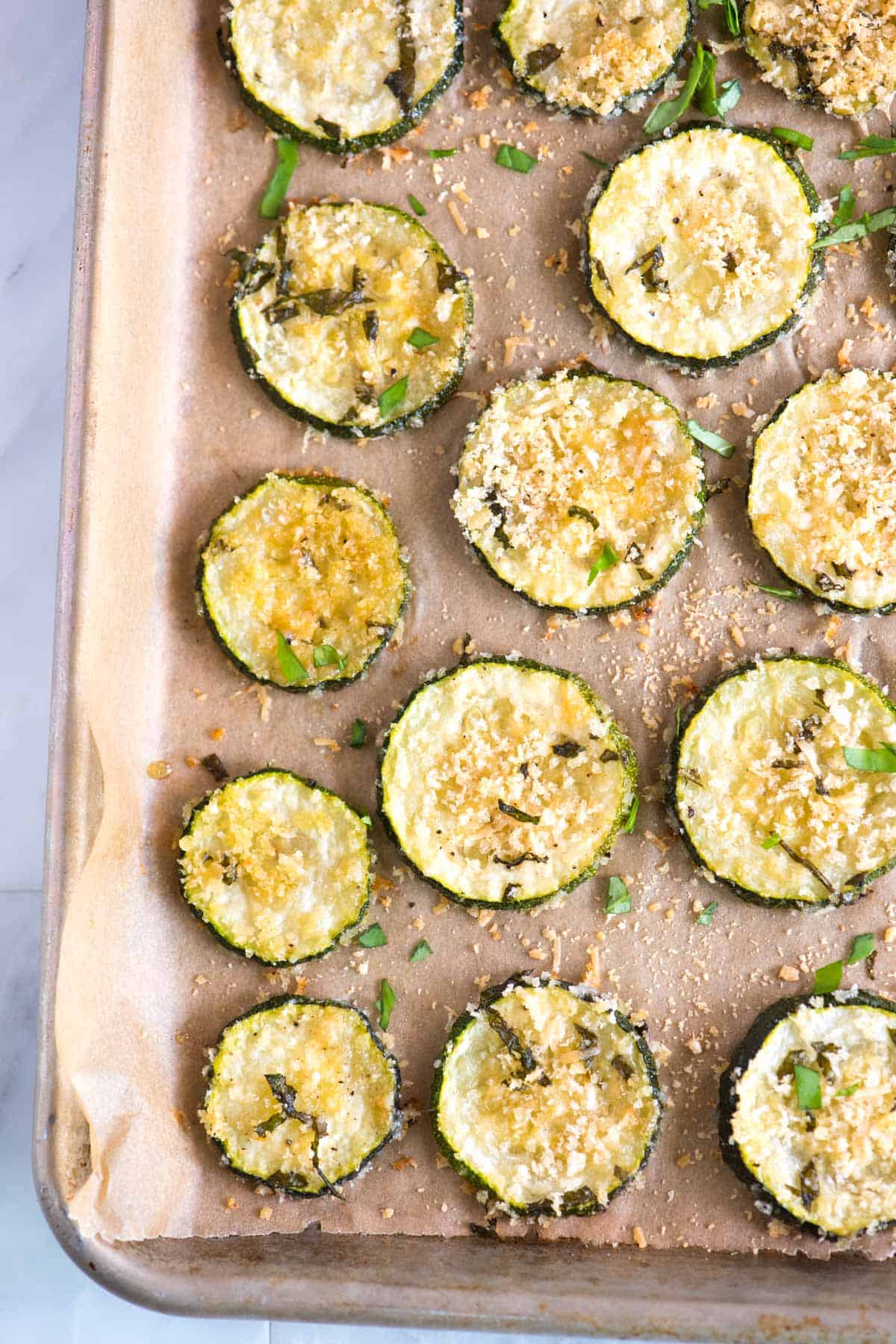 We just love how simple this recipe is — and remember, it's really easy to switch up the flavors based on what you love. A version using paprika and Manchego cheese is on our list for what to make next.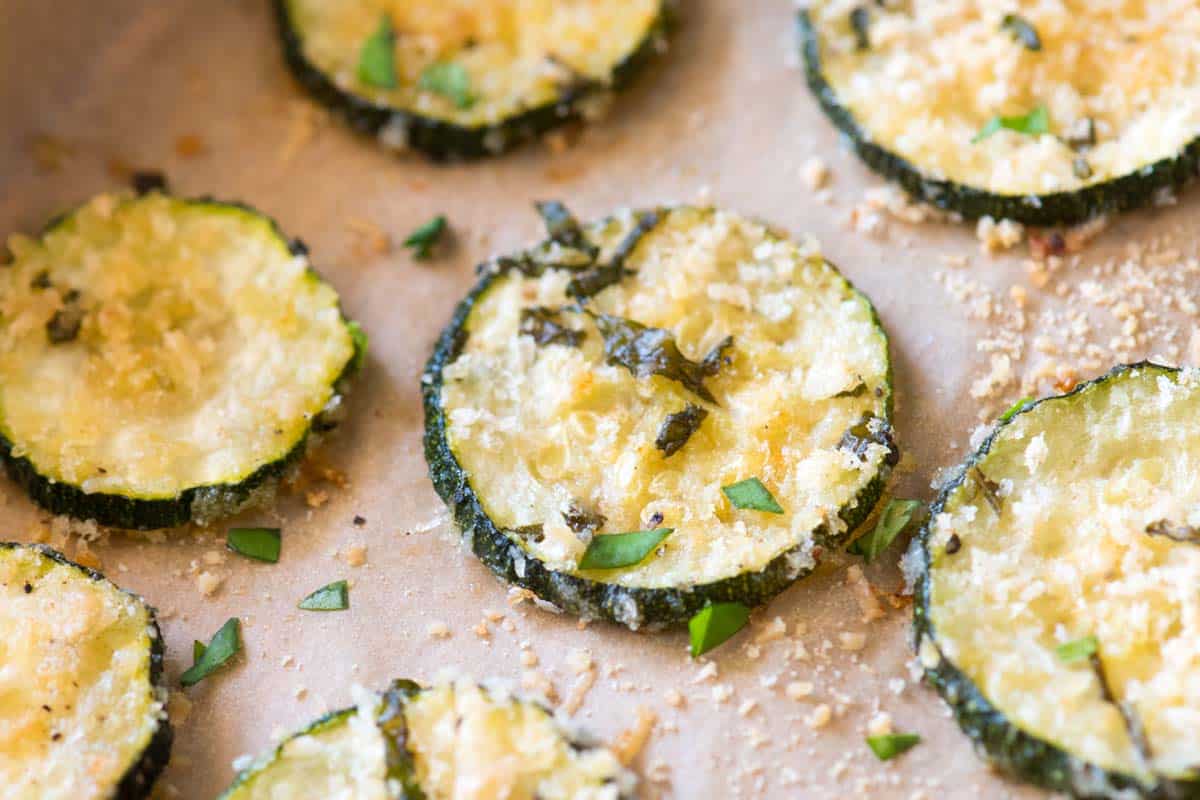 Parmesan Basil Baked Zucchini Chips Recipe
These easy, cheesy baked zucchini chips are addictive. They are perfect to serve with dinner or just as an afternoon snack. The ingredients are kept to a minimum and can be switched up based on what you have in the kitchen. In our recipe below, we make use of fresh basil, but most fresh herbs would be welcome. We particularly love dill. The cheese can be swapped out, too. Sharp cheddar or other hard cheeses work well.
You Will Need
2 medium zucchini (about 1 pound total)
1 1/2 tablespoons olive oil
1 ounce grated parmesan cheese (about 1/3 cup)
1/3 cup panko bread crumbs or plain breadcrumbs
1/4 cup packed fresh basil leaves, finely chopped
1/4 teaspoon garlic powder
1/8 teaspoon kosher salt
1/8 teaspoon fresh ground black pepper
Directions
Heat the oven to 425 degrees F. Line a baking sheet with parchment paper.

Slice zucchini into 1/4-inch thick rounds. Toss with the oil until well coated.

In a shallow dish, stir the Parmesan, bread crumbs, garlic powder, salt, and pepper together. Place each zucchini round into the Parmesan mixture and press the coating onto both sides.

Arrange zucchini in a single layer on the prepared baking sheet. Bake until browned and the coating is crisp, 25 to 30 minutes.