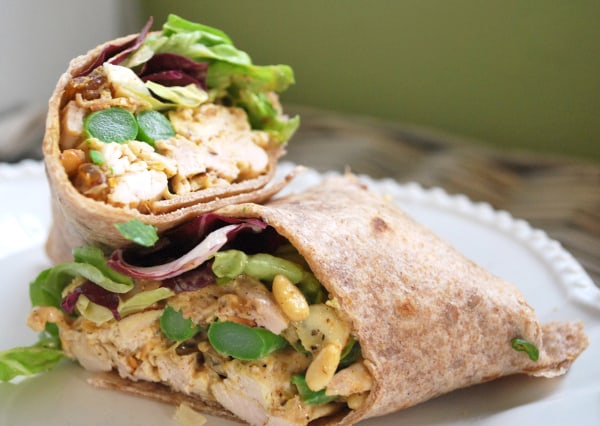 We have already mentioned our love for roasted chicken in the past, so I will not go too deeply into how much we adore a succulent, flavorful with crispy skin bird. However, I must at the very least share the following:
Buying a whole chicken, then roasting it is way cheaper than buying boneless chicken breasts, cooking poultry on the bone will provide you with so much more flavor than not AND you will most likely have leftovers, just perfect for this curried chicken salad recipe and maybe some soup!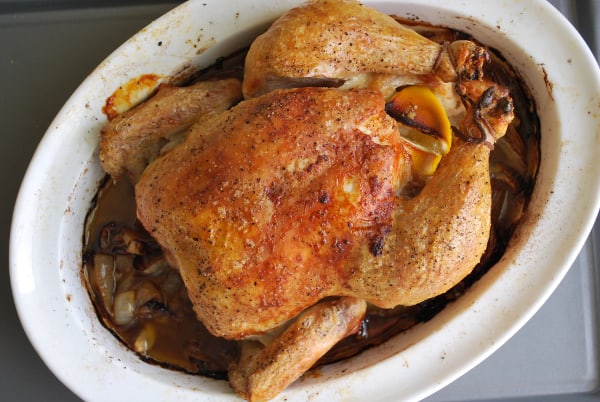 Even though we just love chicken (have I mentioned how much we enjoy chicken roasted), we rarely order, or make for that matter, chicken salad.  It isn't that we are not fond of the concept, but too often than not, you are presented with a mixture of soggy veggies, bits of chicken and gobs of mayonnaise.  (In case you were wondering, we have the exact same feelings about potato, pasta and egg salads- sure to be discussed at a later date).  So, when we were left with about half a chicken last night, we thought it might be a good idea to make our vision of what a chicken salad should be: flavorful and full of chicken.
We started with both white and dark meat that we shredded instead of cubed.  After that, we added blanched asparagus, sliced on a diagonal into 1-inch pieces (no need for celery here).  Next, golden raisins, spring onion, lemon zest, lemon juice, Madras curry powder, marmalade jam and only about 1/3 cup of mayonnaise was added to the mix.  Some toasted nuts were then added at the very end so they stay crunchy.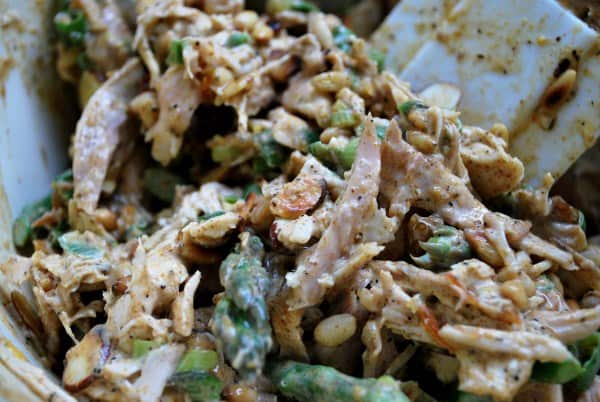 We folded everything together, as to not break up the chicken, and wrapped the salad up with some beautiful lettuce in a nutty multi-grain wrap.  The wrap was delicious, full of flavor, you could actually taste the chicken and the dressing did not drip out.  The curry powder and marmalade were slightly spicy, sweet and tangy.  The asparagus and nuts add crunch, the raisins are a little chewy and sweet and the juice/zest from the lemon cuts straight through any heaviness added by the mayonnaise.
We loved this so much, we ate 3 wraps each!  They were big too.
Curried Chicken Salad Wraps
6 multi-grain tortillas
2 cups shredded chicken, white and dark meat
6-7 asparagus spears, blanched and cut into 1-inch pieces on diagonal
1/4 cup thinly sliced spring onions
1/3 cup golden raisins
1 teaspoon lemon zest
juice of half a lemon
1 1/2 teaspoons curry powder (add more to taste)
2 tablespoons marmalade jam
1/3 cup mayonnaise (add more if mixture is dry)
1/4 cup nuts (we used pine nuts and sliced almonds)
Note:  To blanch asparagus, bring water to a boil in a small saucepan.  Prepare a bowl full of ice and water, set aside.  Add the asparagus pieces and allow to cook for about 2 minutes (asparagus should be bright green and still have a crunch).  Remove the asparagus and immediately add them to the ice water bath created earlier.  This will stop the asparagus from cooking further and will leave you with a tender, bright green piece of asparagus with a slight crunch.
Add the nuts to a dry frying pan over medium heat.  Allow the nuts to toast for about 4-6 minutes.  (Be sure to stay close as the nuts will quickly burn if you are not careful).  In a large mixing bowl add all the ingredients minus the nuts.  Use a spoonula to carefully fold all the ingredients together until everything is well dispersed.  Add the nuts just before you are ready to serve.
To assemble the wrap, warm a tortilla slightly so it is pliable.  Add a few leaves of lettuce and some of the curried chicken salad.  Roll the tortilla like a burrito and slice on the diagonal to serve.
Just in case you were wondering … here is how we made that gorgeous roasted chicken:
Gorgeous Roasted Chicken

1 5-6 pound chicken
1 Lemon, quartered
3 Tablespoons olive oil
1 tablespoon salt
1/2 tablespoon pepper
1 onion, thickly sliced
Preheat the oven to 425 degrees F.
Remove the chicken giblets and rinse the chicken inside and out.  Pat the chicken dry with paper towel then liberally sprinkle salt and pepper inside the chicken and then stuff the cavity with the lemon.  Rub or brush the chicken all over with the olive oil, then liberally sprinkle with salt and pepper.  Using kitchen string, tie the legs together and tuck the wings underneath the bird (this will ensure even cooking and reduce burning of the wing tips).
Place the onion down in a roasting pan, then toss with some olive oil, salt and pepper.  Spread them around the roasting pan and then place the chicken on top.
Roast the chicken for 1 1/2 hours or until the juices run clear when you cut between a leg and a thigh and the internal temperature of the breast is about 165-170°F  and 180-185°F for the thigh.  Remove the chicken and allow to rest for at least 15 minutes, then serve.