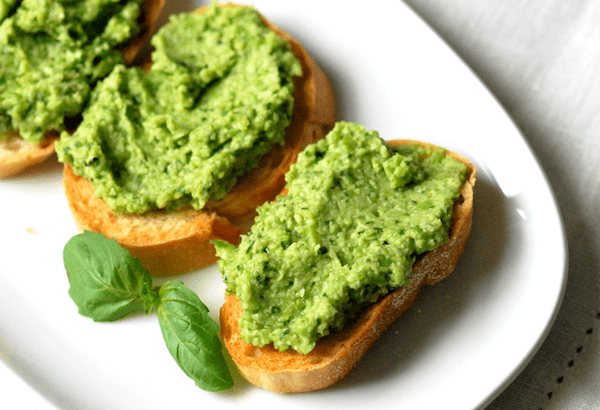 Given the beautiful day outside and our day off work we thought we would send something short and sweet your way.  After failing to go to the grocery store and being forced to come up with something to eat last weekend, we came up with this bruschetta.  We luckily had leftover fresh basil (leftover from Eggplant and Tomato Napoleons) as well as parmesan cheese and bread.  Looking in the freezer we found half a bag of edamame (soybean) and some frozen peas.  So, edamame and pea bruschetta was born.  We were skeptical, but pleasantly surprised, the final result was nice in texture, sweet, a little tangy from garlic and most of all fresh and green, perfect for a hot summer day.
Edamame and Pea Bruschetta
You Will Need
1 cup frozen shelled edamame (soybean)
1/2 cup frozen peas
1 garlic clove, coursely minced
2 spring onions, chopped
1/4 cup basil leaves, packed
1/4 cup olive oil
1/4 cup parmesan cheese
salt and pepper
1 French baguette or similar, cut into slices
Directions
Bring a medium pot of water to a boil, add about a 1/2 tablespoon of salt and the edamame, cook for 4 minutes then add the peas and cook for another minute. In the meantime, prepare a large bowl of fresh ice water to be used to cool down the edamame and peas when they complete cooking.
Remove the edamame and peas from the boiling water and quickly move them to the prepared ice bath to cool and stop cooking. Once cooled, drain and set aside.
In a food processor, add the garlic and spring onions then pulse a few times. Next, add the basil leaves, cooled edamame and peas then pulse 3-4 times or until the mixture is chopped up within the food processor. Stream the olive oil slowly into the mixture, while processing until everything comes together, it should look like a thick pesto. Remove the mixture and place into a bowl then mix in the cheese, a pinch of salt and freshly ground pepper.
Use a griddle or oven to grill/toast slices of French baguette then smear about a tablespoon onto each slice and serve.