Not that this should come as too much of a surprise, but Adam and I are not perfect – in the kitchen or in our daily lives.  When combined, we have a long list of habits we wished we could change or improve – sometimes we work on them, other times, we conveniently "forget" about them.   Something that has been on that list for a long time now has been to focus more on what we eat and where it comes from.  Now, we have made some serious strides in a positive direction on this one, but again, we are not perfect. As much as we would love to, we do not always buy organic food, even though we wished we didn't, we do eat some processed foods and we certainly do not always know, or even try to find out, where our food comes from.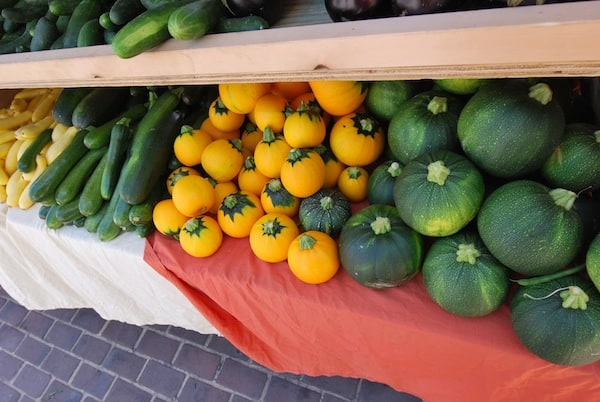 After a year of running this blog, we have come to realize that our lives revolve around food and more importantly we have realized that is exactly the way we want it.  I am currently in my second semester of culinary school, together we have started a food blog and we both have many hopes and dreams for the future in the food industry.  We love food and we love food people.

So, we have decided we have to change our ways – we cannot proclaim to be "foodies" or food lovers without understanding food.  To us, being a chef, a cook or one who blogs about food requires understanding and more importantly, respect of what we eat, cook, marinate or write about.  We need to learn more about how our food gets into our refrigerator or pantry, where it came from, why it's in season and who grew or raised it.  Thus, we are starting our own journey to figure out as much as possible.  We are doing it together, because we find that when Adam and I put our heads together the results are far better than when only one of us try something.  We are making contacts with people who know more than we do, we are going to research and most importantly we will meet the experts: the chefs, cooks, home gardeners, vendors and the farmers.  We will travel to local farmers markets, farms, wineries and anywhere else that will give us some insight into food and where it comes from.  We did find two wonderful online resources called Field to Fork Virginia and Field to Fork DC who are sharing tons of information on where our local food comes from. We just want to learn more and cannot wait to share what we learn with our family, friends and you.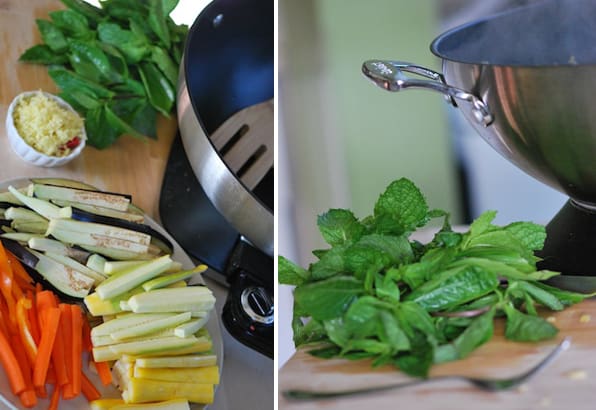 We started last Saturday and traveled no more than 5 blocks to the City of Alexandria Farmer's Market, it was hot, but well worth it.  We meandered through the stands, quickly learning of what was in season around the DC Metro area this time of year… we saw lots of tomatoes, baskets of squash and so many beans … lots and lots of beans.  We picked up a few things here and there, then went home to make a simple and fresh from the market dish.  We did not fuss and allowed the ingredients to shine.  It was quick, delicious and made us feel good.  We have a long way to go before we fully understand our food and maybe we never will know everything, but for right now, we plan to respect it and always try to learn more.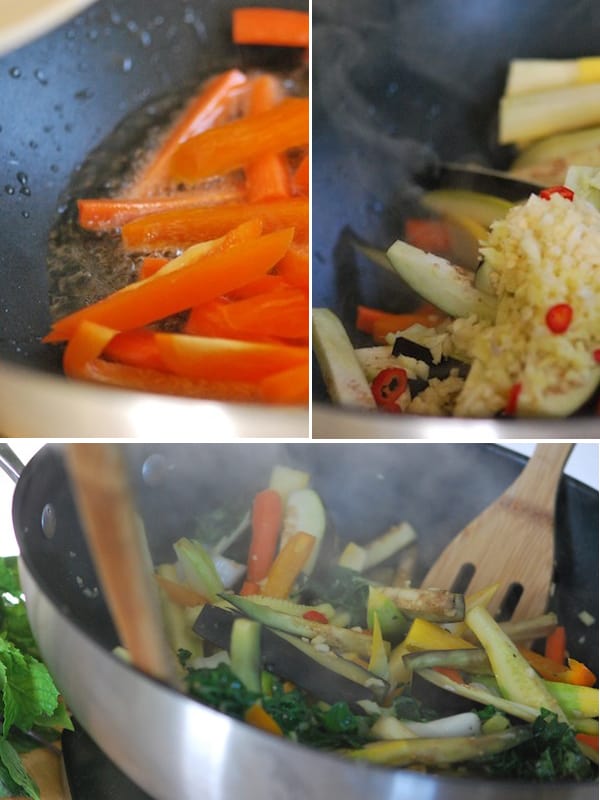 Look at these vegetables! So fresh…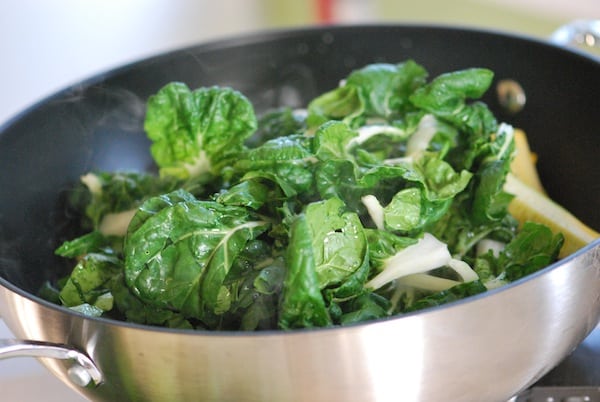 Market Fresh Vegetable Stir Fry
We went to the market to get some fresh produce and we decided to make this quick and easy stir fry.
You Will Need
Stir Fry
3-4 tablespoons of vegetable oil
5 cloves of garlic, minced
1 1/2 inch piece of ginger, minced
2-3 red chili peppers, thinly sliced
2 pounds seasonal produce (we used a combination of squash, Japanese eggplant, carrots, bell pepper and bok choy)
1/4 cup low-sodium soy sauce
2 tablespoons sugar
2 teaspoons dark sesame oil
4 cups cooked noodles or spaghetti, al dente (firm, but not hard)
Garnish
handful of Thai basil and mint
1-2 red chili peppers, thinly sliced
sesame seeds
Directions
Prepare all ingredients and cut all vegetables into long think matchsticks. Preheat a wok or large sauté pan to high heat, add the vegetable oil and heat until it begins to smoke. Carefully, add all ingredients into the wok or pan and toss so the oil has coated all the vegetables (add more oil if needed).
Toss occasionally during cooking, continue to cook the vegetables for about 3 minutes or until all the vegetables are cooked (you still want some firmness for such vegetables as carrots or bell peppers).
After about 3 minutes, add the soy sauce, sugar, sesame oil, cooked noodles or pasta; toss and cook for another 30 seconds.
Finally tear in, then toss a handful of mint and Thai basil leaves. Serve the stir fry in a bowl and garnish with more torn leaves of mint and Thai basil, fresh red chili peppers and a sprinkle of sesame seeds.
Notes and Tips
If you do not have Thai basil, you can replace it with a more common herb, such as cilantro or even parsley. Thai basil, which has a mild anise flavor (licorice), can usually be found at some farmer's markets or International and Asian food stores.