During our stay in Paris, we opted to rent an apartment instead of staying in a hotel. We have gone this route in the past and have found it to be the best way to really experience the culture. Paris was no exception, outside our very small apartment (and I do mean small) were the bustling streets of the 4th district in Paris, where we could walk to wine and cheese shops, chocolate boutiques, bakeries and our favorite, a tiny little store front selling freshly made muffins.  We would pass the window in the mornings as a tall young woman was measuring, mixing and filling baking trays and wait just a few hours to mosey on back past the same storefront to choose from her selections of the day.  Our favorite, and let me tell you it is difficult to choose just one, but our very favorite was the Poire et Vanille variety (or Pear and Vanilla). Oh my, her muffins were wonderful, soft, light, airy, absolutely packed with flavor and warm, not hot, but warm; just warm enough so that you could finish the whole muffin before it cooled down and just cool enough so you could start munching as soon as you stepped out of the store. Ever since Paris, we have craved these muffins, although that applies to most of what we had the opportunity to try, but at the top of our list, the muffins.  These are our first attempt, the flavor, while isn't exactly the same, is close, but the texture is a touch heavier – not in a bad way, just not as light and fluffy as those in Paris. So, we do plan to experiment a bit more – we are however, considering that for us to really get these right, it may be necessary to take a trip back, don't you think?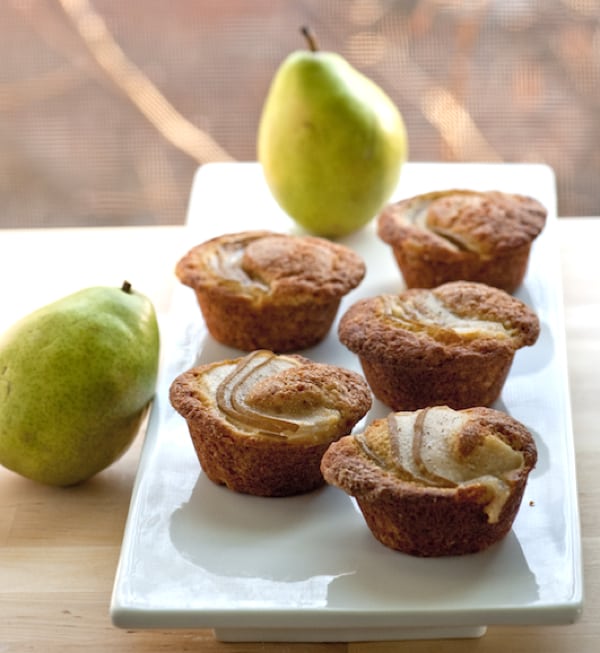 Not your ordinary muffin, these Pear and Vanilla Muffins are perfect for a special brunch or meal.
You Will Need
1 1/2 cups all-purpose flour
1 1/2 tsp. baking powder
1/2 tps. baking soda
1/4 tps. freshly grated nutmeg
1/4 tps. salt
2 large eggs
1 1/2 tbsp. vanilla extract
1 tbsp. lemon zest
1 cup packed light brown sugar
1 stick (1/2 cup) plus 3 tablespoons unsalted butter, melted
1 cup unsweetened applesauce
1-2 ripe pears, thinly sliced, for muffin tops
2 tbsp. vanilla sugar, for muffin tops
Directions
Put oven rack in middle position and preheat oven to 400°F. Grease muffin pan.
Stir together flour, baking powder, baking soda, nutmeg and salt in a bowl.
Whisk together eggs, vanilla extract, lemon zest and brown sugar in a large bowl until combined well, then add the melted butter, a little at a time, whisking until mixture is creamy.
Stir in the applesauce, then fold in the flour mixture until just moistened.
Divide batter among muffin cups, then lightly push three thin slices of pear into the top of the filled muffin cups and sprinkle with a dusting of vanilla sugar.
Bake the muffins until golden, about 20 minutes.
Remove from the oven and allow to cool in the pan on a rack for 5 minutes, then remove muffins from pan and cool slightly before serving.
Notes and Tips
Pears are best eaten the same day.