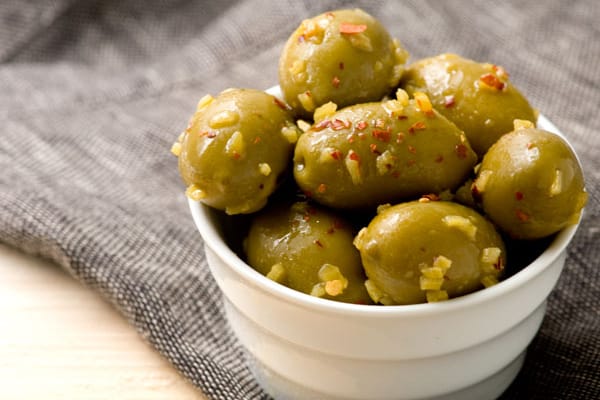 Lemon confit is one of those buzz words, and rightly so. It sounds fancy, tastes delicious, elevates dishes and honestly, is not that difficult to prepare. There are various methods out there on how to transform lemons to lemon confit (you can see our suggestions below), but considering a few of those require the patience to wait two-to-three weeks before actually being able to use it, we went for the considerably quicker approach (read: while patience is most definitely a virtue, it is not one of ours). The recipe below takes just over one hour and you can store the lemon confit in the refrigerator for about 3 weeks, plus as an added bonus, the kitchen is softly perfumed with the smell lemon for the day, not bad if you ask us.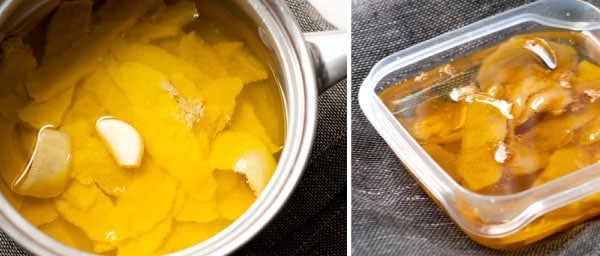 You could, of course, add a touch of lemon confit to a variety of dishes — risotto, moroccan inspired recipes, dips, salads — the list is endless, but we opted to toss a bit with chili flakes and buttery Cerignola olives. The subtle lemon flavor married with the touch of spice from the red chili flakes really makes the olives, in our opinion, addicting.
Olives with Lemon Confit and Chili Flakes
You Will Need
Cerignola olives (or olive of your choice)
olive oil
red chili flakes
3 large lemons
1/2 cup olive oil
1/4 cup blended or canola oil
1/3 cup freshly squeezed lemon juice
1 garlic clove
pinch of salt
Directions
Use a vegetable peeler to remove lemon zest (yellow part only) from each lemon; you may need to use a small pairing knife to remove any white pith from the peel.
Bring a small saucepan of water to the boil, add the lemon peel and leave in the boiling water for 10 seconds, drain the water, set aside the lemon peel and repeat.
In a separate saucepan, bring the oils, lemon juice, garlic and salt to a simmer, add the lemon peel, reduce heat to low and continue to simmer for about 1 hour.
Cool and store, covered in oil in the refrigerator (will keep for up to a month).
Finally, toss the olives with olive oil, lemon confit and chili flakes, then serve.