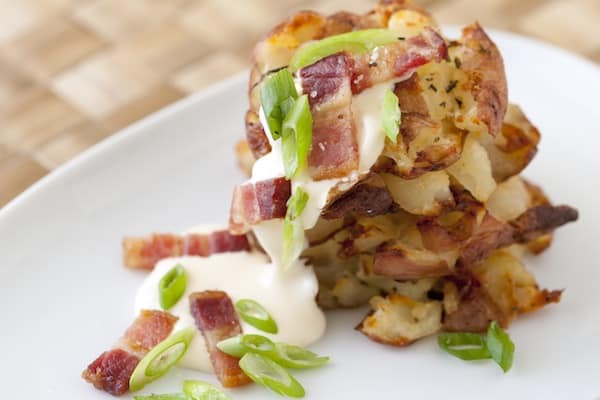 In the recipe below, you will notice we say this will serve 4. That may be true, but we managed to down every single one of these crispy smashed discs of creamy potato in one sitting. There, we warned you.
We cook the potatoes twice. First, we boil them. To do that, add the potatoes to a large pot and cover with 1-2 inches of water.  Add a tablespoon of salt and, bring to a boil, reduce to a simmer and cook until you can pierce the potatoes with a fork. (Don't use a sharp knife to test cooked potatoes, it will always go through).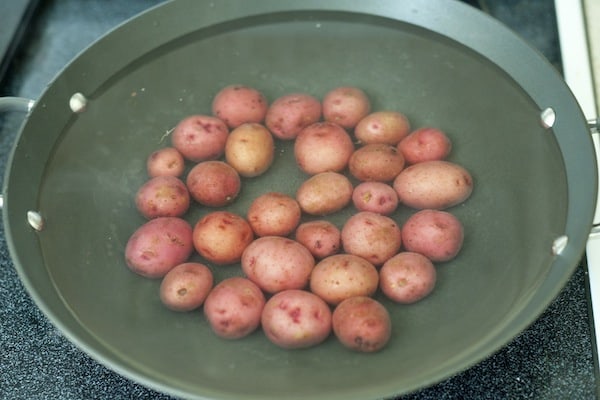 While the potatoes are simmering away, which should take 20 minutes or so, bake some bacon. If you have one, place a cooling rack inside a sheet pan with edges. Lay the bacon slices on top and bake in a 400 degree F oven for 15-20 minutes or until crispy. If you don't have a cooling rack, just lay the slices directly down onto the sheet pan. One more thing, add a few slices of bacon for the cook and anyone (ahem, Adam) who may wander into the kitchen.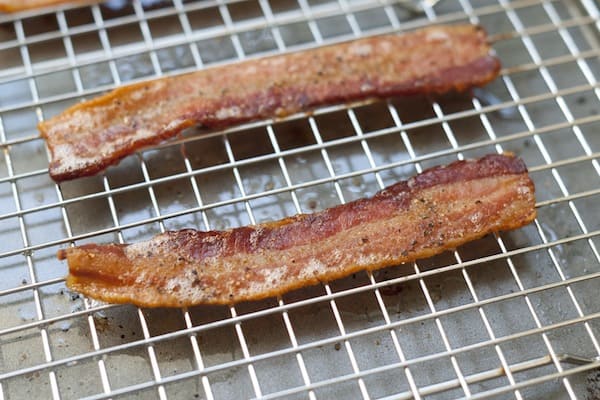 Remove the bacon and reserve, then get rid of the cooling rack. There will be bacon fat left on the sheet pan. Throw the cooked and drained potatoes right into the bacon fat, yes, I said it. Now, toss.
Next, use a potato masher and lightly press down onto each potato then rotate the masher 90 degrees and lightly press again. Just press enough so that the potatoes flatten slightly, don't worry if some crumble a bit, when we roast that will be taken care of.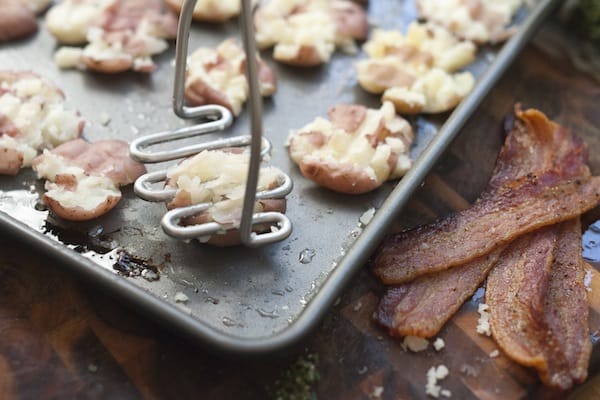 Now, drizzle a tablespoon or two of olive oil on top and use a pastry brush (or your fingers) to brush the oil all over the tops of each potato.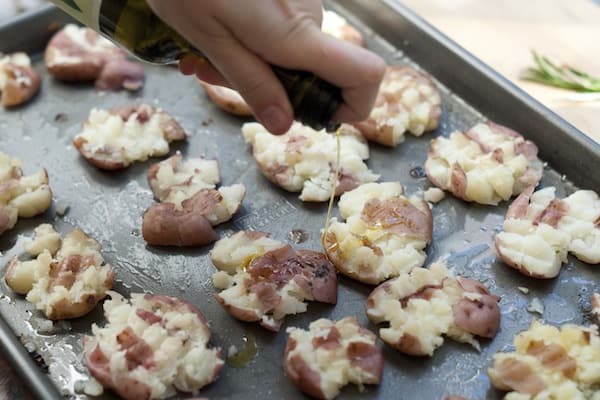 Now, just sprinkle some salt and pepper on top and if you feel like it, sprinkle some fresh minced rosemary, thyme or other herb (dried will work, too).
Then, bake in a 450 degree F oven for 25-30 minutes or until the potatoes are crispy and golden brown. Serve with sour cream, some chopped green onion and the bacon from earlier (if there is any left).
Enjoy!

Bacon Roasted Potatoes
Bacon does go with everything and smashed roasted potatoes are not an exception.
You Will Need
1 pound baby red or yellow potatoes
1 tablespoon + 1 teaspoon salt
4-6 slices thick-cut bacon
2 tablespoons olive oil
1 tablespoon fresh rosemary (substitue 1 tsp dried rosemary)
1/2 teaspoon freshly ground black pepper
1/4 cup sour cream
1 green onion chopped
Directions
Preheat oven to 400 degrees F.
Add potatoes to a large pot and cover with 1-2 inches of water. Add 1 tablespoon of salt and bring to a boil over high heat, reduce to a simmer and cook until fork tender, 20-25 minutes; drain.
In the meantime, lay a cooling rack inside a sheet pan with edges. Then, place bacon slices on to the cooling rack. Bake in the oven until crispy, 15-20 minutes; reserve cooked bacon slices and remove cooling rack from sheet pan.
Increase oven temperature to 450 degrees F.
Add cooked and drained potatoes to sheet pan then toss potatoes in the bacon fat left from cooking the bacon.
Using a potato masher, lightly press down each potato, rotate the masher 90 degrees and press down again. You should be left with discs of potato.
Drizzle olive oil onto potatoes then, use a pasty brush or your fingers to make sure the oil is all over the tops of the potatoes. (We like adding the extra oil to make sure the potatoes are extra crispy) Sprinkle with 1 teaspoon of salt, rosemary and freshly ground pepper.
Bake in oven until crispy and golden brown, 25-30 minutes.
Serve with sour cream, green onion and crumbled bacon from earlier.