There are some recipes that you always come back to, these pumpkin pancakes are that kind of recipe. They are perfect on a cool fall morning, you know one of those mornings that you can grab a huge mug of coffee, maybe a blanket and spend time doing nothing but enjoying a magazine, the newspaper, a book or maybe that show that you recorded last week, but just haven't had the chance to watch yet.
A Secret for the Fluffiest Pumpkin Pancakes Recipe. Don't Overmix.
We want our pumpkin pancakes to be as light and fluffy as possible. The trick? Mix the dry and wet ingredients separately. Then, when you're ready to cook, slowly stir the dry ingredients into the wet. Once you see most of the large lumps of flour disappear, you're done. No more mixing required.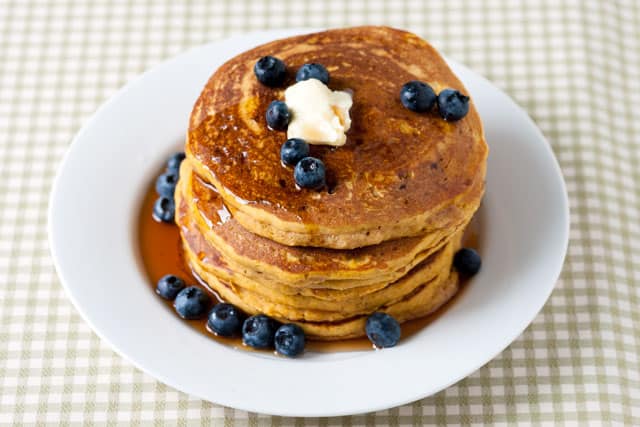 We actually created this pumpkin pancakes recipe for maché magazine's Fall issue. Have you heard of maché magazine? They're fabulous, when you get a chance, take a look – you'll love them!
Enjoy This Pumpkin Pancakes Recipe?
Did you enjoy this pumpkin pancakes recipe? If so, you may also love our Homemade Pumpkin Spice Latte Recipe, Pumpkin Mac and Cheese Recipe or some of our other favorite Fall recipes.

Pumpkin Pancakes
We love these pumpkin pancakes: not too sweet with a warm hint of spice. If you do not have pumpkin spice mix at home, combine 1 tablespoon + 1 teaspoon Ground Cinnamon, 2 teaspoons Ground Ginger, 1/2 teaspoon Ground Nutmeg to make 2 tablespoons of mix. For the recipe below, you will need 2 teaspoons of that mix, leaving you with just over a tablespoon for next time.
Created By:
Joanne and Adam Gallagher
You Will Need
1 3/4 cups milk
1 cup pumpkin puree
1 egg
2 tablespoons vegetable oil
2 cups all purpose flour
3 tablespoons brown sugar
2 teaspoons baking powder
1 teaspoon baking soda
2 teaspoons pumpkin spice mix
1/2 teaspoon salt
Directions
In a large bowl, combine the milk, pumpkin puree, egg and oil.
In another large bowl, stir the flour, brown sugar, baking powder, baking soda, pumpkin spice mix and salt until well blended.
While stirring, slowly add the flour mixture into the pumpkin mixture until blended; try not to over mix the batter. As soon as you see large clumps of flour disappear, stop stirring.
Heat a lightly oiled griddle or frying pan over medium high heat. Add about a ¼ cup of batter for one pancake onto the griddle. Brown on both sides and serve hot with warm maple syrup and butter.