We love this easy eggplant parmesan recipe with roasted eggplant slices, tomato sauce, parmesan cheese, mozzarella, and a crunchy bread crumb topping. No salting or breading required. This eggplant parm is easy to make and is perfect for making in advance.
Watch the Video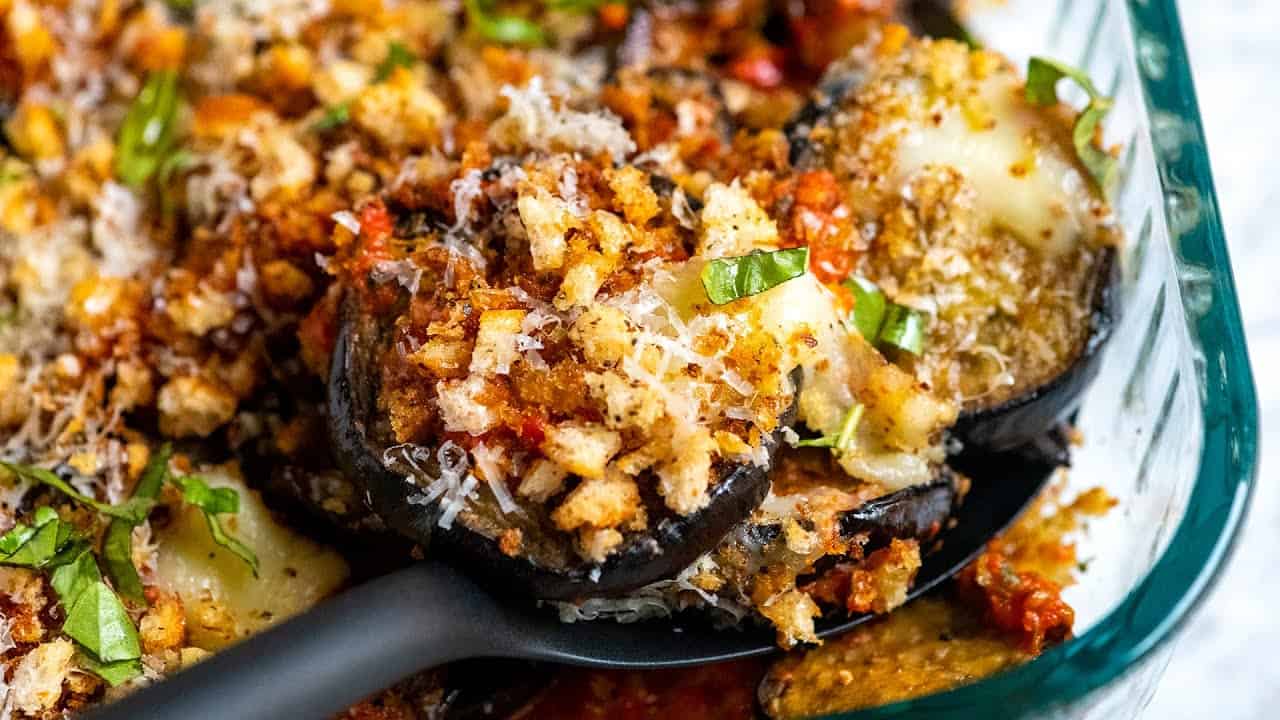 We Love This Lighter, Easier Eggplant Parmesan
In more traditional eggplant parmesan, breaded and fried eggplant is layered with tomato sauce and cheese, and then baked until bubbly. This is very similar to traditional chicken parmesan. In our slightly modified version, we skip breading the eggplant and roast it instead.
Then the perfectly cooked eggplant is layered with parmesan, mozzarella, tomato sauce, and finished with crunchy breadcrumbs. This easier eggplant parmesan tastes just as delicious, but there's no messy breading to contend with and it's a little lighter on the calories.
We aren't against the more authentic way to make eggplant parm, but this method is the one we go to the most. It's quicker, easier, tastes amazing, and requires less clean up. Let me walk you through how we make it!
Here are more eggplant recipes we love: Our family's favorite roasted eggplant and this amazing roasted eggplant dip (baba ganoush)
Eggplant Parmesan Recipe Ingredients
As I mentioned above, this isn't exactly authentic, but all the traditional elements are there. Here's what you'll need for the recipe:
Eggplant slices — Instead of salting, breading and frying, we roast thick slices of eggplant in a hot oven until golden brown and perfectly cooked in the middle. We love roasting eggplant since it develops so much flavor.
Tomato sauce — You can use store-bought tomato sauce, a homemade marinara sauce or try our tomato and pepper sauce shown in the video and the recipe below. If you do make our homemade sauce, it won't add too much extra time, in fact, it can be made in the time it takes to roast the eggplant.
Cheese — Parmesan is a must and I prefer the taste of Parmigiano Reggiano that I've grated myself. We also add some mozzarella to the casserole before baking, but this is optional. If you are dairy-free or vegan, try a sprinkling of nutritional yeast between the layers instead.
Bread crumbs — Instead of breading the eggplant, we scatter breadcrumbs over the top of the casserole dish before baking. As the eggplant parmesan bakes in the oven, the breadcrumbs crisp up and turn golden. Store-bought breadcrumbs work well for this, but if you want to add a bit more texture and flavor, try these homemade bread crumbs instead. For gluten-free or eggplant without bread crumbs, simply leave them off.
How to Make Baked Eggplant Parmesan
The video above walks you through every step of the recipe. It's not a difficult recipe to make and it tastes incredible in the end. Here are a few photos to show you some of the main steps:
First, roast slices of eggplant. It's incredibly simple to do and ensures a deeply flavorful, creamy slice of eggplant when it's done. Some recipes for eggplant parm require you to salt and set aside your eggplant slices for 30 minutes or more before breading and frying, but since we are roasting our eggplant, this step isn't necessary. (A major time savor!)
I like using a hot oven, somewhere between 400 degrees and 450 degrees Fahrenheit. If your oven tends to run hot, stick to the lower end of the range so that you don't burn the eggplant slices. When cut into 1/2-inch slices, the eggplant should take 35 to 45 minutes to roast with one flip in the middle. These can also be roasted in advance. Roasted eggplant slices should be kept in an airtight container and stored in the fridge. You might also enjoy our family's favorite recipe for roasted eggplant.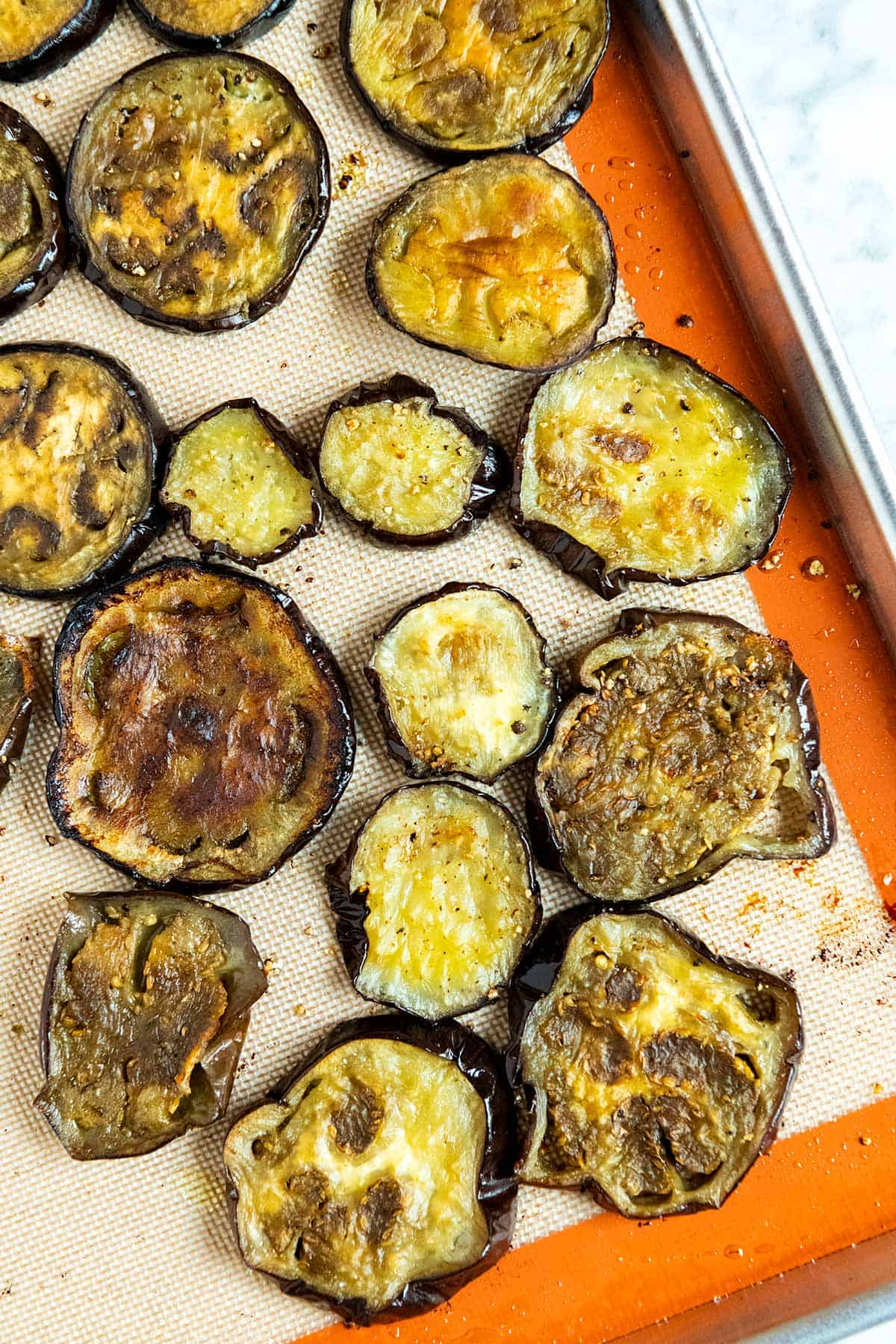 For the sauce, you can use store-bought or homemade. When I have access to fresh tomatoes and bell peppers, I love the flavor of this ultra simple sauce.
Basically, throw sliced garlic, chopped tomato and peppers into a pan with some salt, and then simmer until they release their juices and the liquid in the pan has cooked down. Once this happens (after 25 minutes or so), transfer everything to a food processor or blender and blend with some olive oil and fresh basil. The sauce tastes fresh and works beautifully with the roasted eggplant.
Just like the roasted eggplant slices, this sauce can be made in advance and kept in the refrigerator or freezer until you are ready to use it. This easy red pasta sauce would also be delicious in this recipe.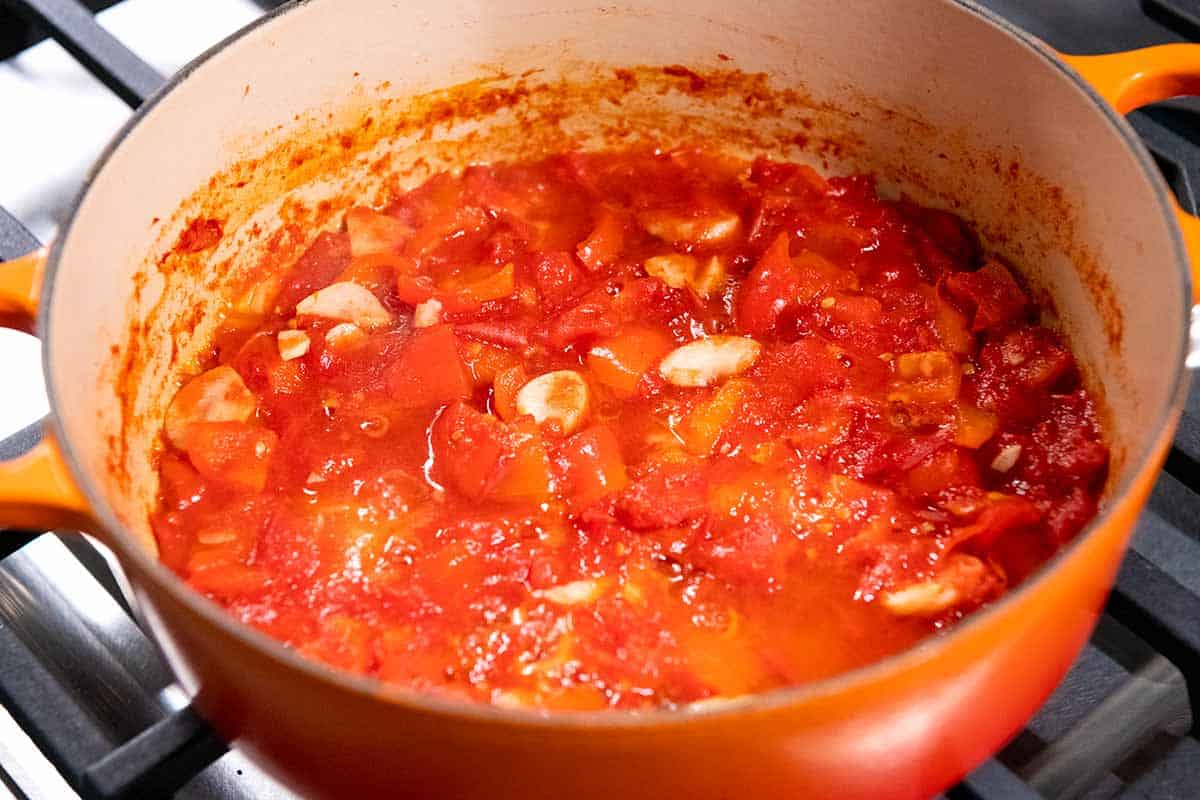 Assembling Eggplant Parmesan
Assembling is simple and can be done in less than five minutes. Here's how we do it:
Spread a third of the sauce over the bottom of a 13-inch by 9-inch (or use another shaped baking dish that's on the larger side).
Layer half of the roasted eggplant slices on top of the sauce.
Scatter with a third of the parmesan and half of the mozzarella cheese.
Drizzle another third of the sauce — watch the video for how we do it. I like to just drizzle the sauce in places and not completely cover the sliced eggplant.
Layer the remaining eggplant slices, another third of the parmsan and the remaining mozzarella cheese.
Drizzle the top with the rest of the sauce.
Finish by scattering the remaining parmesan cheese on top as well as some bread crumbs.
When assembled, bake until the sauce and cheese are bubbly. Serve with pasta, veggies, or make eggplant parmesan sandwiches!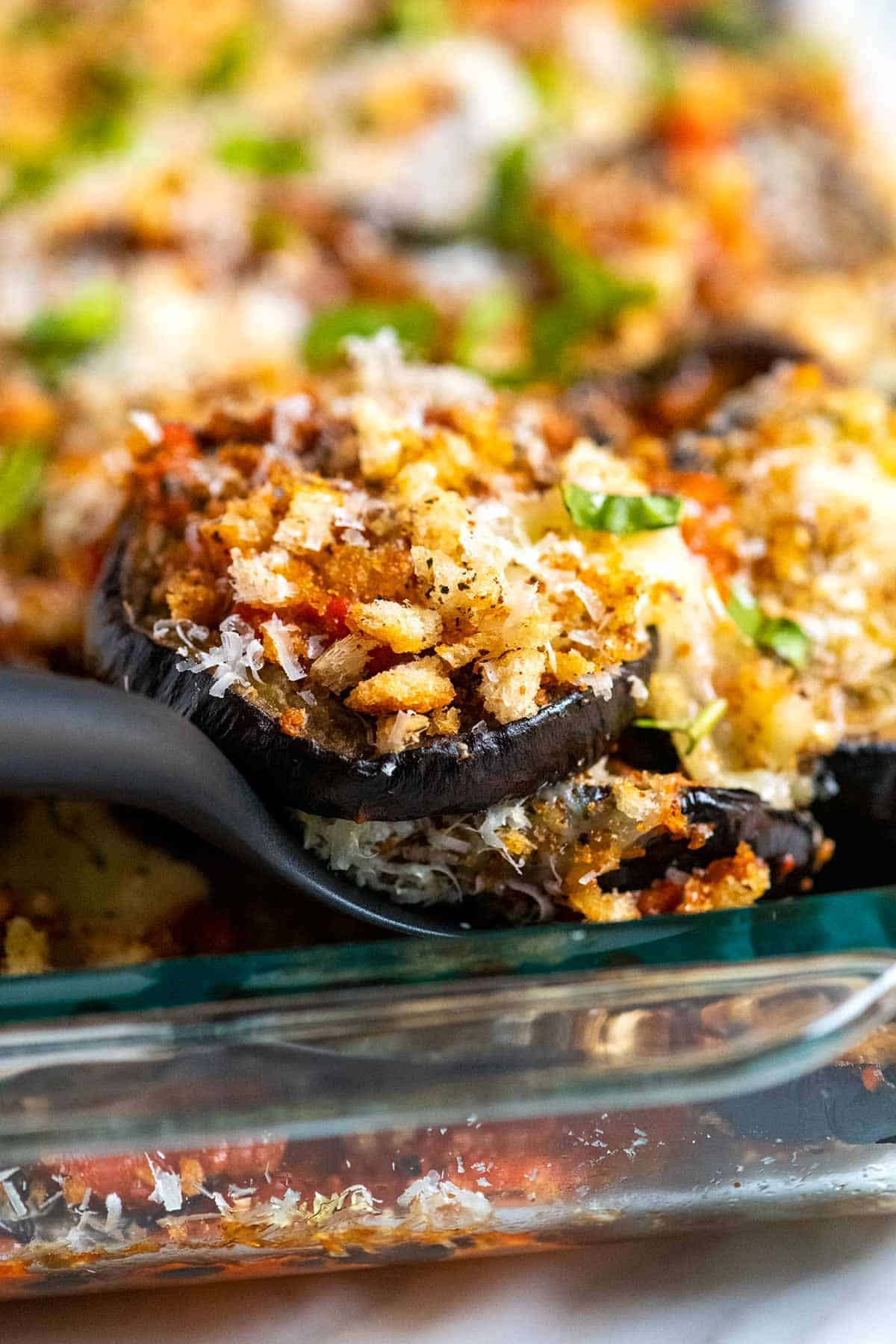 Make Ahead Tips
Making and assembling a day in advance — All of the eggplant parmesan components, with the exception of the bread crumbs, can be assembled the day before you plan to bake it. Tightly wrap the casserole dish and refrigerate overnight. When you are ready to bake it, unwrap the dish, sprinkle over the bread crumbs and bake until the sauce and cheese are bubbly.
Making a few days in advance — Roasted eggplant slices and the homemade sauce can both be made 3 to 4 days in advance. Store them separately in airtight containers in the fridge. (If you make your own bread crumbs, they can also be made in advance. See our bread crumbs recipe for our tips.)
Making more than a few days in advance — Roasted eggplant slices freeze well. Place a piece of wax paper or parchment paper between the slices and store in an airtight bag or container. The eggplant will last in the freezer for 3 to 4 months. Homemade tomato sauce also freezes well. Let it cool completely, and then place into freezer-safe containers. The sauce will last in the freezer for 3 to 4 months.
More Recipes You Will Love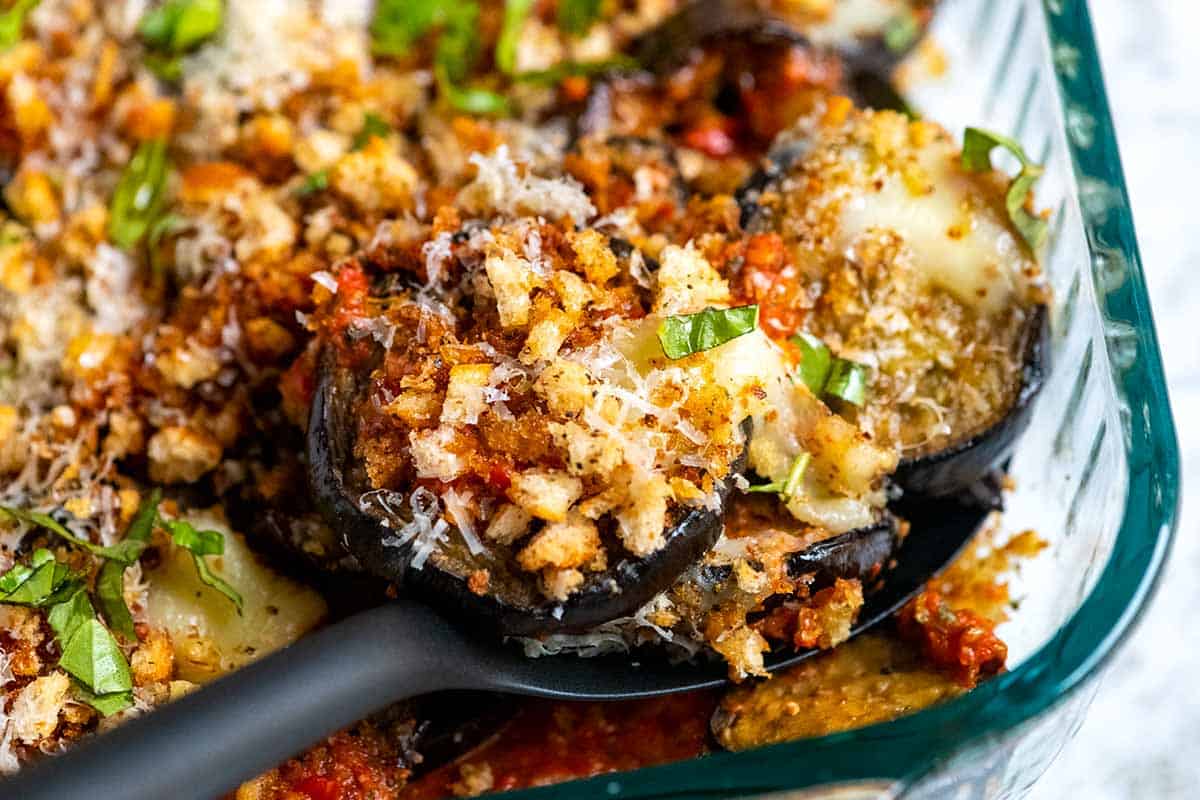 Our Favorite Eggplant Parmesan
Our favorite way to make eggplant parmesan with roasted eggplant slices, tomato sauce, parmesan cheese, mozzarella, and a crunchy bread crumb topping. Detailed tips for making in advance are provided in the article above.
A large casserole dish is best for this (a 13-inch by 9-inch dish or similar is ideal).
Watch Us Make the Recipe
You Will Need
Eggplant Parmesan
3 pounds eggplant, 3 to 4 small
4 tablespoons olive oil
1/2 teaspoon fine sea salt
1/2 teaspoon cracked black pepper
3 cups marinara sauce or homemade red pepper tomato sauce, recipe below
1 ounce finely grated parmesan, about 1 cup
3 ounces mozzarella cheese, grated or sliced
1/2 cup seasoned bread crumbs, see our recipe for homemade bread crumbs
Fresh basil for top, chopped
Fresh Tomato Pepper Sauce (Optional)
2 medium red bell peppers, chopped, 1 to 1 ½ cups
1 pound fresh tomatoes, chopped, about 2 cups or 2 large tomatoes
4 medium garlic cloves, peeled and sliced
1/2 cup water
1/2 teaspoon fine sea salt, plus more to taste
2 tablespoons olive oil
1 cup fresh basil
Fresh ground black pepper, to taste
Directions
Prepare Eggplant

1Heat oven to 425 degrees Fahrenheit. Line two large baking sheets with parchment paper or silicone baking mats.

2Slice eggplants into 1/2-inch thick rounds and place, in one layer, onto baking sheets. Drizzle or brush eggplant slices with olive oil and season with salt and pepper. Flip the slices and repeat on the other side. Roast the eggplant until they start to brown in spots, 15 to 20 minutes. Flip the slices, and then bake another 15 minutes until nicely browned and soft in the middle.

3While the eggplant roasts, prepare other ingredients (shred cheese, prepare bread crumbs, make or measure out tomato sauce). If you plan to use the red pepper tomato sauce, you will have enough time to make it while the eggplant roasts.
Make Tomato Sauce (Optional)

1Add chopped red peppers, tomatoes, sliced garlic, 1/2 cup water, and the salt to a medium saucepan over medium-high heat. Bring to a simmer, and then reduce the heat to medium. Simmer, stirring occasionally, for 20 to 25 minutes. Keep an eye on the pot and adjust the heat as necessary to keep the mixture simmering. If the pot becomes too dry and the peppers and tomatoes begin to stick to the bottom of the pot, add a little more water.

2When the peppers and tomatoes look broken down, tender and almost all of the liquid has reduced, give everything a good stir and transfer to a blender or bowl of a food processor. Before blending, add the olive oil, basil and a few grinds of pepper. Blend until the sauce is almost smooth. Taste, and adjust with additional salt or pepper.

3Store sauce in an airtight container. It will last in the fridge 3 to 4 days and in the freezer for 3 to 4 months.
Assemble

1Reduce oven to 400 degrees Fahrenheit. Spread one third of the tomato sauce over the bottom of a large baking dish. Layer half of the roasted eggplant slices over the sauce, allowing some slices to overlap slightly. Sprinkle eggplant with one third of the parmesan cheese and half of the mozzarella cheese. Use a spoon to drizzle about half of the remaining sauce over the eggplant — it does not need to cover everything (watch the video to see us do this.)

2Layer the remaining eggplant slices and sprinkle with half of the remaining parmesan cheese, all of the remaining mozzarella as well as the rest of the sauce. Sprinkle the top with bread crumbs and finish with the leftover parmesan cheese.

3Bake, uncovered in a 400 degree oven, until the sauce and cheese are bubbly, about 20 minutes. Allow to cool for a few minutes, sprinkle fresh basil on top, and then serve.
Adam and Joanne's Tips
For gluten-free or bread crumb free eggplant parmesan, leave off the bread crumbs.
For vegan eggplant parmesan, leave out the cheese and sprinkle a couple of tablespoons of nutritional yeast over each eggplant layer.
For healthier/lighter eggplant parmesan, use cooking spray instead of drizzling olive oil over the eggplant slices before roasting and reduce the cheese.
Recipe inspired by Alexandra's Kitchen.
Nutrition Facts: The nutrition facts provided below are estimates. We have used the USDA database to calculate approximate values. Calculations include the red pepper tomato sauce.
If you make this recipe, snap a photo and hashtag it #inspiredtaste — We love to see your creations on Instagram and Facebook! Find us: @inspiredtaste
Nutrition Per Serving
Serving Size
1/8 of the dish
/
Calories
311
/
Total Fat
12.7g
/
Saturated Fat
2.3g
/
Cholesterol
4.5mg
/
Sodium
498.3mg
/
Carbohydrate
42g
/
Dietary Fiber
8.4g
/
Total Sugars
10g
/
Protein
12.5g