*Calling all kids and kids-at-heart!*
We've been buying more tofu lately. We only grab the organic one's, but even with that, we've found that tofu is a little easier on our wallets than buying chicken, pork or beef.
Over the last few months, we've been experimenting with ways to make that big block of white tofu exciting. I think this recipe is our favorite so far!
It's fun, extra crispy and tastes delicious! Bonus: it can totally be gluten free!
Five Steps to Crispy Tofu
Pat the Tofu Dry – Start with "extra firm" or "firm" tofu then cut them into 1-inch by 3-inch fingers. Place them in one single layer on top of a few paper towels or a clean dish cloth. Then, cover with more paper towels or another clean dish cloth and a plate. This weighs the tofu down a bit and helps dry it out some. You'll want to leave the tofu for about 15 minutes.
Roll in Flour – We used almond flour (finely ground almonds) mixed with some garlic powder, salt and pepper. However, you could substitute regular flour if that is all you have, but by doing this, the recipe will no longer be gluten free.
Dip in Beaten Egg
Roll in Crushed Rice Cereal – We used Chex Rice cereal for this – it's crispy and is actually labeled gluten free!

Cook – Place the fingers into some hot oil. Brown all sides of the fingers (about 30 seconds on each side).
How to Eat Crispy Tofu Fingers
The options are endless for what you can dip these little guys in. Dip 'em in ketchup or get a little fancy and dip 'em in some sweet Asian chili sauce found in the international aisle of the grocery store. Oh, barbeque sauce would totally work, too!
See how crispy they are? We just love 'em!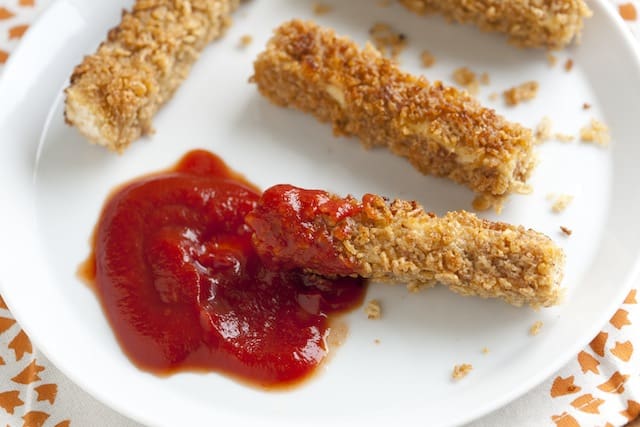 Crispy Tofu Fingers
Tofu is dredged in almond flour, dipped in egg then rolled in crushed rice cereal and fried for crispy, crunchy tofu fingers. When choosing the tofu, look for organic "extra firm" or "firm" tofu.

Serve tofu fingers alongside ketchup, barbeque sauce, creamy salad dressing or sweet Asian chili sauce.

In this recipe, we use almond flour, which is finely ground almonds. You could substitute this for all-purpose flour, however, the recipe would no longer be considered gluten free.
Created By:
Adam and Joanne Gallagher
You Will Need
1 (12-14 ounce) package Tofu, extra firm
3 tablespoons vegetable oil
3/4 cup almond flour
1/2 teaspoon garlic powder
1/2 teaspoon salt
1/8 teaspoon black pepper
2 eggs, beaten
1 1/4 cup crushed rice Chex rice cereal
dipping sauce (ketchup, creamy salad dressing or sweet Asian chili sauce)
Directions
Cut tofu into 1-inch x 1-inch x 3-inch fingers. Arrange in one layer onto a few paper towels or a clean dish towel. Then, cover with more paper towels or another clean dish towel. Place a plate on top in order to weigh down the tofu, releasing some of it's liquid. Leave alone for 15 minutes.
Set up a breading station: Mix almond flour, garlic powder, salt and pepper in a small bowl. Add beaten egg to another small bowl and the crushed rice cereal to a third small bowl.
To coat tofu fingers, lightly coat in seasoned almond flour, dip in egg then roll in crushed cereal, turning to coat all sides. Repeat this for all tofu fingers.
Heat oil in large frying pan over medium high heat. Add tofu, 4-5 fingers at a time and cook 30 seconds to 1 minute on each side until golden brown. Transfer to a plate lined with a paper towel or a clean dish cloth. Serve with your favorite dipping sauce.