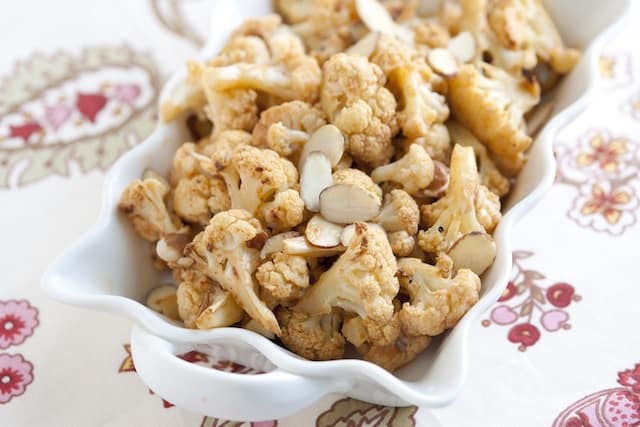 Tender roasted cauliflower with a touch of spice from Thai red curry paste takes regular old cauliflower to a whole new level. We have yet to find someone who doesn't go for an extra bite of roasted cauliflower. Have you had it? Oh, it's so good. An easy recipe, too!
Before you get to the recipe, make sure you take a look at the following link for lots of tips and photos for how to buy, cut and cook cauliflower.
Easy Roasted Cauliflower
When you roast cauliflower, it tastes nutty, buttery almost.
You'll need to roast for at least 30 minutes. See how the tips of our cauliflower are browned? That's exactly what you want. For roasted cauliflower, toss cauliflower florets with a little olive oil (or even cooking spray), salt and pepper. Then, spread out onto a baking sheet and slide into a 400 degree F oven. Give it a toss/flip half way through roasting and you should be golden!
Roasted cauliflower is awesome as is, but we wanted to up our game just a touch. That's where coconut milk and Thai red curry paste comes in. Just as the cauliflower finishes roasting, we heated up a little light coconut milk with a few teaspoons of curry paste. Then, while everything was still hot, we poured the curried milk all over the cauliflower.
All that nutty cauliflower soaks up tons of flavor from Thai curry flavored coconut milk. It's heaven.
If you liked the sound of roasted cauliflower, how about hopping on over to our Cheddar Roasted Broccoli Recipe?

Roasted Thai Curry Cauliflower
Cauliflower is an extremely versatile vegetable. When you roast it, the cauliflower takes on a nutty flavor. After roasting, we toss the cauliflower in a slightly spicy Thai red curry sauce, which is absorbed into the cauliflower. This is perfect as a side to meats or can be added on top of rice with other vegetables. Adding some diced, cooked chicken or tofu is also a great way to spice up this easy recipe.
Created By:
Joanne and Adam Gallagher
You Will Need
1 medium cauliflower
2 tablespoons olive oil
1/4 teaspoon salt
Freshly ground black pepper
1-2 teaspoons Thai red curry paste
1/2 cup lite coconut milk
1/4 cup sliced almonds, toasted
Directions
Heat oven to 400 degrees F.
To cut the cauliflower, pull off any greens then turn the cauliflower upside down on the work surface. Use a knife to cute around the core so that the little florets come away. Then, cut through the florets to make them relatively equal in size, about the size of your thumb.
Add cauliflower florets to a baking sheet then top with olive oil, salt and pepper. Use you hands or a spoon to toss everything together so that the cauliflower is well coated. Bake 35-40 minutes until the edges turn golden brown.
Add Thai red curry paste and coconut milk to a small saucepan over high heat. While whisking, bring to a simmer then pour over the roasted cauliflower and toss. (The cauliflower will absorb the curried milk).
Serve with a sprinkle of sliced almonds on top.
Notes and Tips
Thai red curry paste and coconut milk can be found in the International aisle of most grocery stores. Red curry pastes can differ in spiciness, so when you combine the red curry paste with the coconut milk, add a small amount first, then taste to see if more is needed. See our tutorial for
how to buy, cut and cook cauliflower
.