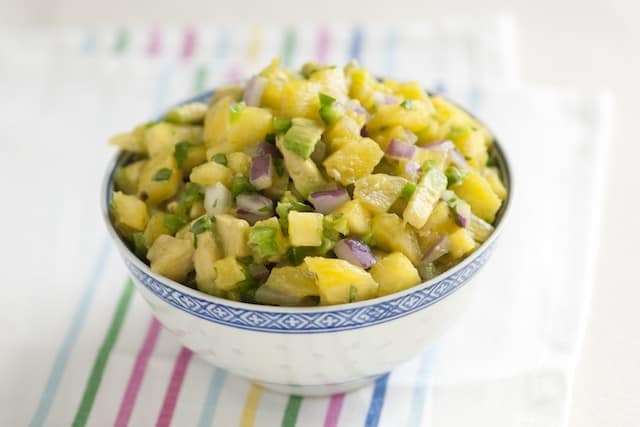 Sweet, spicy and a little sour — that's what you'll find in this pineapple salsa. It's usually just the two of us. With that said, the recent aroma of pineapples at our local grocery store just MADE us buy a whole LARGE pineapple. So, pineapple salsa ensued.
It was wonderful.
Pineapples. How to choose them? There's three things to remember:
1. Look for a large pineapple with golden or yellow hues on its skin/peel. That indicates sweetness. Also, it's a good thing if you see "Golden Pineapple" on the label.
2. Give it a sniff — If you smell a hint of sweet pineapple, you're on the right track.
3. Feel it up a bit — The pineapple should be firm, but gives just a little when you feel it. Definitely put anything back that's brushed or soft.
When you cut pineapples, start by removing each end. Then, use your knife to cut away it's skin/peel – just follow the pineapple's curve from top to bottom.
Then, cut the pineapple into quarters and use your knife to cut away the inner fibrous core. From there, you can cut into small pieces for the salsa.
Making Spicy Pineapple Salsa
Sure pineapple is a huge component, but one of our favorite things in this pineapple salsa is red onion. We learned a little trick a while back, one that we use pretty much anytime we're about to add raw onions to a recipe.
To mellow out or tame down the "raw-ness" of the onion, we run water over them for a few seconds OR add them to a bowl of water and let sit for a minute. There a quite a few sites out there that say to do this for 5 minutes, but we really haven't found that to be necessary.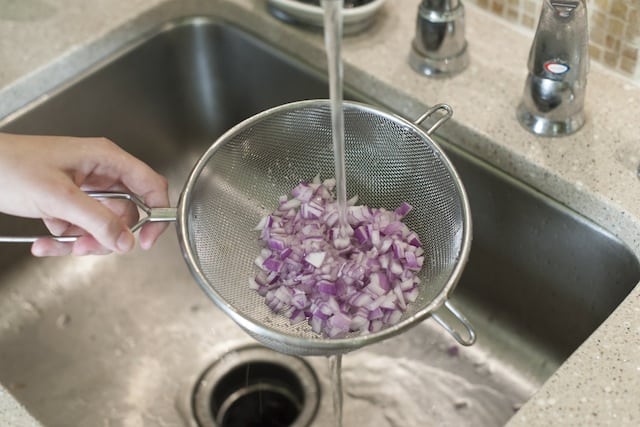 Once your onions are tamed down a bit, add them to a bowl with your pineapple and avocado. To see how we go about using avocados, take a glance at our post all about cutting and storing avocados.
We just love all those colors. So pretty!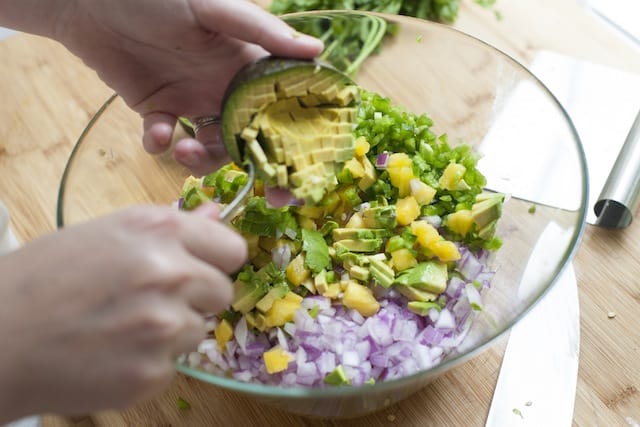 You'll also add the zest and juice of one whole lime. We hardly ever use the juice of citrus without using the zest — we bought it, why not use it, right? If you do this, though, give the lime a wash first to make sure it's nice and clean.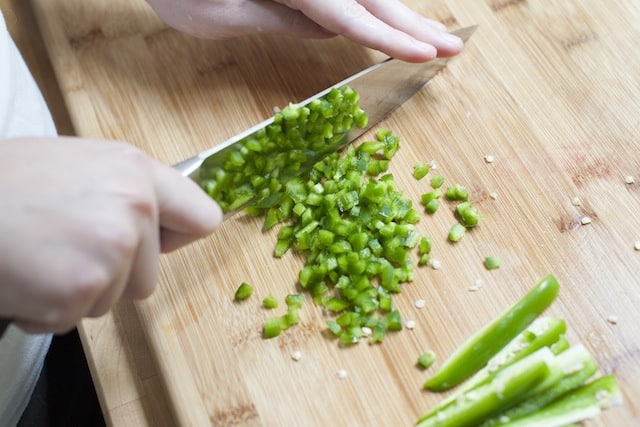 Let's talk spice for a second. It's ALL up to you – Here's the 411!
Extra HOT = 2 jalapenos WITH seeds
HOT = 1 jalapeno WITH seeds + 1 jalapeno WITHOUT seeds and white membrane (this is what we did)
Medium = 2 jalapenos WITHOUT seeds and white membrane
Mild = 1 jalapeno WITHOUT seeds and white membrane
Mild, Medium or Hot, this pineapple salsa will turn heads …. PROMISE!
Do ya feel like giving pineapple salsa a try, yet?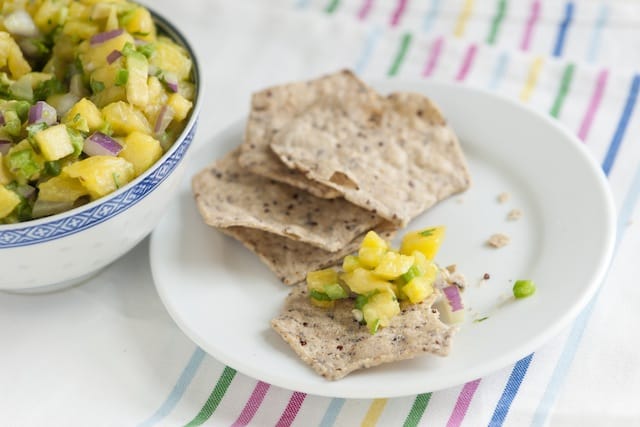 Spicy Avocado and Pineapple Salsa
Feel free to use fresh ripe pineapple or canned pineapple that has been drained well for this. If using fresh, when buying look for a large pineapple that has shades of yellow or gold on the skin and has a mild scent of sweet pineapple.

We really enjoy the use of red onion for this, but to tame the sharpness of raw onion, we run the chopped onion under cold water for about 20 seconds or add the chopped onion to a bowl, cover with water then drain.

Serve this pineapple salsa with chips or on top of burgers, grilled pork, chicken or with seafood (salmon or mahi mahi would be delish).
Created By:
Adam and Joanne Gallagher
You Will Need
1 cup finely chopped red onion (1/2 a large onion)
2 jalapenos
1 large pineapple, peeled, core removed and cut into 1/4-inch pieces
1 avocado, peeled and cut into 1/4-inch pieces
1 lime, zested and juiced
1/4 cup roughly chopped cilantro
1/4 teaspoon salt
Directions
Add chopped red onion to a mesh strainer and run cold water over it for about 20 seconds or add red onion to a small bowl, cover with cold water, stir a few times then drain. Add onions to a large bowl.
For a spicy salsa, de-seed one of the jalapenos and leave the other jalapeno with seeds then finely mince. For a milder salsa, remove the seeds and white membrane of both jalapenos then finely mince. Add minced jalapeno to the bowl with onions.
Add pineapple, avocado, lime zest, lime juice, cilantro and the salt to the jalapenos and onions and stir well.