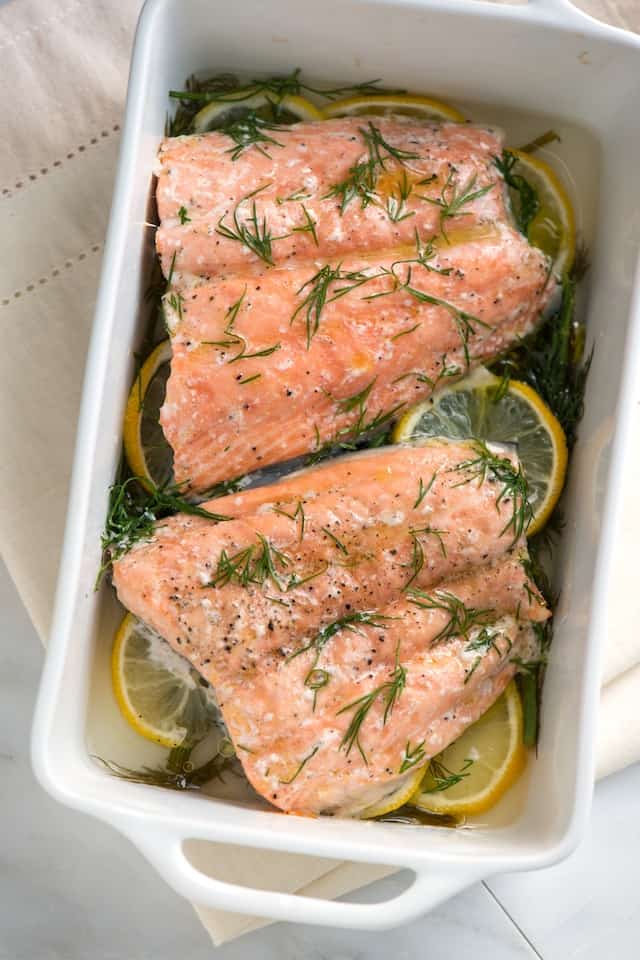 This baked salmon recipe is simple and quick to make and makes salmon that's subtle and delicate. The inspiration comes from my mother, who made this all the time. It's her go-to dish — especially when entertaining. And you know what? Everyone just loves it. Simple fresh fish with simple flavors. The salmon is set on top of a bed of sliced lemons and fresh dill — we just love it so much.
How Mom Makes Her Baked Salmon Recipe
The recipe starts by making a bed of sliced lemons and torn fresh dill. Then, salmon which has been lightly seasoned with salt and pepper is set on top. Then, she adds a little bit of liquid (white wine, stock or water) to the baking dish and covers everything with foil. This way, the salmon stays extra moist.
After about 20 minutes of baking, the salmon is perfectly done, moist and delicious.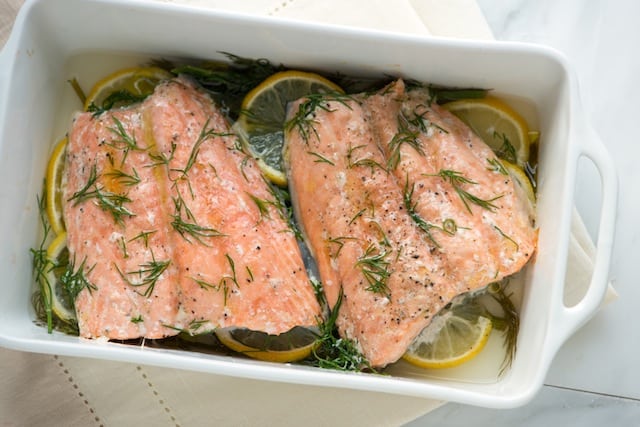 For another baked salmon recipe, see our Sour Cream Baked Salmon Recipe or take a glance at all of our salmon recipes. This slow baked salmon recipe from Epicurious also looks very good.

Mom's Baked Salmon Recipe with Lemon and Dill
A quick and easy recipe for oven baked salmon fillets over lemon slices and fresh dill. You can even make this in less than 30 minutes.
Created By:
Joanne and Adam Gallagher
You Will Need
1 pound salmon fillet
½ cup dry white wine (substitute: vegetable/chicken stock or water)
1 lemon, cut into slices
2 to 3 sprigs of fresh dill
1 tablespoon of fresh chopped dill

1 tablespoon olive oil
Salt and freshly ground black pepper
Directions
Heat oven to oven to 350 degrees F (177 degrees C).
Place lemon slices and dill on the bottom of a large baking dish.
Rub both sides of salmon with olive oil and season with salt and pepper. Arrange on top of lemon slices and dill. Scatter chopped dill on to the top of the salmon.
Add wine (or stock/water) and cover with aluminum foil.
Bake for 20 to 25 minutes. (Cooking time may vary depending on the thickness of your salmon, so you can tell the fish is done when it is easily flaked with a fork).