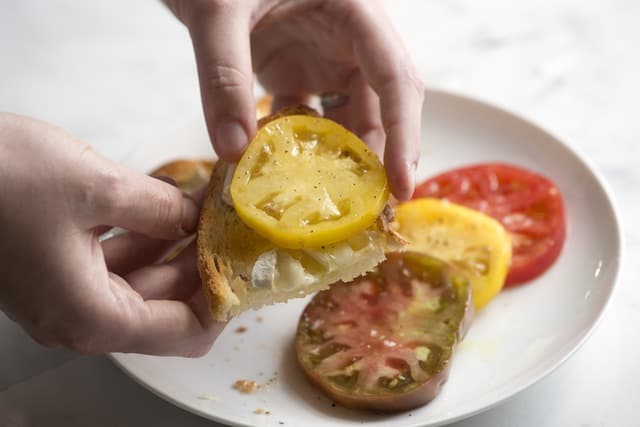 We've eaten these tomato toasts twice in the last week. They're that good. Better yet, they're so simple.
Juicy, ripe, sweet tomatoes top melted, gooey brie cheese and rustic bread that's the perfect compromise between chewy and crusty.  This one is all about the tomatoes, though. Choose wisely, here. You're looking for a tomato that feels heavy, full of juice and that has flesh that gives ever so slightly. Heirloom tomato varieties can come in so many beautiful colors and shapes, but look for those that have smooth, taught skin – not wrinkly.
You'll pay more. (Unless you're lucky and grow them at home). In this case, though, we're talking three ingredients. That's three ingredients that must stand up to each other in quality. So – if you can – splurge a little. Enjoy!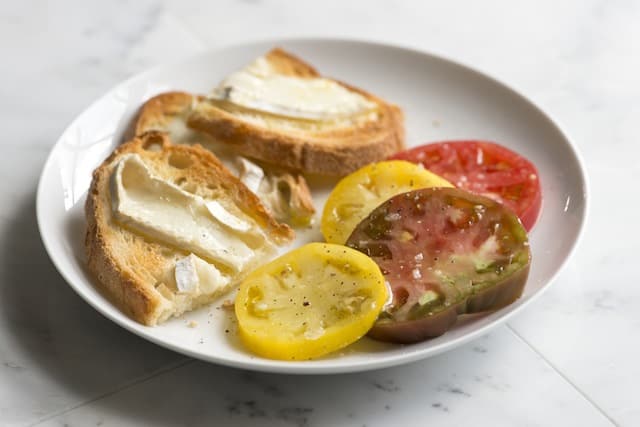 All that talk about tomatoes got us thinking — we went on a search for more lovely tomato ideas, here's what we found:
What do you do with summer tomato bounty? We'd love to hear your ideas!

Brie and Heirloom Tomato Toast
Get the best tomatoes for this. Try heirloom or ripe summer tomatoes. We also love to choose varying colors. For the cheese, go for soft-ripened cheeses like Brie and Camembert. We love how they smoothly melt over the toast instead of turning into a stringy mess. Note, however, the rind will not melt.
Created By:
Adam and Joanne Gallagher
You Will Need
4-5 thick cut slices rustic bread
5 ounces Brie or Camembert cheese (with rind)
2-3 medium ripe tomatoes
2 tablespoons olive oil
salt and freshly ground black pepper
Directions
Move an oven rack about 8 inches from the broiler. Then, set broiler to high.
Slice tomatoes and season with salt and pepper. Then, arrange onto a plate.
Cut cheese into thin slices.
Line a baking sheet with foil or parchment paper then place bread slices onto baking sheet.
Arrange the cheese slices on top of bread (the cheese does not have to completely cover the bread). Drizzle 1 tablespoon of the olive oil over the bread and cheese. Broil until cheese melts. Watch closely, here, you don't want to burn the bread.
Remove bread, cut in half then arrange on a plate. Drizzle with second tablespoon of olive oil and arrange next to tomatoes.