With just a few simple tricks, you really can make creamy smooth hummus at home and yes, we really do think it's better than store-bought. Click here to jump to the full hummus recipe!
In the past, if we were in the grocery store you could almost bet that one of us would throw a tub of hummus into our cart. That was until we figured out this simple hummus recipe that we honestly believe is better than anything we could have found at the store.
You May Also Like This: We love our Roasted Red Pepper Hummus Recipe – it's so simple and is just as smooth and creamy as this recipe.
More light and easy recipes we love are Honey-Dijon Lettuce Wraps with hummus, this Easy Tahini Sauce that can be used on almost anything, and our Fresh Chickpea Salad with Lemon and Dill.
Easy Hummus Recipe – How To Make Hummus from Scratch
First, let us mention that this simple hummus recipe uses tahini. In the hummus-loving world, there are two camps. Some love the zest and deep flavor of tahini added, others could really go without it. We like it both ways, but for the best hummus rivaling our favorite brands in the store, we use this recipe.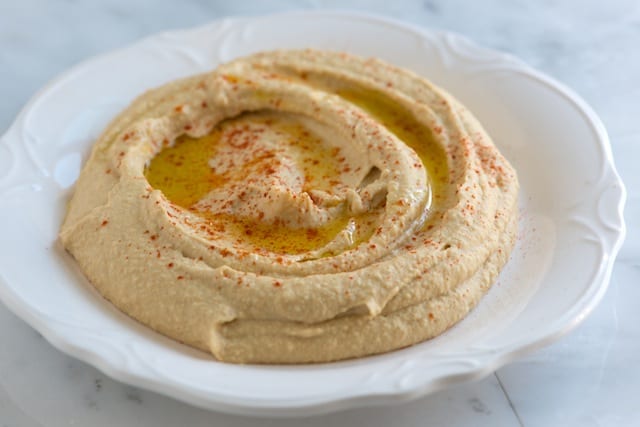 So, what's the secret?
It's simple really. It's the order in which you add ingredients to your food processor. Seriously, it's that easy. Tahini and lemon juice go in first. Then, before you add anything else, turn on the food processor and let it run for a minutes or so.
Did you know you can make tahini at home? It's very simple and lasts up to a month in your refrigerator. Here's our recipe for making enough tahini for two batches of our hummus: Quick and Easy Tahini Recipe.
See the photos below? In the first one, we're pouring tahini into a clean food processor. After a minute of being whirled, whipped and creamed in the food processor it turns into the paste you see on the right. It's lighter in color and much thicker.
From here, you can add ingredients as you will, but make sure you stand back and let that food processor run — we're talking a minute of running after adding each ingredient.
To Skin or Not to Skin The Chickpeas?
Another trick is to remove the skins of each chickpea. We've done it. For one can of chickpeas, you're looking at about ten minutes. We really didn't want to add that to our hummus, but just to make sure, we tried it both ways — skinless chickpeas and chickpeas right out of the can.
In the photo below, the spoon of hummus on the left used skinless chickpeas. The right came from chickpeas straight out the can. You can see, even from this photo that the skinless chickpeas made for a slightly smoother hummus, but in our opinion it really wasn't enough of a difference to warrant ten minutes of skinning chickpeas.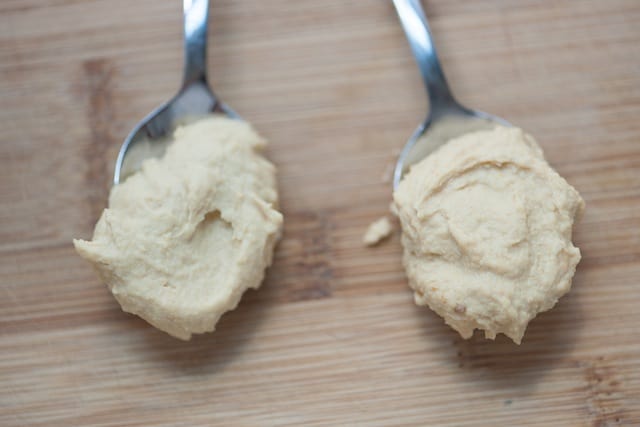 That's a closeup photo of our recipe that calls for chickpeas straight from the can (not skinned). It's smooth, creamy and luscious. We love it!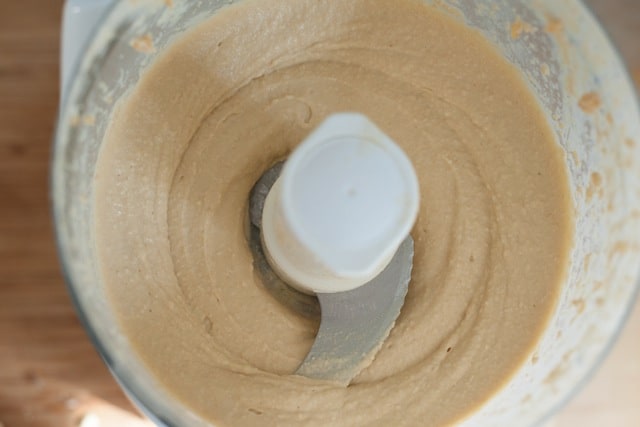 Did you enjoy our easy hummus recipe? Might we suggest you take a look at more of our easy appetizer recipes. Or, take a peek at some of our favorite and easy snack recipes:
How To Make Hummus - Better Than Store-bought
Why we love this recipe.
When we first figured out how to make our own hummus, we were shocked at how easy (and fast) it is. With just a few simple tricks, you really can make creamy smooth hummus at home and yes, we really do think it's better than store-bought.
What you need to know.
Two things here. First, we use canned chickpeas, which is much, much quicker than using dried. Some swear by soaking and cooking their own dried chickpeas, but we're just not that organized and love that canned chickpeas means we can enjoy our hummus in 10 minutes. Second, our recipe calls for tahini, a creamy paste made from sesame seeds. You can usually find tahini in larger grocery stores or specialty markets.
Equipment we use for this recipe.
A
mesh strainer or colander
,
food processor
,
silicone spatula
,
measuring cups
,
measuring jugs
, and
measuring spoons
.
Subscribe for free recipes:
Click below and join our community of home cooks and
sign up for our free weekly email
with hand-picked recipes, recipe videos and inspiration.
Created By:
Adam and Joanne Gallagher
Yield:
Makes about 1 1/2 cups or enough for 4 to 6 snack portions
You Will Need
One 15-ounce can (425 grams) chickpeas, also called garbanzo beans
1/4 cup (59 ml) fresh lemon juice, about 1 large lemon
1/4 cup (59 ml) well-stirred tahini, use store-bought or see our Homemade Tahini (it's easy to make)
Half of a large garlic clove, minced
2 tablespoons olive oil, plus more for serving
1/2 to 1 teaspoon kosher salt, depending on taste
1/2 teaspoon ground cumin
2 to 3 tablespoons water
Dash of ground paprika for serving
Directions
Preparing the Hummus
In the bowl of a food processor, combine tahini and lemon juice. Process for 1 minute. Scrape sides and bottom of bowl then turn on and process for 30 seconds. This extra time helps "whip" or "cream" the tahini, making smooth and creamy hummus possible.
Add the olive oil, minced garlic, cumin and the salt to the whipped tahini and lemon juice mixture. Process for 30 seconds, scrape sides and bottom of bowl then process another 30 seconds.
Adding the Chickpeas
Open can of chickpeas, drain liquid then rinse well with water. Add half of the chickpeas to the food processor then process for 1 minute. Scrape sides and bottom of bowl, add remaining chickpeas and process for 1 to 2 minutes or until thick and quite smooth.
Creating the Perfect Consistency
Most likely the hummus will be too thick or still have tiny bits of chickpea. To fix this, with the food processor turned on, slowly add 2 to 3 tablespoons of water until the consistency is perfect.
To Serve
Scrape the hummus into a bowl then drizzle about 1 tablespoon of olive oil over the top and sprinkle with paprika.
To Store
Store homemade hummus in an airtight container and refrigerate up to one week.
Notes and Tips
After multiple questions about what equipment we use in our own kitchen, we have updated this recipe with links to some of the equipment (or similar) that we use. Some links are affiliate links, this just means that if you were to buy one of our suggestions, Inspired Taste would get a small kick-back from Amazon. Even if we didn't, we'd still send you to all options.