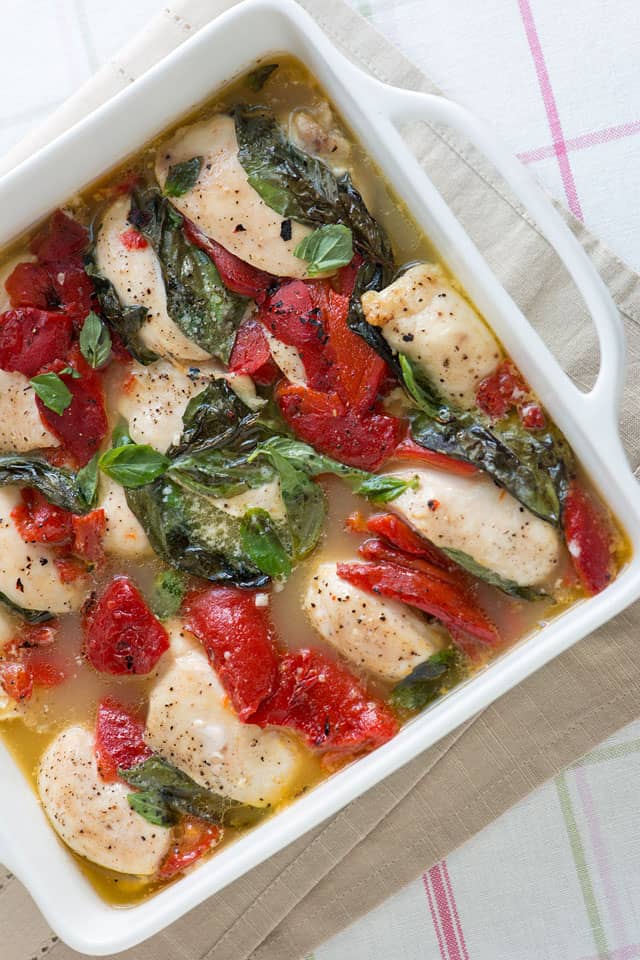 We always have a jar of roasted red peppers in our pantry. We love how versatile, colorful and flavorful they are. We'll often add them to salads, sandwiches, pasta and even casserole recipes. One of those jars was the inspiration for this super easy baked chicken recipe. The bright red color of the peppers make the casserole jump of the table.
Other flavors added to the casserole are sweet basil, orange juice, lemon juice and garlic. It comes together in minutes and is perfect served with a side of rice or mashed potatoes to soak up all the extra (and flavorful) cooking liquid.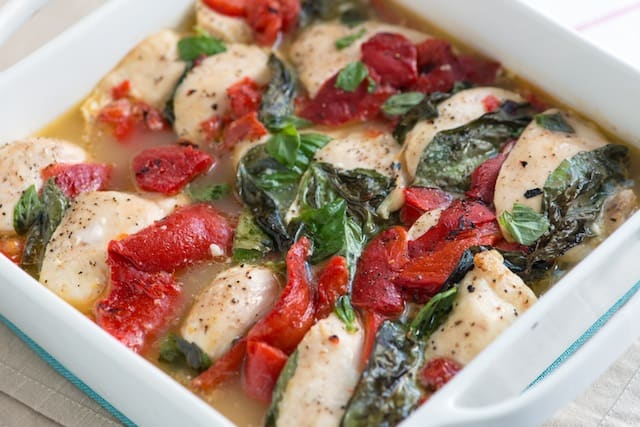 How to Make Our Baked Chicken Recipe with Roasted Red Peppers
Making our baked chicken recipe is so easy – all you do is line up sliced chicken breast, jarred roasted red peppers and fresh basil leaves. Then, we pour a mixture of orange juice and lemon juice all over everything. It keeps the chicken incredibly moist and makes such a delicious cooking liquid.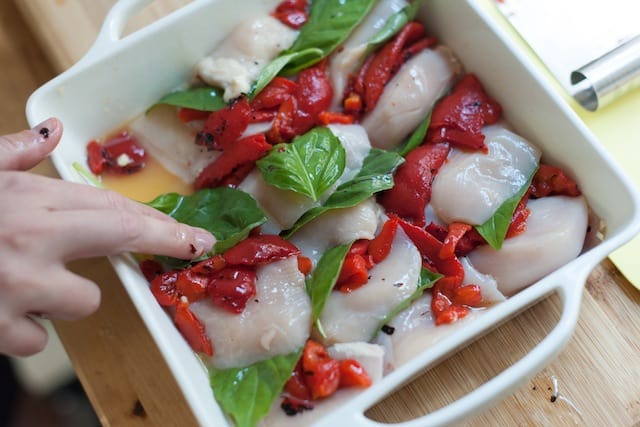 The casserole is baked in the oven for just about 30 minutes. See how there is still lots of liquid? That's why we always serve with something that will soak it up — that liquid is pure gold!
Did you enjoy this Baked Chicken Recipe? If so, you may also enjoy these recipes!
Baked Chicken Recipe with Roasted Red Peppers
This simple baked chicken recipe is perfect for a weeknight meal. When you serve, think about serving with rice or mashed potatoes (vegetables work, too). The chicken is cooked in lots of cooking liquid made from orange juice, lemon juice and garlic, so when you serve the chicken you can spoon lots of that same cooking liquid over the chicken and any side dish.
Created By:
Joanne and Adam Gallagher
You Will Need
3 large chicken breasts (1.8 lb package)
One 12 oz (340 grams) jar roasted red peppers
1/2 cup (118 ml) orange juice
1/4 cup (59 ml) lemon juice
1 teaspoon finely minced garlic (about 1 clove garlic)
10-15 fresh basil leaves
2 tablespoons (28 grams) butter
Salt and freshly ground black pepper
Directions
Heat oven to 350 degrees F (175 degrees C).
Open chicken package then slice each chicken breast on an angle into 1-inch slices. Next, open jar of roasted red peppers and cut the peppers into smaller chunks, try to make them the same size as the basil leaves.
In a small measuring jug, combine orange juice and lemon juice.
Scatter minced garlic clove in the bottom of a 9-inch by 9-inch square baking dish. Pour half of the orange-lemon juice mixture over garlic.
Starting in one corner of the baking dish, alternate chicken slices with pieces of roasted red pepper and basil leaves. Season tops of chicken with salt and black pepper then pour the remaining orange-lemon juice mixture over casserole.
Cut butter into small squares then scatter over chicken.
Bake casserole 20 to 30 minutes or until chicken is thoroughly cooked (if you have a thermometer, when inserted into the chicken, it should read 165 degrees F or 75 degrees C).
Serve chicken over mashed potatoes, rice or vegetables. There will be lots of extra cooking liquid to spoon over the chicken.