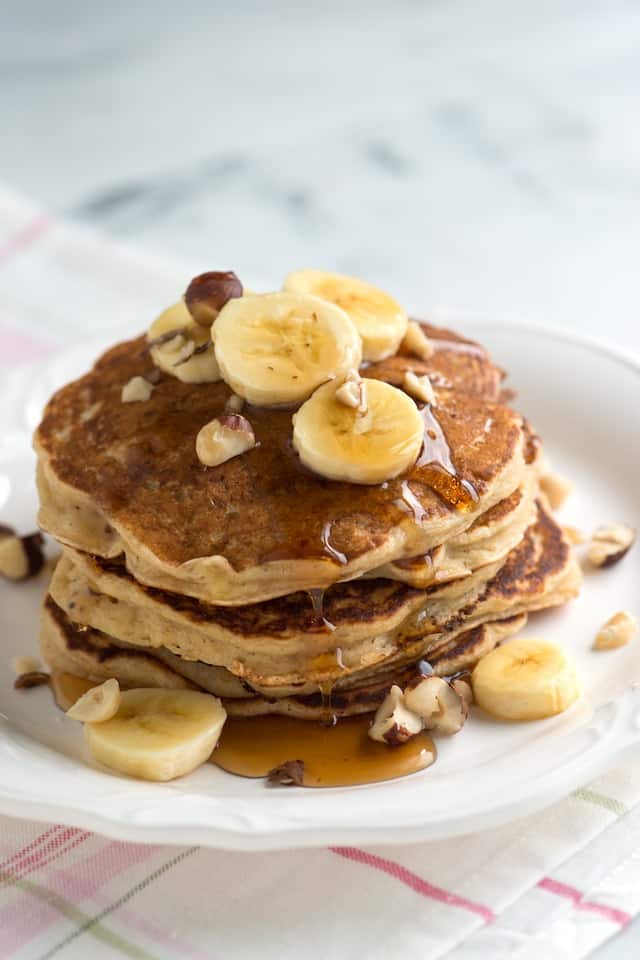 If you're anything like us, you've got a couple over-ripe bananas in your freezer. We are always throwing bananas into the freezer and before we know it, we've got too many to deal with. We've had to come up with different ways to use them up. Our banana chip muffins did the trick last time, but this time we wanted something a bit different and as luck would have it, we had half a bottle of buttermilk that we needed to use up, too. So, we made these spiced buttermilk banana pancakes! 
You May Also Like: Our Easy Banana Bread Recipe with Video
For the recipe, we started with a simple buttermilk pancake batter then we added a mashed up banana, cinnamon and nutmeg for a little spice. So delicious!
How to Make Our Spiced Buttermilk Banana Pancakes Recipe
When making any type of pancake, it's important to remember not to over mix things. For the fluffiest, lightest pancakes, you only need to stir things together – no whisks, no beating, nothing.
You'll need two bowls. In the first bowl, combine flour, a little sugar, baking powder and the spices. In the second, combine an egg, buttermilk and the mashed banana.
When you're ready to cook the pancakes, add the buttermilk mixture to the flour mixture – remember, just stir until they come together.
Cook them on a griddle or in a pan then serve warm with extra banana slices, a few chopped nuts and warm maple syrup. Yum!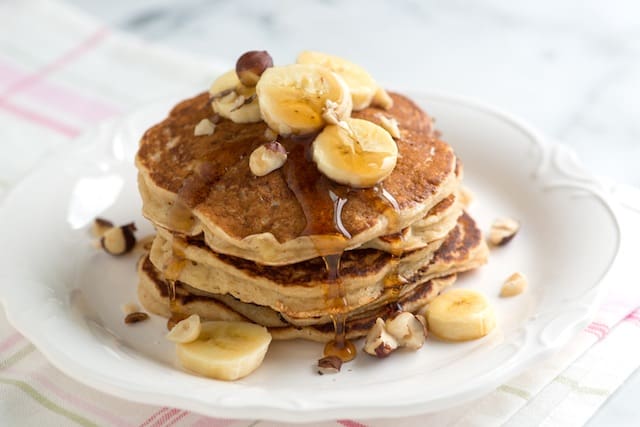 Did you enjoy our Spiced Buttermilk Banana Pancakes Recipe? If so, you may also enjoy these:
Spiced Buttermilk Banana Pancakes
Why we love this recipe. These banana pancakes with warm cinnamon and nutmeg are perfect on a sleepy morning. They come together so easily and if you're like us, you get to use up a few of those over-ripe bananas you placed in the freezer a couple weeks ago.

What you need to know. For the most banana flavor, try using extra ripe bananas. Also, when making any kind of pancakes, be careful not to over mix when combining the dry and wet ingredients.. This way you'll make the fluffiest pancakes possible.

Equipment you'll need. You will need measuring cups and spoons, 1 small bowl, 2 large bowls, a fork a large skillet or griddle and a spatula.
Created By:
Joanne and Adam Gallagher
You Will Need
For Pancake Batter
1 cup (140 grams) all-purpose flour
1 tablespoon sugar
1 teaspoon baking powder
1/2 teaspoon ground cinnamon
1/8 teaspoon ground nutmeg
1/4 teaspoon kosher salt
1 cup (237 ml) buttermilk
1 large egg
3 tablespoons unsalted butter, melted
1 ripe banana, mashed with a fork
To Serve
Warm maple syrup
2 bananas, sliced
Chopped nuts (we used hazelnuts)
Directions
Prepare Pancakes
In a large bowl, use a fork or whisk to combine the flour, sugar, baking powder, cinnamon, nutmeg and the salt. Mix well.
In a medium bowl, use a fork or whisk to combine the buttermilk, egg, melted butter and the mashed banana. Mix well.
(If you a doing this ahead of time, cover flour mixture and buttermilk mixture then keep in the refrigerator until ready to make the pancakes. For the fluffiest pancakes, keep the two mixtures separate until you are ready to make the pancakes).
Cook Pancakes
Heat a large skillet or griddle to medium heat. You know when the pan is ready if when you splatter a little water onto the pan surface, the water dances around the pan and eventually evaporates.
Make a well in the center of the flour mixture, pour in the buttermilk mixture and use a fork to stir the two mixtures until combined. It is okay if the batter has small lumps, in fact you want that – it is important not to over mix the batter.
Lightly spray hot skillet or griddle with non-stick cooking spray or lightly brush with melted butter. Then, use a 1/4-cup measuring cup to spoon batter onto the skillet or griddle.
When you begin to notice the edges of the pancake look dry and little bubbles start to appear on the top surfaces of the pancake, turn over. This takes about 2 minutes. Once flipped, cook another 1 to 2 minutes or until lightly browned and cooked in the middle.
To Serve
If serving right away, serve warm topped with sliced bananas, chopped nuts and warm maple syrup. If you need to keep leftover pancakes warm, place into a 200 degree F (90 degree C) oven up to 30 minutes.