This recipe began as a replacement to our beloved mashed potatoes, but then it took a turn. We fell in love. Our mashed cauliflower recipe is light, fluffy, creamy and rich all in the same bite. It's easy, too — in fact, it's easier than mashed potatoes. No peeling!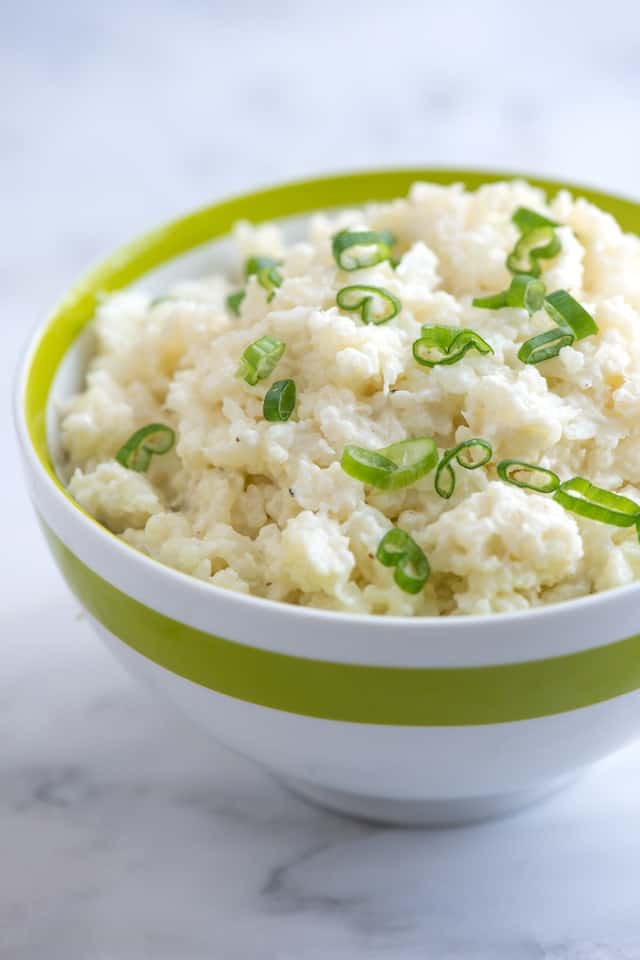 Secrets to Our Mashed Cauliflower Recipe
Mashed or "smashed" cauliflower is very simple to make and is so versatile. Our recipe only calls for a few extra ingredients, but you could really spice the cauliflower up a lot. Whatever you do, though, there are a few things to keep in mind.
Cauliflower Cooks Quickly
There's no need to boil the cauliflower for more than 10 minutes. You'll be able to tell when the cauliflower is done when it's easily pierced with a fork.
Let Cooked Cauliflower Stand
We'll do this when we make mashed potatoes, too. Just after draining, throw the cooked cauliflower back into the hot pot you cooked it in. Cover, then let it stand 2 to 3 minutes. During this time, the cauliflower will continue to steam and any extra moisture will reabsorb into the cauliflower. If you don't do this, you risk the cauliflower being watery.
Spice it Up
Our recipe below is very simple and tastes creamy and light. We love it so much we'll eat it with a spoon, but there are so many things you could do to spice up the flavors. Think of what you could do to mashed potatoes — this is the same. Blue cheese and caramelized onions would be amazing. Cheddar cheese and a little bacon would also be delicious. Or, add a little smokiness with some cumin. Anything goes.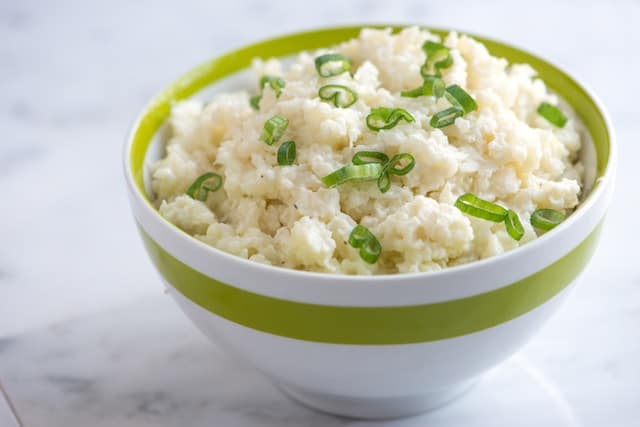 Did you like our Simple Creamy Mashed or "Smashed" Cauliflower Recipe? If so, we bet you'll also love these:
Simple Creamy Mashed Cauliflower Recipe
Why we love this recipe. While this recipe began as a replacement for mashed potatoes, it quickly became one of our favorite sides. Mashed or "smashed" cauliflower is light, fluffy and creamy. Best of all, though, it's easy.

What you need to know. Our recipe calls for a little cream cheese, which we think adds extra creaminess. You could omit it, though. The cauliflower would still be quite delicious. We also call for a tiny bit of nutmeg, which rounds out the flavors and adds a little richness.

Equipment you'll need. You will need a large pot with lid, chef's knife, potato masher and if you are freshly grating the nutmeg, a microplane.
Created By:
Joanne and Adam Gallagher
You Will Need
1 medium cauliflower or 4 cups cauliflower florets
1 1/2 ounces (43 grams) cream cheese
Salt and freshly ground black pepper
Pinch ground or grated nutmeg
1 tablespoon sliced green onion (optional)
Directions
Cook Cauliflower
Bring a large pot of salted water to a boil. Cut cauliflower into florets then add to boiling water and cook 8 to 10 minutes or until a fork can easily be pierced through the cauliflower.
Drain cauliflower then throw back into the hot pot (off the heat) and cover with lid. Let stand 2 to 3 minutes.
Mash Cauliflower
Add the cream cheese, a pinch of salt and freshly ground black pepper to the cauliflower. Then, use a potato masher to smash the cauliflower. Finish with a pinch of nutmeg. (If you have whole nutmeg, just grate a little over the cauliflower using a microplane).
Stir then serve with sliced green onions on top.