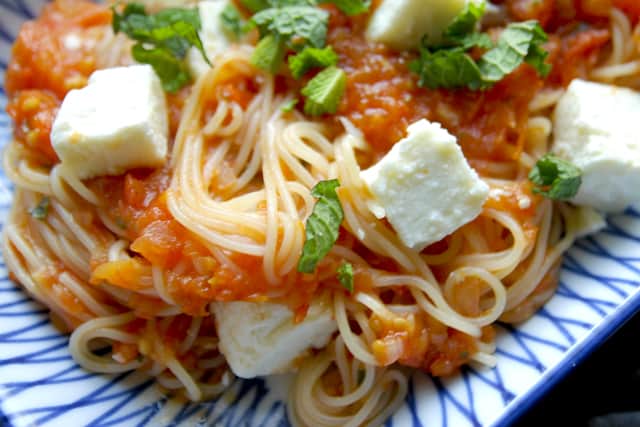 What a fun week we had last week! We were featured on the 20 Questions Interview over at Refrigerator Soup, which was a blast.  It was so cool clicking on our feature (we admit, we did click it at least once a day, just to see if it was still there).  We also were lucky enough to get a few more comments from other fantastic bloggers … very cool!  Then to top it all off, Rochell over at Acquired Taste was kind enough to present us with the Kreativ Blogger award … so sweet of her!  All in all, I'd say it was a good week.
We also had a very busy weekend, planning, prepping and experimenting in the kitchen, for some unknown reason we were blessed with a lot of zucchini so we decided to try and use it all. We made Zucchini Fritters and a  fantastic Chocolate Zucchini Bread (you will see those soon).  After a day full of cooking, I realized we had not actually made anything to eat for dinner!  So, Roasted Tomato Sauce with Mint and Feta Cheese was born.  We had leftover tomatoes from the [p2p type="id" value="1950″]
that we needed to use up so, I roasted them with a few cloves of garlic.  Roasting tomatoes really brings out a natural sweetness and just makes them so incredibly flavorful.  We also had some red onion, again left over from the burgers, as well as some feta cheese and mint left over from the Zucchini Fritters (those were good).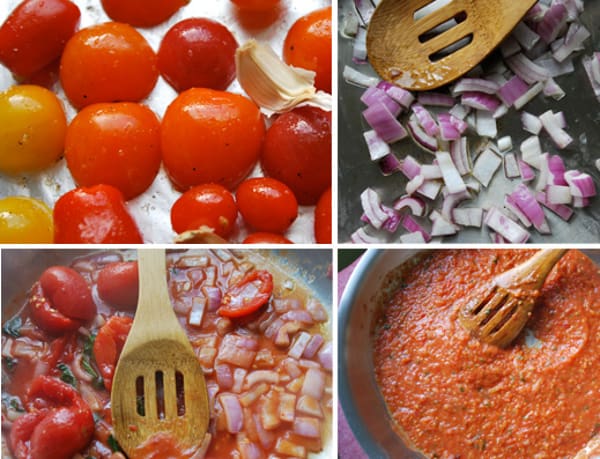 Usually, to make a quick tomato sauce, I saute some onions then add a can of tomatoes and tear in some fresh basil.  With no basil in the fridge, I went with the mint.  Oh, it was tasty!  I kept with the same process, saute onions, add some canned tomatoes plus the leftover tomatoes and garlic that were roasted in the oven and then add the mint torn into strips into the sauce.  Sometimes I just use the back of a spoon to crush the tomatoes into the sauce, but this time I whirled it around the food processor for a smoother consistency.  We tossed some angel hair pasta into the sauce with cubes of salty feta cheese.  It was the perfect end to our busy weekend.
Roasted Tomato Sauce with Mint and Feta Cheese
Created By:
Adam and Joanne Gallagher
You Will Need
1 pound tomatoes
3 unpeeled garlic cloves
2 tablespoons olive oil, divided
salt and pepper
1 14 ounce can tomatoes (whole or diced)
1/2 cup diced red onion
1/4 teaspoon red pepper flakes
1/4 cup mint leaves, torn
1/4 cup feta cheese, crumbled or in cubes
angel hair pasta
Directions
Preheat the oven to 400 degrees F.
Toss the fresh tomatoes and unpeeled garlic cloves in 1 tablespoon of the olive oil, salt and pepper (lightly sprinkle) on a baking sheet and place into the oven for 25 minutes.
In a saucepan, saute the red onion and red pepper flakes in the remaining tablespoon of olive oil over medium heat until the onions are translucent.  Add the can of tomatoes and cook for 5 minutes.
In a food processor, combine the onion mixture, the roasted tomatoes and garlic cloves. [remove the garlic from the peel].  Pulse the food processor a few times so the sauce comes together.  Pour the sauce back in the saute pan to heat through, season with salt and pepper, add the torn mint leaves and feta cheese.  Toss the pasta in the sauce, using a little bit of pasta water if the sauce is too thick.  Serve.