A simple and creamy roasted red pepper hummus recipe with sweet red bell peppers, canned chickpeas, garlic and tahini.
After falling in love with how easy it is to make hummus at home, we decided to play around with some of our favorite store-bought hummus flavors.
This time we're sharing our roasted red pepper hummus recipe — it's creamy, smooth and so delicious.
You May Also Like This: We love our Better Than Store Bought Hummus Recipe – it's so simple and is just as smooth and creamy as this recipe.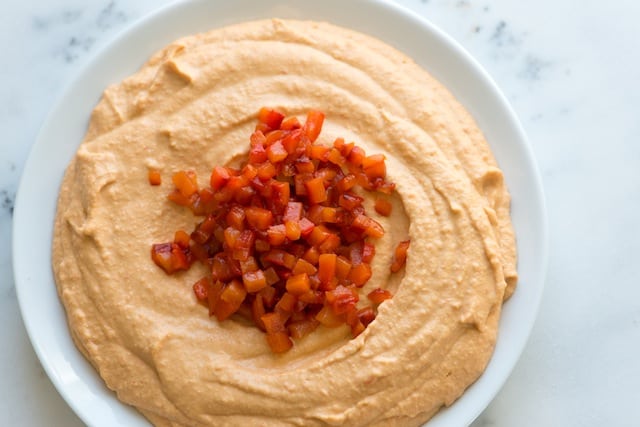 Roasted bell peppers add a smoky sweetness to the hummus. We roast the peppers at home (it's really easy), but you could just as easily use jarred roasted peppers.
An Easy Red Pepper Hummus Recipe — So Easy to Make At Home
When we shared our original hummus, we told you how to make the smoothest, creamiest hummus that we think is even better than store-bought. After sharing, many of you made it for yourselves and agreed. To learn all about making our hummus and our secrets for the creamiest hummus, click over and see our original hummus recipe.
Did you know you can make tahini at home? It's very simple and lasts up to a month in your refrigerator. Here's our recipe for making enough tahini for two batches of our hummus: Quick and Easy Tahini Recipe.
This recipe is very simple. In fact, all we've done is add two roasted red peppers to our original hummus recipe I just mentioned.
How to Roast Peppers
Most stores nowadays sell jars of roasted bell peppers, so if you don't feel like roasting your own, feel free to use the jarred peppers. If you do wish to roast your own peppers, to make things simple, we like to remove the core then cut the peppers into a few flat pieces.
This way, we can place them, skin-side up, onto a baking sheet, slide them under the broiler and broil until the pepper skin has charred.
See the photo below — See how charred the skin is?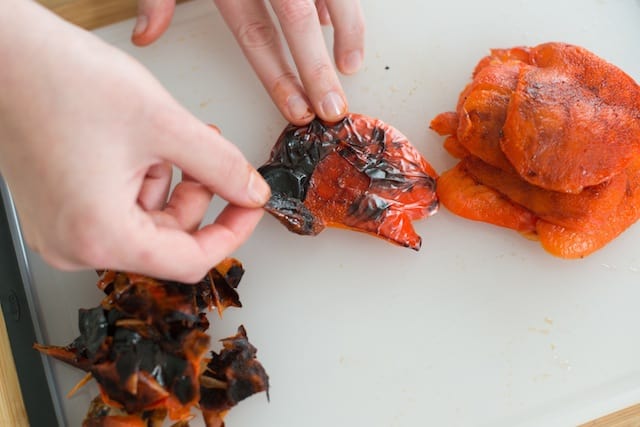 It only takes 10 minutes to roast the peppers. After that, we add the peppers to a resealable plastic bag or a bowl covered with plastic wrap and set the peppers aside. They steam a little, which helps the skin pull away from the pepper — making it extra easy to peel.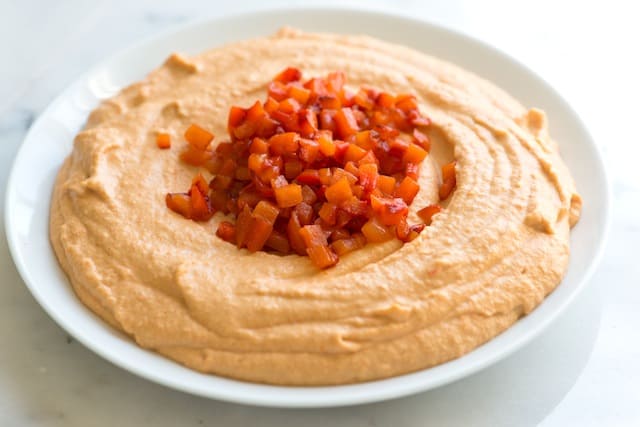 What do you think? Are you ready to skip the store-bought tub and make your own roasted red pepper hummus recipe at home?
You May Also Like
Irresistible Roasted Red Pepper Hummus Recipe
Why we love this recipe. When we first figured out how to make our own hummus, we were shocked at how easy (and fast) it is. With just a few simple tricks, you really can make creamy smooth hummus at home. Plus, since it really is so easy, we love adding extra flavor like sweet roasted red peppers.

What you need to know. Two things here. First, we use canned chickpeas, which is much, much quicker than using dried. Some swear by soaking and cooking their own dried chickpeas, but we're just not that organized and love that canned chickpeas means we can enjoy our hummus in 10 minutes. Second, our recipe calls for tahini, a creamy paste made from sesame seeds. You can usually find tahini in larger grocery stores or specialty markets, or you can actually make it at home.

Equipment you'll need. A baking sheet, mesh strainer or colander, food processor, silicone spatula, measuring cups and spoons.
Yield:
1-1/2 cups or 4 to 6 servings
You Will Need
2 whole red bell peppers (substitute about 3/4 cup chopped jarred roasted red peppers)
One 15-ounce can (425 grams) chickpeas, also called garbanzo beans
1/4 cup (59 ml) fresh lemon juice, about 1 large lemon
1/4 cup (59 ml) tahini, see our homemade tahini recipe
Half of a large garlic clove, minced
2 tablespoons olive oil, plus more for serving
1/2 teaspoon ground cumin
Pinch cayenne pepper (optional)
1/2 to 1 teaspoon kosher salt, depending on taste
Directions
Roast Peppers
Move an oven rack so that it is about 5 inches from the broiler. Turn oven broiler on.
Remove core of peppers then cut into large flat pieces. Arrange pepper pieces, skin-side up, on a baking sheet. Broil 5 to 10 minutes until the peppers skin has charred.
Add peppers to a resealable plastic bag, seal then wait 10 to 15 minutes until cool enough to handle. Or, add peppers to a bowl then cover with plastic wrap and wait 10 to 15 minutes. Gently peel away the charred pepper skin and discard. Reserve 1 to 2 pieces to use as a garnish when serving then roughly chop the rest.
Preparing the Hummus
In the bowl of a food processor, combine tahini and lemon juice. Process for 1 minute. Scrape sides and bottom of bowl then turn on and process for 30 seconds. This extra time helps "whip" or "cream" the tahini, making smooth and creamy hummus possible.
Add the olive oil, minced garlic, cumin, cayenne pepper and the salt to whipped tahini and lemon juice. Process for 30 seconds, scrape sides and bottom of bowl then process another 30 seconds.
Adding the Chickpeas
Open can of chickpeas, drain liquid then rinse well with water. Add half of the chickpeas to the food processor then process for 1 minute. Scrape sides and bottom of bowl, add remaining chickpeas and process for 1 to 2 minutes or until thick and quite smooth.
Add Peppers
Add peppers to hummus and continue to process for 1 to 2 minutes or until smooth.
If the hummus is too thick or still has tiny bits of chickpea, with the food processor turned on, slowly add 1 to 3 tablespoons of water until the consistency is perfect.
To Serve
Finely chop reserved pepper from earlier. Then, scrape the hummus into a bowl, make a small well in the middle and add finely chopped peppers.
To Store
Store homemade hummus in an airtight container and refrigerate up to one week.