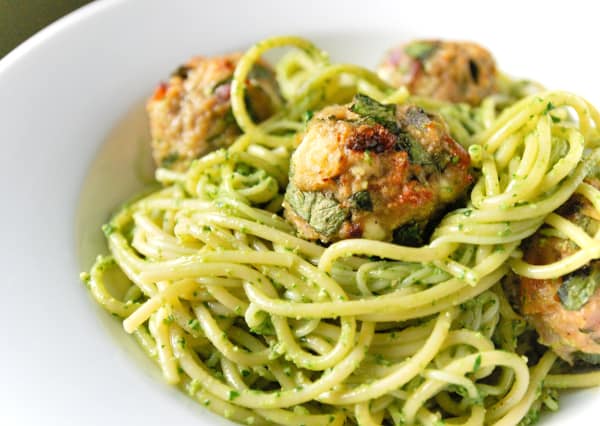 Whew…that was a stressful weekend…who would have thought a simple update would turn into a nightmare.  There we were on Friday night updating our site, when all of a sudden it disappeared!  gone…vanished… it was awful … We had wiped out our whole blog, no more recipes, no more comments, no more statistics… nothing.  After moments of shock, yelling, screaming, and a  few tears we calmed down and found our most recent  backup.  On Sunday night, after a few struggles, a little more yelling and help from tech support, we got the backup uploaded, we finally had our site back …  Crisis averted.  Needless to say, we were just not in the mood to experiment in the kitchen too much, so we just made dinner, fortunately for you, it was really good and we took photos!
We made turkey meatballs, but as usual decided to add a few non-traditional flavors just becasue we could.  We allowed dried apricots and cranberries to sit in some sweet Marsala wine for a few minutes and added them to the meatball mix along with some salty feta cheese crumbles.  We also added some softened onions and garlic for additional flavor and texture.  The result was really nice, we would have liked the meatballs to be a bit more moist, but to be honest given how little fat was in the turkey meat to begin with, that is always going to be a problem.  We did make sure to add fresh bread crumbs, olive oil and an egg for a moister meatball which helped a lot.  We served the meatballs over a bowl of hot spaghetti with a delicious and vitamin packed spinach pesto sauce (that was our favorite part of the dish).  If you like pesto made with basil, you must give spinach pesto a try.  It is milder in flavor, but buttery with the addition of walnuts and Manchego cheese.  Store spinach pesto the same as you would basil pesto – pour a little olive oil on top and cover with plastic wrap.  You will find it lasts a few days in the fridge and weeks in the freezer.
Spaghetti with Spinach Pesto and Turkey Meatballs
Spinach pesto is so easy to make, you can even keep it in the refrigerator for up to 3 days, just make sure you cover it with a thin layer of olive oil and tightly cover with plastic wrap. The meatballs are a little different with dried fruit and work really well with pasta tossed in the pesto.
You Will Need
Spinach Pesto
2 cups fresh baby spinach leaves
2 -3 garlic cloves (3, if you want it a bit spicy)
1/4 cup toasted walnuts
1/4 cup olive oil
1/4 grated manchego cheese (substitute: parmesan cheese)
1/8 teaspoon salt
freshly ground pepper
Turkey Meatballs
1 pound ground turkey meat
1 1/2 slices fresh bread, crusts removed, pulsed into breadcrumbs
1/4 cup finely chopped onion
2 large cloves garlic, minced
1/4 cup Marsala wine
2 tablespoons diced dried apricots
2 tablespoons diced dried cranberries
2 tablespoons chopped baby spinach leaves
2 tablespoons crumbled feta cheese
1 egg, lightly beaten
1/2 teaspoon salt
Freshly ground black pepper
Directions
Spinach Pesto
Use a knife to roughly chop the garlic, then add it to a food processor. Add the walnuts and pulse a few times. Add the spinach and pulse a couple more times. Slowly drizzle in the olive oil until the mixture comes together. Remove the pesto from the food processor and add the cheese, salt and pepper, stir to combine. Serve over hot pasta using a little pasta water to loosen the sauce slightly if needed.
Turkey Meatballs
Preheat the broiler and spray a baking sheet with non-stick cooking spray.
In a small bowl, pour the Marsala wine over the diced dried apricots and cranberries, then set aside for 5-10 minutes.
In a medium frying pan over medium heat, saute the onions and garlic until the onions are translucent, about 6 minutes.
Combine the turkey with all other ingredients, including the apricots, cranberries, wine and the onion mixture in a large work bowl; try not to overmix the mixture, overmixing will make the meatballs tough and dry. Lightly form the mixture into 1-inch balls and place them on a baking sheet then put them under the broiler on a middle rack for about 15 minutes. You should stay close to the oven while the meatballs are cooking since they could easily burn. You may need to raise the meatballs to a higher rack at the end of the process to brown the tops and to ensure the meatballs are cooked through.