Tender vegetables, a light tomato sauce and lots of cheese make this vegetable lasagna recipe one of our favorites. Jump to the Vegetable Lasagna Recipe now or read on to see how we make it.
As much as we love beef lasagna, when we both had a slice of this veggie version, we really didn't miss the meat. We wanted seconds and if we could fit them, thirds. We love this recipe as much as our healthy spinach lasagna.
This veggie lasagna doesn't require too much time, either. While water boils and noodles cook, you can get through making most of the vegetable sauce. Then, all you do is finish the sauce, assemble and bake for 30 minutes or so.
Bonus — We actually found this vegetable lasagna is better the next day – score for make-ahead meals.
If you like this veggie lasagna, you'll love our Creamy White Chicken Lasagna Recipe with its cheesy sauce, chicken sausage and fresh spinach.
An Easy and Adaptable Vegetable Lasagna Recipe
The recipe is adaptable — you can choose to add your favorite vegetables. We kept things simple with onion, zucchini, yellow squash and a jar of roasted red peppers.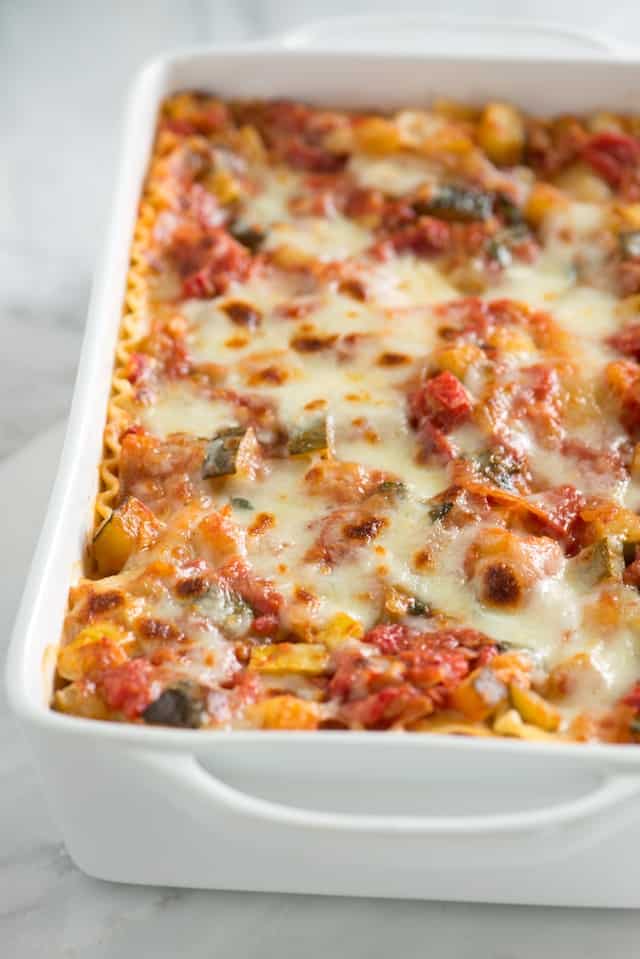 Try adding chopped mushrooms, olives, spinach or carrots. Just keep the proportions similar — 8 to 10 cups of chopped vegetables should do it.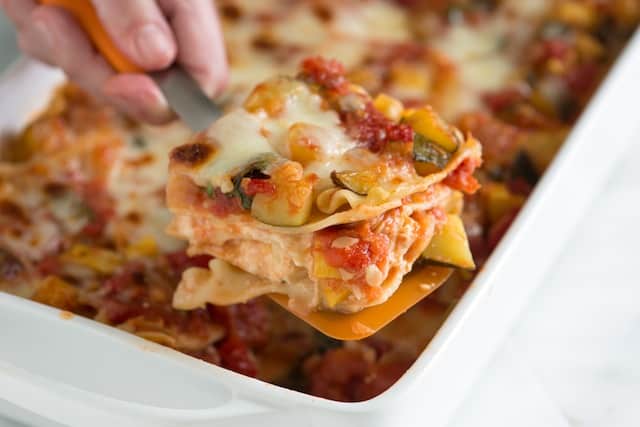 We bet you can come up with some pretty amazing vegetable combinations!
One thing —  if you do adapt, we highly recommend keeping the roasted red peppers. The red peppers add so much flavor. When we first made this, we omitted them. Then, on a second go-round  we added a whole jar.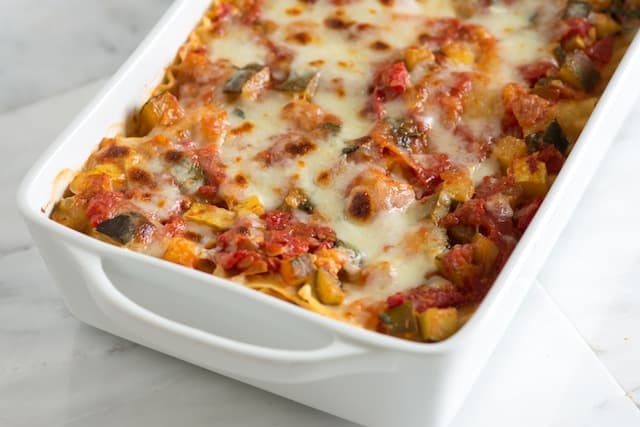 Wow, what a difference they made — roasted red peppers add some sweet and a little smokiness.
You May Also Like
Recipe updated, originally posted May 2013. Since posting this in 2013, we have tweaked the recipe to be more clear and added a quick recipe video. – Adam and Joanne

Easy Vegetable Lasagna Recipe
Why we love this recipe. We love lasagna and this one is no different. With lots of vegetables including zucchini, summer squash and roasted red peppers the lasagna is flavorful, but not at all heavy. We really do not miss the meat.

What you need to know. Add your favorite vegetables to this -- mushrooms, spinach or carrots would be great. When you cook the zucchini and squash try not to overcook them -- you want them to be tender, not mushy.

Equipment you'll need. A chef's knife, 13-inch by 9-inch baking dish, large pot, large frying pan with sides, small bowl, spoon, measuring cups and spoons and aluminum foil.
Created By:
Joanne and Adam Gallagher
You Will Need
14 lasagna noodles (2 extra for filling in holes)
2 tablespoons extra-virgin olive oil
1 cup (140 grams) chopped onion (1/2 large onion)
3 garlic cloves , minced
1/8 to 1/4 teaspoon crushed red pepper flakes
2 medium zucchinis, cut into 1/2-inch pieces (500 grams or 4 cups)
2 medium yellow squash, cut into 1/2-inch pieces (500 grams or 4 cups)
12 ounce jar roasted red peppers, drained and cut into 1/2-inch pieces (1 heaping cup or 215 grams)
1 (28 ounce) can crushed tomatoes
Generous handful fresh basil leaves, chopped
One 15-ounce (425 grams) container whole-milk ricotta cheese (substitute: cottage cheese)
2 large eggs
2 ounces (57 grams) parmesan cheese , grated (1 cup)
8 ounces (227 grams) low-moisture whole-milk mozzarella cheese , shredded
Salt and freshly ground black pepper to taste
Directions
Heat Oven and Prepare Baking Dish
Heat oven to 350 degrees F (177 degrees C). Lightly oil or spray 13-inch by 9-inch baking dish with non-stick cooking spray.
Cook Noodles
Bring a large pot of salted water to the boil then cook lasagna noodles according to package directions. (We add a couple teaspoons of olive oil to the water so the noodles do not stick together). Drain then lay flat on a sheet of aluminum foil.
Prepare Vegetables (This is done while pasta cooks)
Heat olive oil in a large frying pan with sides over medium heat. Add onion and cook, stirring occasionally until translucent; 3 to 5 minutes. Add garlic, red pepper flakes, zucchini, squash and a pinch of salt then cook, stirring occasionally until softened but still with some crunch and edges just start to brown; 5 to 8 minutes.
Next, add roasted red peppers and crushed tomatoes. Stir then bring to a low simmer. Simmer until liquid has thickened and reduced by half; 5 to 8 minutes. Add basil then season to taste with additional salt and pepper.
Prepare Cheese Filling
Add ricotta cheese (or cottage cheese), eggs and a 1/2 teaspoon of salt to a medium bowl then stir until well combined.
Assemble Lasagna
Spoon just enough vegetable mixture into the baking dish to lightly cover bottom (about 1 cup). Arrange four noodles lengthwise and side by side to cover the bottom. (If the noodles are short on one end, you may need to cut an extra noodle and place into dish to cover where the other noodles have not).
Spread about half of the ricotta cheese (or cottage cheese ) mixture over the noodles. Sprinkle with a third of the parmesan cheese and a third of the mozzarella cheese. Then, top with about a third of the vegetable mixture. Add another layer of four noodles then repeat with remaining cheese and vegetables.
Finish with a final layer of noodles, vegetables, parmesan cheese and mozzarella cheese.
Bake Lasagna
Cover loosely with aluminum foil and bake 20 minutes, uncover then bake 15 minutes until cheese is crusty around the edges. To make cheese golden brown on top, slide under the broiler for 1 to 2 minutes.
Let rest at least 15 minutes before serving.