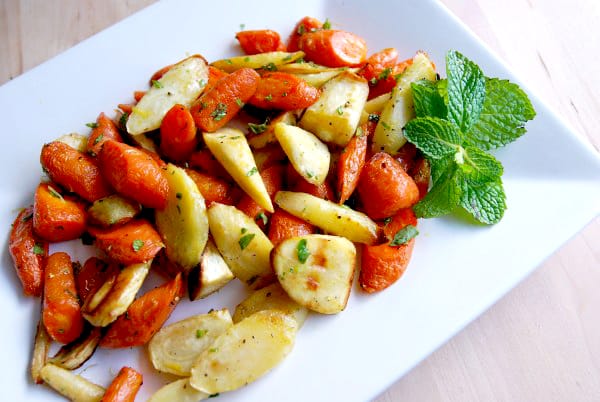 If you were asked to name the most memorable food or dish from your childhood, what would it be?  For Joanne, it's carrots and parsnips.
Every holiday meal incorporated roasted carrots and parsnips … and usually some roasted potatoes too.  Even when it was not a special meal, her mother would make some version of carrots and parsnips, whether they were roasted or made on top of the stove, they were almost always there.  She never got tired of them, and I see why, so sweet and fulfilling and they go fantastically with almost anything –  from roast chicken to turkey, pot roast or lamb especially when you get the opportunity to cover them with gravy!!
While this dish is simple, it is close to our hearts, so we just had to share it with you.
Roasted Carrots and Parsnips with Mint
You Will Need
1 lb. carrots washed (peel if necessary)
1 lb. parsnips, peeled
3 tbsp. olive oil
1 1/2 tsp. salt
3/4 tsp. pepper
2 tbsp. chopped fresh mint
Directions
Preheat the oven to 425 degrees F. Cover a baking sheet with foil for easy cleanup.
Slice the carrots and parsnips diagonally into 1-inch slices (they are prettier this way).
Place the sliced carrots and parsnips on the baking sheet.
Toss the vegetables with olive oil, salt and pepper then place them in the oven for about 25-35 minutes.
Half way through cooking toss the vegetables around so they roast evenly. The carrots and parsnips should be slightly caramelized and tender.
Remove from the oven, toss with the chopped mint then serve.