Baked sweet potato fries that are caramelized and crispy on the outside and tender on the inside. Jump to the Baked Sweet Potato Fries recipe now or read on to see how we make it!
No fryer needed here. Consider making a double batch, this one's addictive.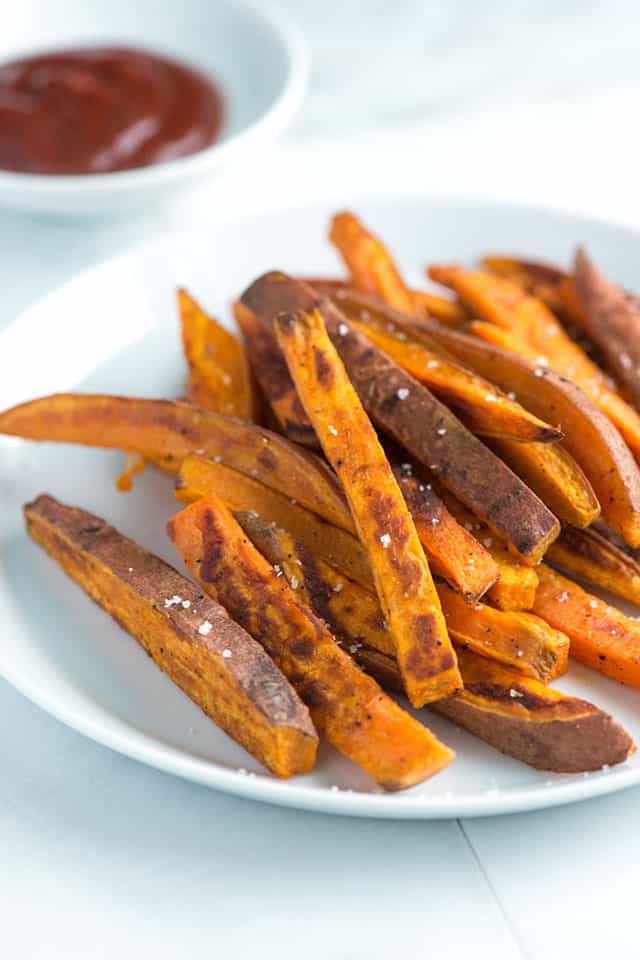 Over the last few months, we've been careful to take note of the meals we make most often. We've shared some with you already (our Roasted Pork Tenderloin Recipe With Apples is one of them).
These sweet potato fries are another. We make them all the time. Sometimes as a side for dinner, but most often as a snack. We both love dunking them into ketchup spiked with a little Sriracha or hot sauce. 
You May Also Like: These Coconut Oil Roasted Sweet Potatoes with maple syrup, cinnamon and toasted pecans. An easy, one-pan recipe.
Or, take a look at our Cinnamon Roasted Butternut Squash Recipe with squash, brown sugar and cinnamon.
Make Our Baked Sweet Potato Fries in 35 Minutes or Less
We toss thin sticks of sweet potato with olive oil, salt and pepper (you could also use coconut oil or lightly flavored oil). We keep them simple, but if you felt like it a pinch of cayenne, cumin or other seasoning would be a nice touch. Some even use cinnamon sugar.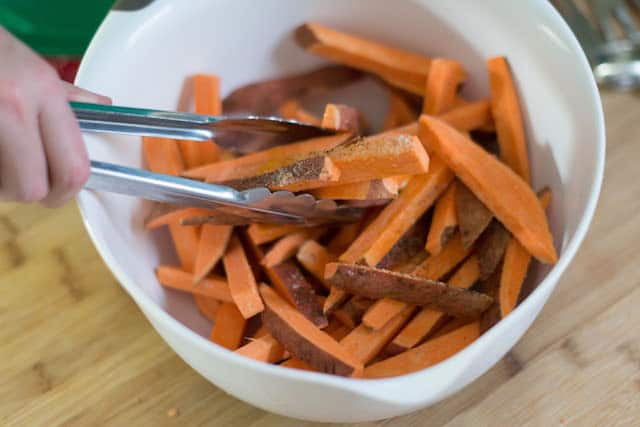 After tossing, we scatter the fries over two hot baking sheets — we use two so the fries aren't too close to each other. If they were, they would steam instead of baking and crisping up.
Try Our Homemade Ketchup Recipe: How to make our seriously good homemade ketchup recipe. Make ketchup that's better than anything you can buy at the store!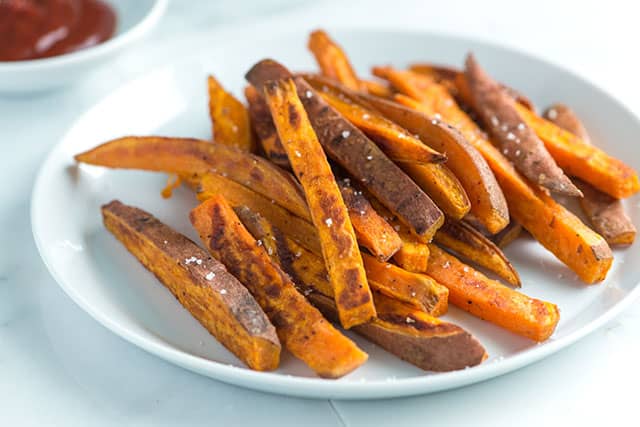 Enjoy!
Give These Vegetable Side Dishes a Look
Easy Homemade Baked Sweet Potato Fries
Keep in mind that baking time may vary depending on how large you cut your sweet potatoes and how accurate your oven is. (Ovens often run a little cold or hot – ours runs 20 degrees cold so we keep an oven thermometer inside to keep it in check). We like to keep the skins on for sweet potato fries, but if you prefer them without, go ahead and peel them.
You Will Need
4 medium sweet potatoes
3 tablespoons olive oil
3/4 teaspoon kosher salt
1/2 teaspoon freshly ground black pepper
Extra salt for sprinkling over baked fries (we like using flaky sea salt)
Directions
Heat oven to 450º F. Line two baking sheets with aluminum foil then slide into the oven so they become hot.
Prepare Sweet Potatoes: Scrub then cut the sweet potatoes into 1/2-inch sticks.
In a large bowl, toss sweet potatoes with olive oil, salt and the pepper.
Tumble sweet potatoes onto hot baking sheets and spread into one layer. Try not to crowd them too much or else they will not brown.
Bake Sweet Potato Fries: Bake fries, turning once and rotating pans once, until edges are lightly browned and centers are tender; 15 to 25 minutes. The fries are done when the surface looks dry and the fries have puffed up a little. Don't fret if the edges become brown, they will taste more caramelized than burnt.
Serve fries with a sprinkle of extra salt on top (if you have some, use a flaky sea salt for this, it adds a nice touch).
Notes and Tips
Cornstarch -- Some swear by adding a generous pinch of cornstarch to the fries before tossing and baking to make the fries extra crispy. This does work so give it a try if you feel like it. We usually skip it, but that's only because we're very happy with the fries as-is.

We use kosher salt. If you don't have it on hand, keep this in mind: 1 teaspoon fine sea or table salt = about 1 1/4 teaspoons kosher salt.