The perfect snickerdoodle recipe! Cinnamon sugar coated butter cookies that are chewy and almost cake-like in the middle with a little crunch around the edges.
Just the name "Snickerdoodles" is enough for us to fall in love. There is a lot more to love, though.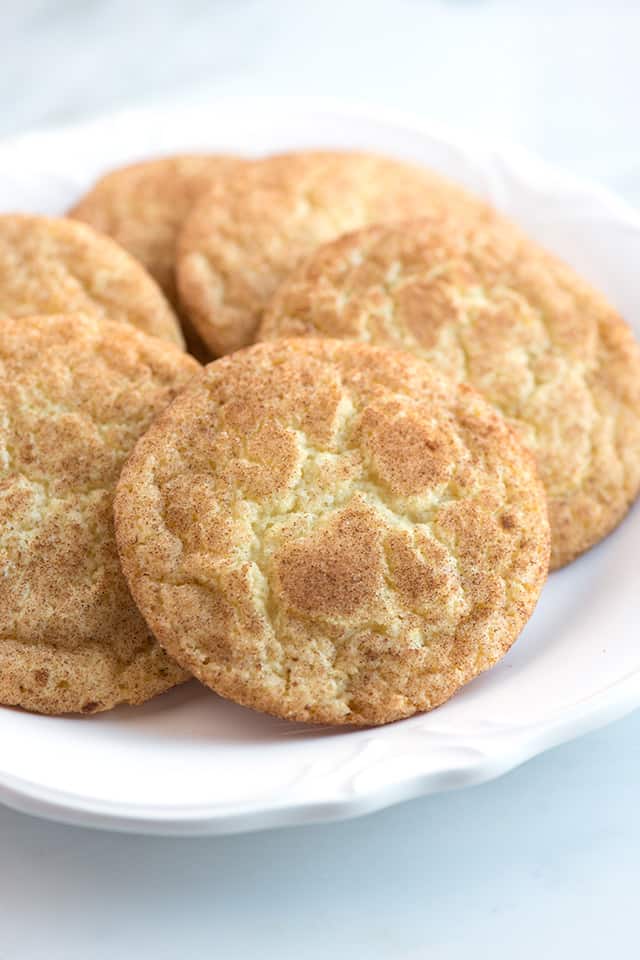 The cookies taste of sweetened butter, a hint of vanilla and then our favorite, a little tang from cream of tartar. The coating is made from a generous amount of ground cinnamon and sugar.
How to Make Snickerdoodles with Chewy Middles
These are a very simple cookie to make. Ingredients are common — flour, butter, sugar, cinnamon and vanilla. Lift and a crinkly top is achieved with a combination of baking soda and cream of tartar.
What is Cream of Tartar and Why Does It Need to Be in My Cookies?
Cream of tartar is actually a byproduct of wine making (there's our random fact of the day for you). More importantly, cream of tartar is often used to stabilize egg whites or cream while whipping them.
It is also often added to baked goods to help activate baking soda. In fact, cream of tartar mixed with baking soda is what makes baking powder.
This is from Joy Of Baking.com: to make the equivalent of 1 teaspoon of baking powder, combine a 1/2 teaspoon cream of tartar with a 1/4 teaspoon of baking soda.
So why didn't we just call for baking powder in the recipe?
In our recipe, we call for 1 teaspoon of baking soda and 2 teaspoons of cream of tartar. I suppose you could use baking powder in place of the baking soda and cream of tartar, but then it wouldn't be a Snickerdoodle.
The cream of tartar adds tanginess and chew to the cookies — transforming these from butter-sugar cookies to Snickerdoodles.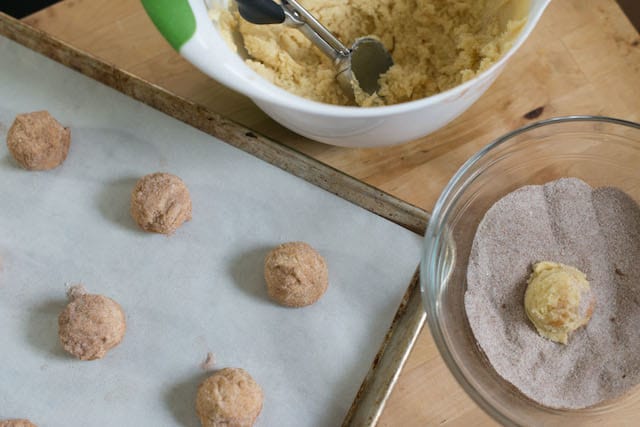 To make them, we cream butter and sugar together for a few minutes, add two eggs then mix in the flour, baking soda, cream of tartar and some salt.
The dough is chilled for 30 minutes then rolled in cinnamon sugar. Easy!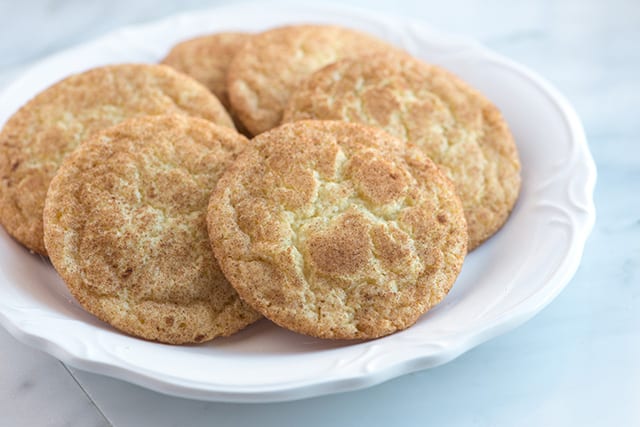 Snickerdoodles top our list of holiday cookies. They're simple, smell amazing when baking in the oven and are completely delicious.
More Snickerdoodle Recipe Inspiration
More Cookies To Try
Snickerdoodles Recipe
Every time we make a batch of these cinnamon sugared cookies we fall in love all over again. Chilling the dough for 30 minutes or so is important, here. It's a little sticky so the chill helps make rolling the dough into balls and then into the cinnamon sugar easy.
You Will Need
For the Cookies:
2 1/2 cups (350 grams) all-purpose flour (we use Gold Medal unbleached all-purpose flour)
2 teaspoons cream of tartar
1 teaspoon baking soda
1/2 teaspoon kosher salt
16 tablespoons (226 grams or 2 sticks) unsalted butter, at room temperature
1 1/2 cups (300 grams) granulated sugar
1/2 teaspoon vanilla extract
2 large eggs, at room temperature
For the Coating:
1/4 cup (50 grams) granulated sugar
1 1/2 tablespoons ground cinnamon
Directions
Mix Dough: Sift or whisk flour, cream of tartar, baking soda and the salt together then set aside.
In a large bowl, using a handheld mixer on medium speed beat the butter, sugar and vanilla together until light and fluffy, 3 to 4 minutes. (Or, use a stand mixer fitted with the paddle attachment). Reduce speed to low. Add the eggs one at a time, beating well after each addition.
Scrape the sides and bottom of the bowl then add the flour mixture in three parts, just mixing until it disappears. Wrap with plastic wrap and chill dough at least 30 minutes or up to 3 days.
Make Coating: In a small bowl, mix the sugar and cinnamon together.
Bake Cookies: Preheat your oven to 400º F. Line two baking sheets with parchment paper or use silicon baking mats.
Shape heaping-tablespoon-sized mounds of cookie dough into balls. Roll in the cinnamon-sugar mixture and place 2 inches apart onto baking sheets. (A medium cookie scoop is helpful here).
Bake the cookies for 8 to 10 minutes, until the cookies have puffed a little and the tops look set. The cookies should be light golden. Cool on baking sheets for 5 minutes then transfer to a cooling rack to cool completely. (The cookies will fall a little as they cool).
Storing the Cookies: Baked and cooled cookies will keep, stored in an airtight container at room temperature for 2 to 3 days. Also, keep in mind that you can freeze this cookie dough. Line a baking sheet with parchment paper, scoop and roll individual dough balls and place onto the baking sheet (they can be close together), and then place in the freezer until hard, about 30 minutes. Transfer frozen dough balls to an airtight container or plastic bag.
Notes and Tips
We use kosher salt. If you don't have it on hand, keep this in mind: 1 teaspoon fine sea or table salt = about 1 1/4 teaspoons kosher salt.
Recipe adapted and inspired by The Back in the Day Bakery Cookbook,
Smitten Kitchen
and
Cooks Illustrated
.