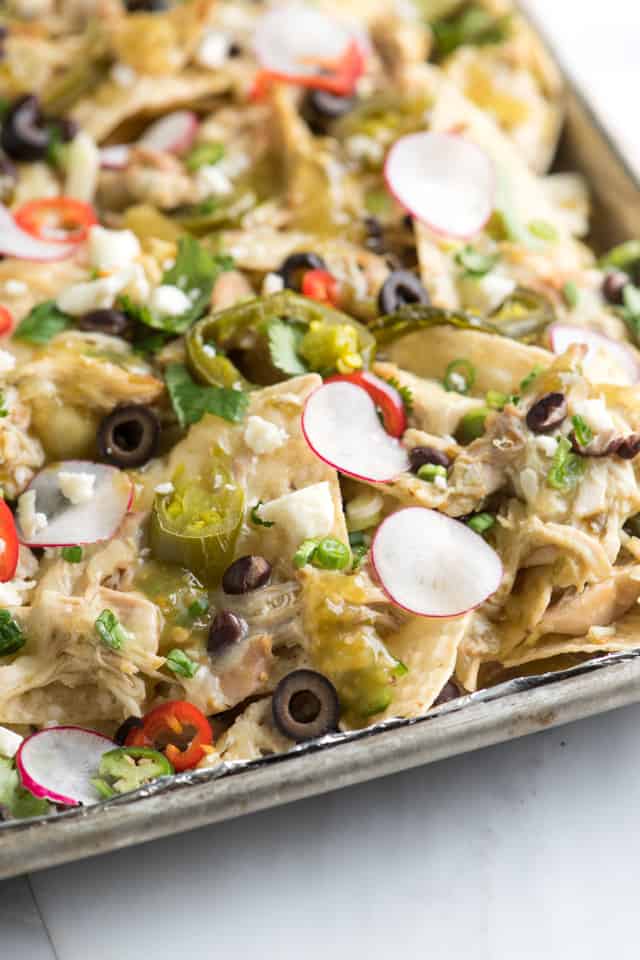 Layers of tortilla chips are scattered with salsa verde-spiked shredded chicken, sharp cheddar cheese, spicy pickled jalapeños and black beans. Everything is baked until the cheese is bubbly warm.
Even more toppings — like fresh cheese, cilantro leaves, chili peppers and thinly sliced radishes — are added right before serving. The whole baking sheet of nachos are served family-style. Get ready to dig in!
Salsa Verde Chicken Nachos Recipe Made Easy
Store-bought rotisserie chicken makes these amped-up nachos easy. You could even use leftover chicken from a night or two before. The salsa can be store-bought, too.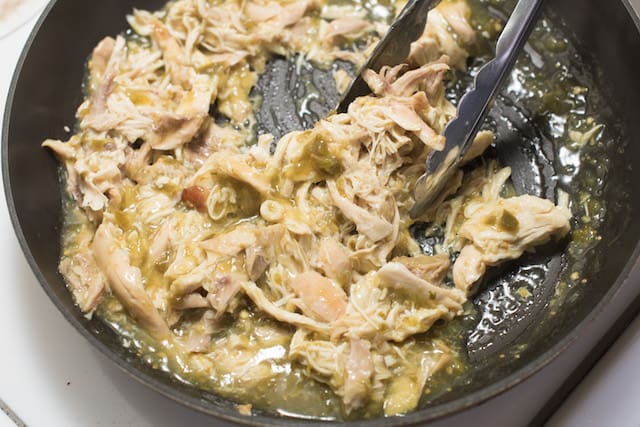 Instead of red salsa, we go for green — or salsa verde — usually made from chili peppers, tomatillos, onion and garlic. It's zesty, bright and works beautifully with these chicken nachos.
We do have a recipe for Roasted Salsa Verde on Inspired Taste –it's pretty delicious. If you are up for making a batch of your own, make things easy on yourself and make it in advance. The salsa will keep for quite some time.
Building the nachos goes quickly — just layer chips, the salsa verde chicken, pickled jalapeños and cheddar cheese until all your ingredients are gone.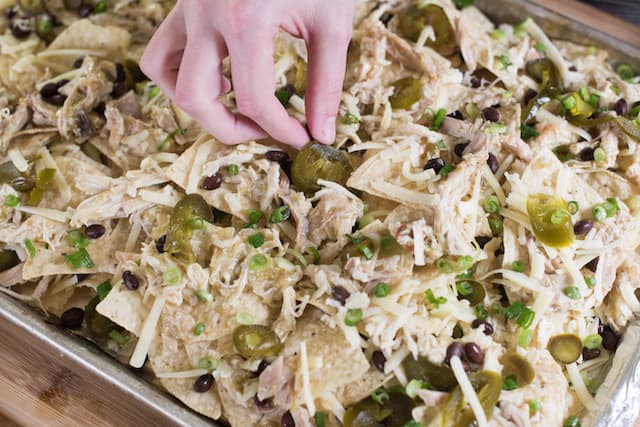 Keep things even, you don't want one person to get the extra cheesy nucleus, while others are stuck with dry, plain chips and an odd jalapeño. We really like to layer the cheese, too — that way every layer has a little bit of cheesy goodness, not just the top (something all too common in restaurants).
After 15 or so minutes in a hot oven, the nachos are done! All you need to do now is pile on even more goodies — like I said earlier, a fresh cheese (like queso fresco) and sliced chili peppers and radish are our favorites.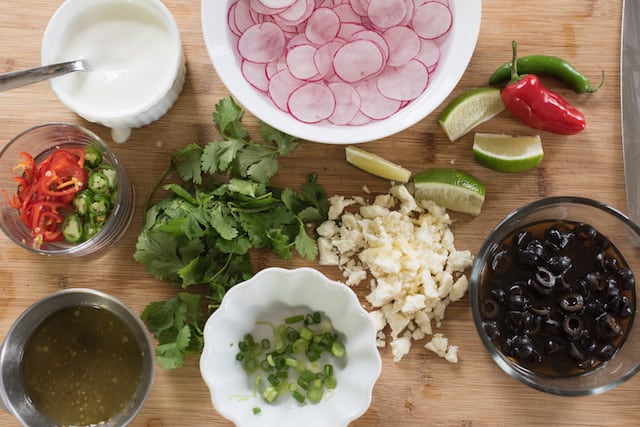 And that's it. Slide the baking sheet into the middle of where your friends and family are and watch as the nachos disappear.
Are you ready to dig in, yet?
If you're looking for more nacho inspiration, check out a few of these: Nachos with All The Fixings from Bon Appetit (they use shredded beef instead of chicken), Loaded Nachos Recipe from The Pioneer Woman or these Slow Cooker Barbecue Chicken Nachos from Sally's Baking Addition (blogger on People.com).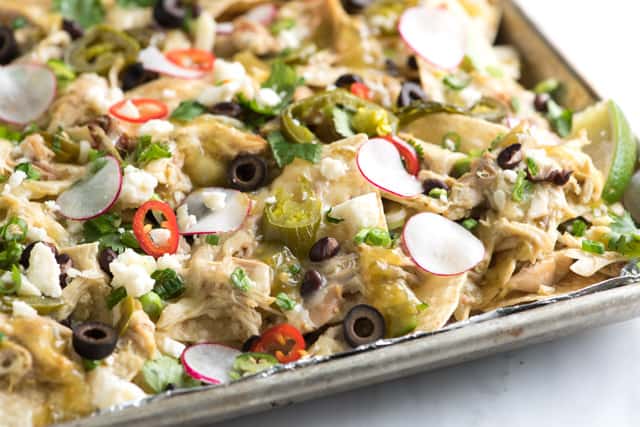 Enjoy!
If you loved our Nachos, we bet you'll also love our Salsa Verde Chicken Enchiladas Recipe or our Smoky Chicken Tacos with Bacon (I mean, come on — bacon!).
Salsa Verde Chicken Nachos Recipe
Store-bought rotisserie chicken makes these amped-up nachos easy. Instead of red salsa, we go for green — or salsa verde — usually made from chili peppers, tomatillos, onion and garlic. It's zesty and works beautifully with chicken. In addition to the chicken, we pile our nachos up with sharp, flavorful cheddar cheese, spicy pickled jalapeños, spring onions and lots of extras like thinly sliced radishes and crumbled fresh cheese. Serve these family-style, right off of the baking sheet.
Yield:
Serves 6 to 8 as an appetizer
You Will Need
Chicken Nachos
1 (1-1/2 to 2 pound) rotisserie chicken, pulled from the bone and shredded (about 4 cups)
1 1/2 cups salsa verde, a green, tomatillo salsa (store-bought - Goya is good - or use our salsa verde recipe)
1 large (13-ounce) bag tortilla chips
1 (15-ounce) can black beans, drained and rinsed
1/2 cup pickled jalapeño slices (use more or less depending on how spicy you like your nachos)
3 spring onions, trimmed and finely chopped
1 (8-ounce) block sharp white cheddar cheese, grated (about 2-1/2 cups)
Optional Toppings
1/3 cup crumbled fresh cheese - queso fresco, queso blanco, feta cheese or goat cheese are great options
1/4 cup salsa verde
3 medium radishes, sliced very thin
Sliced black olives
Cilantro leaves
Red and/or green chili peppers (red or green jalapeños, Serrano and fresno chili peppers are great)
Lime, cut into wedges
1/4 cup sour cream, thinned with 2 to 3 tablespoons of water
Directions
Heat the oven to 350º F and line a large, rimmed baking sheet with aluminum foil.
Add salsa verde to a large skillet over medium heat. Stir in the chicken and cook 5 minutes until warmed through.
Arrange a single layer of tortilla chips on the bottom of the foil-lined pan then begin building the nachos. Scatter one third of the chicken, black beans, pickled jalapeños, chopped green onion and grated cheddar cheese over chips. Repeat with additional layers of chips and toppings until they are used up. (We usually end up with three layers of chips).
Bake the nachos until the cheese has completely melted and everything is hot, 15 to 20 minutes.
Serve nachos family style, right on the baking sheet, with as many additional toppings scattered on top as you like — we love adding crumbled fresh cheese, extra salsa, fresh chili peppers and thinly sliced radishes.
Notes and Tips
When buying salsa verde (or when making our own homemade version), we like the salsa to be a medium spice level. There are a few brands with very spicy versions, if you are not a fan of extra spicy dishes, be careful to choose a bottle that says mild or medium. You can also stir in a little sour cream to the salsa and chicken mixture to cool things off a little.